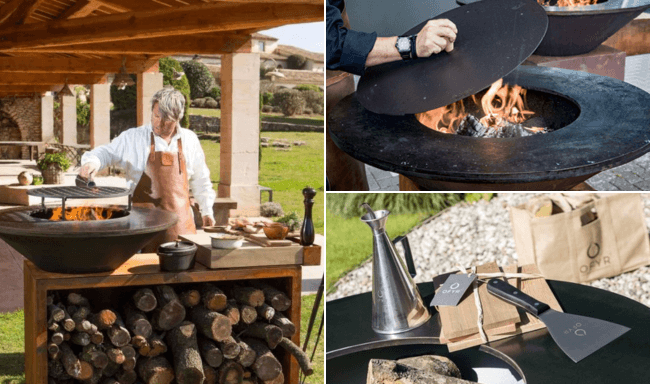 Plancha baking has been very popular and increasingly used for years. It is a simple way of baking and can be used with different barbecues. In this blog, we would like to give you 5 tips to make plancha baking and using the plancha griddle easier. So if you have a plancha plate or want to buy one, be sure to read on for useful tips!
What is plancha baking?
Plancha baking is very easy to explain. A plancha is a griddle or grill plate widely used in Spanish and South American cuisine. It is basically a smooth metal plate that can be placed on a gas cooker, barbecue or special plancha grill. On the plancha you can cook all kinds of food, such as fish, meat, vegetables and fruit. The first step in plancha baking is to grease the baking sheet and get it hot. After this, you can get straight to work.
Tip 1: Different heat zones with a plancha
If you are a novice chef and want to try plancha baking, try the different heat zones of a plancha plate. You create these by moving the wood in the firebowl, for example, slightly more to one side. This will make one side of the griddle hotter and you can, for example, sear a piece of meat here very hot and use the other part for a slower cooking of a fish.
Tip 2: Use handy accessories to make plancha baking easy
Cooking outdoors naturally becomes easy with the right tools. Think of a good pair of tongs for turning vegetables, a spatula for flipping a burger or an apron to keep dirt off your clothes. In addition to these accessories, a serving board, heat-resistant gloves and good lighting products are of course indispensable for outdoor cooking.
Tip 3: The right ingredients
Plancha baking is a versatile way of cooking. Of course, you can simply fry hamburgers on the griddle. But you can also prepare other dishes or ingredients on a plancha. First of all, it is important that the ingredients are dry and not too fatty. This way, you can sear them directly and they cook a little slower. The plancha griddle is basically a good option for any recipe. So the griddle can be used to cook ingredients directly. In addition, the griddle is good for making a sauce, cooking a fish with a smoking plank or keeping something warm for a short time in a cast-iron pan.
Delicious plancha dishes:
Simple cheeseburgers with cheddar and smokey barbecue sauce

English breakfast with eggs, sausage and toast

America pancakes with hot syrup

Mini cheese fondue of camembert with honey and walnut
On Firepit-online.com you will find round plancha baking trays, available in various sizes and in a whole or half version. With a whole version, you can place a wok pan in the centre of the baking tray and cook a wok dish over direct heat. Half planchas can be combined with half a grill and use these two cooking techniques at the same time.

Tip 4: Maintenance and storage of a plancha griddle
Maintaining a plancha is pretty straightforward. It is important to note that planchas are delivered to your home with a grease coating. This is done to prevent rust. It is therefore important that when the plancha has cooled down completely and you want to store it in the shed, you grease it first. This way, you prevent rust and you can easily use the plancha again next time.
Cleaning the plancha is just as easy. After use, you can use some oil and a spatula to scrape the food residues into the fire. When the plancha has cooled down, you can store it greased (as described above). Did the plancha griddle rust a bit anyway? Don't panic, you can easily remove it with a bbq brush or scrape off the rust with a spatula the next time you use it.
Tip 5: Plancha baking with a garden fire, garden fire or barbecue
Within the range of Vuurkorfwinkel.co.uk you will find various sizes of plancha plates. The planchas are available for fire pits, garden fireplaces and fire baskets. There are also barbecues available where the plancha plate already comes with the barbecue. The BonBiza outdoor kitchen or OFYR outdoor kitchens are good examples. These outdoor kitchens usually consist of a base with a fire bowl and a plancha baking plate on top. This therefore allows you to bake plancha directly when the outdoor kitchen is inside.
Planchas can thus be placed on a fire basket, garden fireplace or fire bowl. Most planchas are from the BonFeu brand. Below are some cool combinations with a plancha.
BonVes 45 with ø55 plancha
MOODZ fire bowl 100 stainless steel with plancha ø100
La Hacienda fire bowl Pittsburgh Small with plancha ø60
Plancha baking is fun, tasty and easy to do. A good wood fire and a baking tray will get you a long way. With extra accessories such as a spatula, tongs or a fish smoking board, you can make the tastiest dishes from the plancha and even put a whole 3-course dinner on the table. If you want more inspiration for plancha baking, also check out our YouTube channel.