Delightful moments in the garden with the Cosi range
With the GardenmaxX garden fireplaces you can kill several birds with one stone! These beautiful outdoor fireplaces guarantee warmth, atmosphere and high quality. The varied assortment consists of approximately 25 different models that are available in both black and corten steel. Take a quick look at our range of GardenmaxX garden fireplaces below.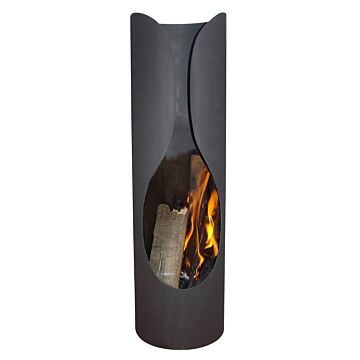 6 Reviews
L 35 x W 35 x H 122 cm
Unique design
Special Price
€185.00
Regular Price
€235.00
Ordered before 17.00h,

SAME DAY

shipment

Delivery from

STOCK

Pay later

GardenmaxX fireplaces
Firepit-online.com offers a huge range of garden fireplaces, fire baskets, fire bowls and other related products that make outdoor life more enjoyable. If you are looking for outdoor fireplaces that bring extra atmosphere and warmth to your garden or terrace, be sure to check out the garden fireplaces from GardenmaxX.
The Dutch company GardenmaxX was founded in 1999. The company focuses on a wide range of products for the garden in which very beautiful and good garden fireplaces play the leading role. The garden fireplaces all have a well thought-out and typical Gardenmaxx look.
The products are sold all over the world. The designs of this versatile brand are stylish, functional and contemporary. They use simple shapes such as rectangular or round to create a simple but truly beautiful garden fireplace. The fireplaces are usually made of steel and for many models you can choose between brown, rust or black. In addition, during production quality, value, price and design are always taken into account.
Wonderful range of garden fireplaces from Gardenmax
Gardenmaxx has fireplaces made from 1.6 or 2 mm thick steel. Many models are available in both a small version and an XL varaint. Smaller models such as the Gardenmaxx garden fire Rengo have an average height of 120 cm. This modern and stylish garden fire features a wood storage area to dry the wood properly before use.
The height of the larger garden fireplaces can vary from 1.50 to 2 metres. An example of a large garden fire is the Pular Corten XL or the Tacora fireplace.
Matching wood storage
Well-dried wood is essential for stoking a fire. Gardenmaxx has very stylish and matching wood storages. These fit the garden fires both in colour and design. The GardenMaxX Woodbox Black is a good example. The rectangular storage fits nicely with the black garden fires and is very functional. The height of the wood storage is ideal for use not only as storage, but also as a bench. Enjoy the garden fireplace sitting on the wood storage and occasionally throw a fresh piece of wood into the fire.
In our webshop you will find all GardenMaxX garden fireplaces and fire bowls clearly arranged. If you order before 17:00 hours, we will ship your package the same day!