Assortment BonFeu

Chilling & grilling with the BonFeu garden fireplaces
Tough, recognizable and functional ... Just a few features of the BonFeu fireplace. Almost all the fireplaces of this traditional Dutch brand are equipped with a grill grate so you can cook outside over an authentic fire. After barbecuing, throw a few fresh logs on the fire and then enjoy the heat and atmosphere of these garden fires until the late hours.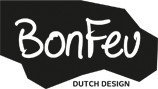 The Dutch brand BonFeu stands for recognizable and well-thought design and premium quality. The team at BonFeu focus on the design of fireplaces which are a pleasure to use and suitable for outdoor cooking.
They continuously come up with creative and contemporary designs which match the current trends but also have the necessary durability to ensure a long product life. It is thanks to these core values that BonFeu has become one of the leading players in outdoor fireplaces, fire bowls and wood stoves.
With a Bonfeu patio fireplace you get something unique in your garden. The assortment of Bonfeu is very extended, so there is always a model to your liking available. In addition, many fireplaces have fun extras such as a grill, a wok ring and a hob. With a Bonfeu fifre place you can also enjoy cooking outside over a wood-fired fire.
The brand Bonfeu distinguishes itself also in other areas from many other brands, which evidently shows by the included spark screen, but also for example in the unique ashtray at the rear of the BonPyra patio fireplace and the BonTon patio fireplace.
In short, Bonfeu stands for atmosphere, comfort, safety and innovation.
Below you can see a short impression of the atmosphere: