With a MOODZ fire bowl you bring a real eye catcher into your garden. With a wide collection of tough and robust fire bowls made of 3 mm thick corten steel, MOODZ guarantees many atmospheric summer evenings. The MOODZ fire bowls are available in various diameters up to 150 cm, so a MOODZ fire bowl will fit in any garden!
Whether you have a modern or classic garden, with a fire you will create a nice atmosphere everywhere. Large, small, low or on legs. In a sturdy rust colour or in sleek stainless steel, there is a fire bowl for every style.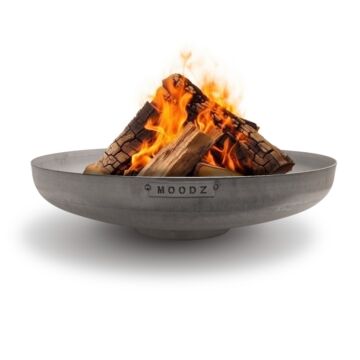 2 Reviews
L 80 x W 80 x H 21 cm
3 mm high-quality stainless steel
Special Price
€225.00
Regular Price
€325.00
Ordered before 17.00h,

SAME DAY

shipment

Delivery from

STOCK

Pay later
MOODZ fire bowls for atmosphere and warmth
MOODZ stands for quality products and focuses on fire bowls. With fire bowls measuring 60, 80, 100, 120 and 150 cm, MOODZ is one of the most extensive brands in the field of fire bowls. There's always a fire bowl that fits your garden.
Fire bowls by MOODZ
MOODZ fire bowls are available in various models, diameters and materials. All MOODZ fire bowls are made of 3mm thick corten steel or stainless steel material. The corten steel bowls first have a black colour and change into a typical rust colour and the RVS fire bowls have a grey steel colour.
MOODZ Classic garden fire bowl
The Classic garden fire bowl by MOODZ is a very standard model garden fire bowl. These garden fire bowls are available in various designs. The garden fire bowl is available in three sizes, 60cm, 80cm and 100cm. With these garden fires you can choose a base so that your garden fire does not stand directly on the ground and can dissipate its heat well.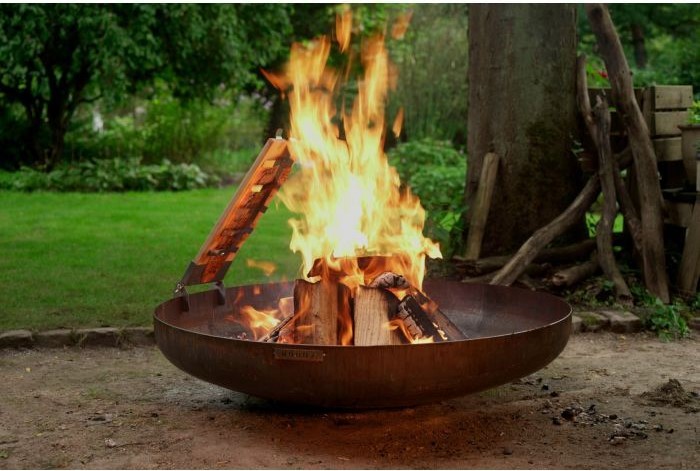 Corten steel
Corten steel is a type of steel that is perfectly suited to be left outside. The steel will rust considerably in the initial phase. But don't worry, this is exactly the intention with corten steel. After this rusting process, a protective layer is applied to the garden fire. This layer protects against further rust and ensures that the garden fire bowl will not rust through and can withstand various weather influences.
You can choose the size of the garden fire bowl yourself, so it will fit perfectly on your terrace or in your garden!
Feet & Handle
One of the most popular models of MOODZ is the Feet & Handle fire bowl. This bowl has three feet and two handles attached to it. This allows you to place the bowl properly, even on uneven surfaces, and to pick it up to move it around. Please note that the bowl and the handles get very hot. So use gloves when handling the garden fire.
MOODZ bases
With the MOODZ Classic garden fire bowls, among others, you can vary and create your perfect spot. With this classic garden fire you can make a nice fire anywhere. MOODZ has also thought about the bases for the garden fires. The bases can be combined with the classic MOODZ fire bowls. The use of a support stand is recommended in order to move the firebowl, and especially the heat from the flames, away from your terrace. In this way you protect your terrace against the heat emission and the terrace and the garden fire in a good condition. Be careful though, because fire particles can still fall out of the garden onto your terrace.
Carbon and stainless steel frames
The bases are also available in various designs, namely in carbon or stainless steel material. These two materials are both very suitable to stand outside and absorb heat. Please note that stainless steel may discolour if it comes into frequent contact with high temperatures. Carbon can also change its appearance. When in contact with high temperatures, the base can rust over time. Because both the fire bowls and the bases are available in 2 materials you can combine them. Mix & match your garden fire bowl with a base and order the best combination for your garden.
Any questions? Feel free to mail!
Do you have any questions about the MOODZ products or other products in our range? Feel free to mail our customer service. They will answer your questions as soon as possible.
If you are now totally enthusiastic about the MOODZ fire bowls, don't wait too long! Order today before 5 p.m. and we will ship your package the same working day!