Nice extras with a fireplace include a plancha, a protection cover or a rain cap. Practical accessories to make multifunctional use of your garden fireplace. Want to know more about plancha baking? Discover all planchas and their possibilities.
Ordered before 17.00h,

SAME DAY

shipment

Delivery from

STOCK

Pay later
Suitable accessories for your garden fireplace
Complete your garden fireplace by adding a plancha, stove pipe or protective cover. This way, you can use your garden fireplace in various ways and enjoy your purchase all year round.
Stovepipe
Extend your stove pipe by means of an extra stove pipe and/or a bend and ensure further smoking. Using an extra stove pipe does reduce the draft in the fireplace and so smoke will probably come out through the door more. However, having a longer stove pipe is very nice if you want to place the garden fireplace under the veranda or canopy.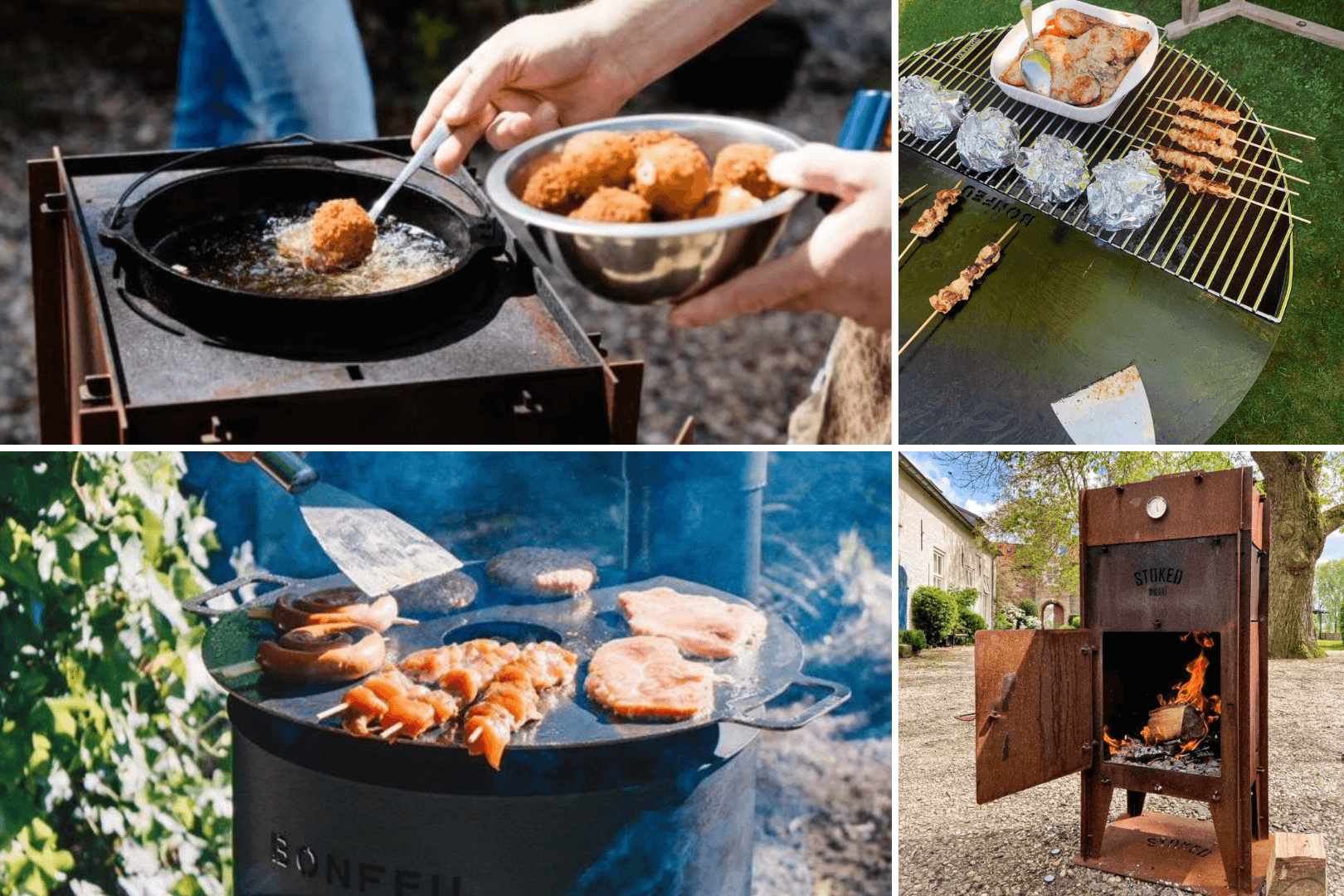 Cooking on a fireplace
Of course, garden fireplaces come with a cooking option. For selected BonFeu garden fireplaces, a plancha with Ø40cm is available to turn your garden fire into a cooking device and thus combine the lovely fire in the fireplace with a delicious outdoor dinner.
Protective covers for garden fireplaces
Protect your garden fireplace against rain, wind and damage with a protective cover for the garden fireplace. Choose the right protective cover and place it over the garden fireplace. Close it tightly and keep your garden fireplace protected. This way, you are more likely to prevent rust, damage or breakdown of the garden fireplace.
Stoked Braai garden fire
The garden fireplace with the most accessories is the Braai fireplace from Stoked BBQ. This garden fireplace is quite simple to use as a garden fireplace. Thereby, you can purchase various editions or accessories to make this garden fireplace your cooking appliance to convert this garden fireplace into a versatile garden fireplace. Examples of accessories are the chimney, to turn your Braai into a complete garden fireplace, or the wok plate to wok or deep-fry with the garden fireplace.
Tips and advice
Want to know how to use your garden fireplace in the most correct and functional way possible? Don't hesitate and contact customer service or read our blogs on garden fireplaces!