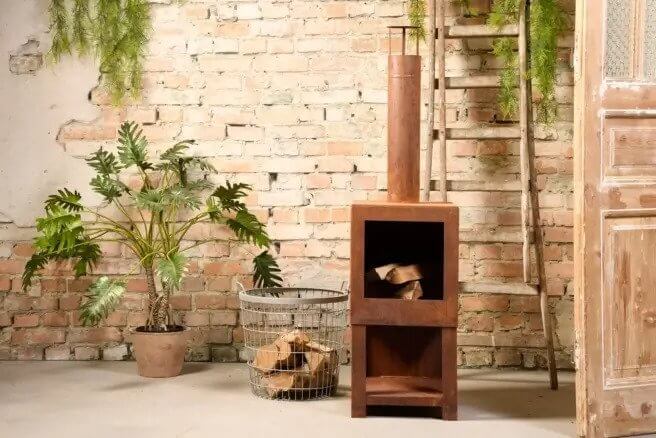 Do you like to sit outside, but would you like to have an extra feature that provides warmth and atmosphere? Then a wood-fired garden fireplace is the perfect choice. Put out a good fire and enjoy the warmth in your garden. But with a garden fireplace, you can do much more than just enjoy a warm fire...
Great cosiness and warmth
First of all, a garden fireplace naturally creates a nice warmth and atmosphere in the garden. With an outdoor fireplace, you light a good fire at a nice height next to your garden furniture or outdoor seating within minutes. You warm yourself up in no time with a wood-fired fire.
A garden fireplace usually consists of a body on legs with a stovepipe above the fireplace to discharge the smoke. Some garden fireplaces have a door to screen off the fire. So how do you make a good fire in a garden fireplace? In the body, you put a firelighter cube and some wood shavings in the middle. Around this you make a nicely constructed stack of wood strands or logs after which you light the kindling. In this way, you create a controlled fire in the stove and it will naturally grow bigger.
Extend the stove pipe
Smoke from the fire can escape through the stove's supplied stove pipe. Extending the stove pipe can be a great advantage if you want to place the garden fireplace under a canopy. By using a 90° or 45° bend, available from our webshop, you can have the stove pipe go past the roof, preventing the smoke from collecting under the canopy. This way, you turn your patio fireplace into a real garden stove to heat the lounge area.
For various BonFeu garden fireplaces, it is possible to extend the stove pipe. It should be noted that the draught in the fireplace decreases as the stove pipe gets longer. We therefore recommend not extending the fireplace too much. For more advice on extending your stove pipe, please call our customer service team. For Cosistoves outdoor wood stoves, use a roof passage to create the same effect.
Outdoor cooking on the garden fire
Yes you read correctly, outdoor cooking is also possible with an outdoor fireplace. Many garden fireplaces in our range come with a grill grate, which you can use immediately after unpacking the fireplace. Take the La Hacienda Murcia fireplace, for example. This fire comes with a grill grid that can be attached to the fire. In the blink of an eye, you can then put some ingredients on the grill that you can enjoy eating afterwards.
Outdoor cooking with BonFeu
Most of the BonFeu garden fireplaces in our range come with standard accessories, giving you an instant outdoor kitchen. Take the BonFeu BonTino for example. This garden fire has an opening at the top so you can easily place the supplied grill grid or wok ring on it. On top of the wok ring, you place the wok pan and cooking can begin.
Besides the well-known grill grids and wok ring option, BonFeu is known for its planchas for garden fireplaces. This griddle made of steel can be placed on the hearth just like the grill grid and makes for an easy barbecue. This is because the ingredients cook quickly but remain juicy and flavourful. Because of these options, you can try 3 cooking options with 1 garden fireplace from BonFeu right away!
Roasting chestnuts
Autumn has started but the weather still allows for a beautiful walk in the woods sometimes. After this fresh walk, warming up next to the fireplace is extra tasty. If you collect a few chestnuts during your walk, you can roast them in or on your patio fireplace using a chestnut roasting pan. Roasting chestnuts releases a lovely aroma and immediately gives you an autumnal feeling. Would you like to make a dish with chestnuts? Then we have some examples of tasty recipes for an autumnal dish here:
Grilled vegetables with chestnuts and blue cheese

Chestnut muffins

Pumpkin risotto with chestnuts

Pizza with mushrooms and chestnuts

Chestnut soup with forest mushrooms
When cooking with chestnuts, make sure they are really edible/tame. Do some research on the internet in advance or ask a forester if the chestnuts are edible. Do you have a bag full of chestnuts but can't eat them? Then use them to make an autumnal wreath for the table or make chestnut figures with the children. Chestnuts are also good for painting so it makes for a fun autumn decoration.

A fireplace fits in every garden
If you like cosiness and a good focal point in the garden, a garden fireplace is ideal for you. With a garden hearth, you not only have a nice fire burning, your garden is atmospherically lit by the dancing flames and you have an opportunity to roast chestnuts or marshmallows, for example, and make it a long cosy evening. Tip: Find inspiration via our Pinterest account.