Fire bowls stainless steel

Stainless steel fire bowls bring atmosphere and warmth to the garden without changing (much) in terms of appearance. On this page, you will find various sizes of stainless steel fire bowls by the MOODZ Outdoor Living brand. The firebowl is available with or without Feet & Handle.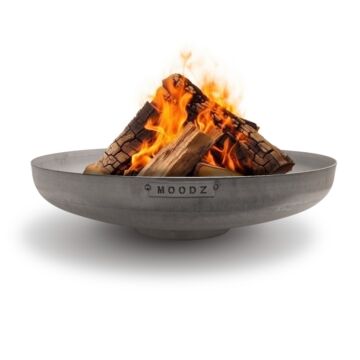 2 Reviews
L 80 x W 80 x H 21 cm
3 mm high-quality stainless steel
Special Price
€225.00
Regular Price
€325.00
Ordered before 17.00h,

SAME DAY

shipment

Delivery from

STOCK

Pay later
Are you looking for a stainless steel fire bowl?
If you are looking for a fire bowl that is a real eye-catcher in your garden, then a stainless steel bowl is a suitable choice for you. A stainless steel fire bowl is actually always design! Designs of stainless steel fire bowls are often modern and austere and the material is perfect for this. A stainless steel fire bowl is a piece of art in your garden. Because of the shining material the garden fire bowl stands out and becomes a real eye-catcher, both when the fire is lit and when it is not.
Stainless steel as material
Stainless steel is a beautiful, light and striking material! The material is light in weight, but that does not neccesarily make the fire bowl unstable. But when the wind is a little stronger, it can be a disadvantage. It is therefore advisable to place a stainless steel bowl in a place where it catches little or no wind. By cleaning your stainless steel fire bowl after use and protecting it with a cover, you ensure that your fire bowl will last a long time and keeps its beautiful appearance.
MOODZ
Firepit-Online.com offers a wide range of fire bowls made of high quality stainless steel. Create a cozy atmosphere in your garden by choosing a robust fire bowl of MOODZ Outdoor Living. The brand MOODZ not only distinguishes itself by its beautiful fire bowls but also by the possibility to choose a matching frame. The frames of the brand are works of art in themselves and add a little extra to your bowl. Finally, MOODZ also has a Feet & Handle product line, which immediately provides you with a complete fire bowl that is easy to move around.
Besides beautiful stainless steel fire bowls, there are also striking stainless steel fireplaces from the Stokem brand. The Stokem fireplaces are robust, solid and reach intensely high temperatures. It is also fascinating to see how the stainless steel acquires its own patina through your firing behaviour.