Fire pit tables

A fire pit table creates an atmospheric setting in your garden
Are you looking for an accessory for the garden with that certain extra? An outdoor fireplace, but different. Then one of our fire tables could be the perfect solution for you.
Trendy fire tables with built-in gas fire. Such a fire table can also be extended with, for example, a grill plate, a wine cooler, a glass set or an occasional table. The fire tables are also available in many models and colours, so there is always one that suits you.
All this creates a wonderful ambience in your garden, for many hours of atmosphere and conviviality with friends and family.
Enjoy your terrace twice as much with a fire table
Fire tables are the new garden trend. They are lounge tables with a comfortable, built-in gas fireplace that can be connected to a 5 kg gas cylinder. Without a doubt, fire tables will give your garden a great appearance.
You will find various types of gas fire tables in our product range. Are you looking for a small table for your patio or a large fire table for the garden? You have come to the right place at Firepit-online.com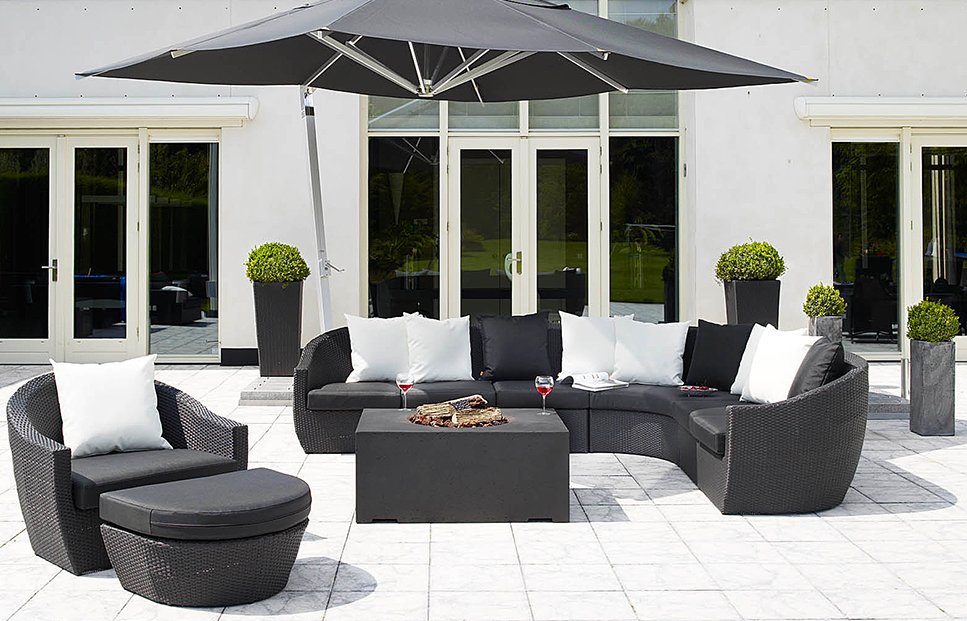 Happy Cocooning fire tables
Happy Cocooning is the manufacturer of a wide range of fire tables. The Happy Cocooning fire tables range from round to oval and from square to rectangle. In addition, the Cocoon tables generally are also available in different colors. So there will always be a Cocooning table that fits your patio or garden.
The fire tables are made of durable composite, which makes them weather-resistant, highly durable and relatively light at the same time. Although the table appears to be made of concrete, in reality you can easily move the fire table.
Should you prefer a teak conversion or a fire table with a woody look, then you'll probably like the the new "Nice & Nasty" line or "Lounge & Dining" line better. These teak wood fire tables, too, are available in various models and sizes. In addition, with the Lounge & Dining tables you can stow the gas cylinder in a storage compartment at the bottom of the fire table. With the other Happy Cocooning fire tables you can easily order a matching side table, also called enclosure.
Happy Cocooning is constantly introducing new models. For example, the Happy Cocooning Fire Table Square Lounge & Dining, the Happy Cocooning Fire Table Bowl and the Cone Fire Table have recently been added to the range. Each of them stylish fire tables of high quality and with a beautiful design.
Built-in-burners
With a separate built-in burner, you can easily create a special fire table from your "ordinary" garden table. Built-in burners are gas heats that you can lower into a recess of a garden table. Loose built-in burners are available in two different shapes: square and rectangle. You can therefore perfectly match the shape to your garden table shape.
Accessories fire tables
Fire tables come standard including the ceramic logs, lava stones and a protective case. In addition, you can expand almost all fire tables with all kinds of fun and practical accessories. How about a trendy wine cooler, side tables on which you can put your snack and drinks, or a griddle? You can assemble your own fire table. For extra security you could order a glass screen surround.
Did you make up your mind? Then order your beautiful fire table now!
The choice of Happy Cocooning fire tables is enormous. If you have made your choice, you can order the fire table online. If you order before 17.00hrs, your order will be shipped the same day.
Read here more about the safe use of gas bottles.