A tripod is a great way to cook over an open fire. Hang a simmering pot underneath and make a tasty stew or use a grill grid and/or barbecue pan and prepare a delicious piece of meat or fish. In addition to a grill grid, there is a complete Esschert campfire set for cooking outside on a simple open fire.
Ordered before 17.00h,

SAME DAY

shipment

Delivery from

STOCK

Pay later
Back to basics: cooking with a tripod
Cooking with a tripod is an easy way to prepare a meal with a simple fire. You build up the tripod and light the fire to prepare a delicious meal by using accessories like a campfire pot. At Terrashaardshop.be, you can choose from various items that make cooking with a tripod even easier.
What is a tripod?
Using a tripod is one of the first ways of cooking on an open fire. Building a tripod over the fire has been done for centuries. The people who did not have modern grilling techniques already used the tripod construction to easily cook a dish. A tripod is a three-legged construction, often made of black steel, which you can easily place around a fire bowl. Between the legs of the tripod hangs a grill grid or a hook from which, for example, a campfire pot can hang. A tripod is the perfect accessory for your garden fire!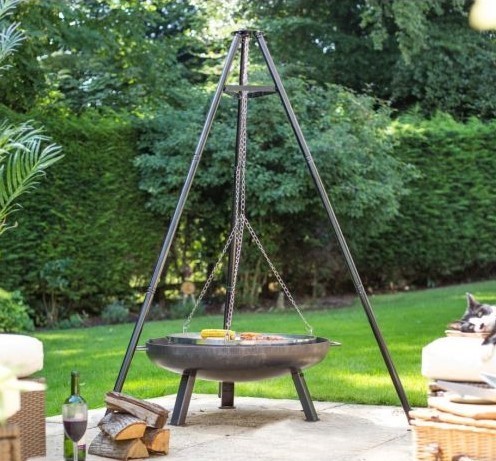 Cooking with a tripod
The tripod is perfectly made for cooking on a campsite, in nature or just in the garden. Its simple construction and various options makes the tripod perfect for any situation. Want to know more about using the tripod, our tips and more? Then be sure to read our blog on the tripod.
Tripod accessories
Cooking with a tripod naturally requires some cooking utensils. Most tripods come with a grill grid but there are many other accessories that make cooking even easier and more fun. For example, you can hang a campfire pot from the tripod's hook to make a pan of stew. There is also a barbecue pan. These are handy shallow pans on which you can fry grilled vegetables or potatoes, for example. Finally, a cooking pot is very handy for preparing a one-pot meal.
Are you convinced? Order the tripod now!
Are you convinced of the use of a tripod for baking and grilling? Order the tripod and its accessories today before 5 p.m. and your order will be shipped the same day!