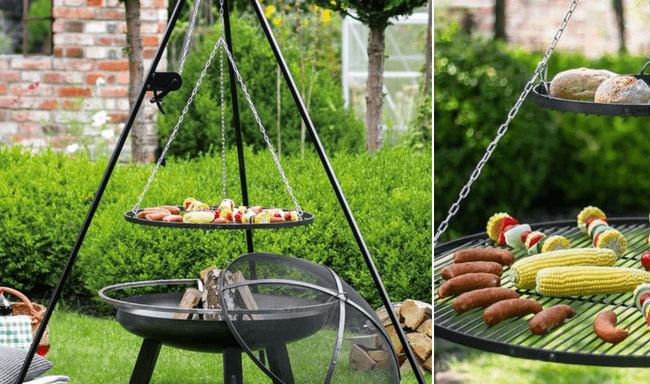 A simple and fun way of cooking outdoors besides the traditional barbecue or grill is cooking outdoors with a tripod. But what is a tripod, how do you use it and what are all the possibilities of cooking with a tripod? In this blog, you will read all about the tripods available in our webshop and all the possibilities.
What is a tripod?
As the name suggests, a tripod consists of three legs. These three legs are held together at the top by screwing the separate legs to one part. This construction ensures a stable relationship between the legs so that the tripod always stands firmly. The tripods available in the assortment of Firepit-online.com are all made of black steel. A tripod does not always come with standard extras. There are tripods available that consist only of the three-legged construction, but also tripods where a chain and one or two grill grates are supplied.
The CookKing brand has an extensive choice of tripods in their range. For instance, tripods are available with a height of 180 cm and 200 cm. In addition, there are tripods that come with a double grill grid or completely without chain or grill grids.
How do you use a tripod?
A tripod is very easy to assemble. Usually, the legs are supplied loose and you only need to screw them together or secure them with a single screw. The tripod is meant for cooking over an open fire or a fire bowl. Assemble the tripod next to the fire including the chain and any grill grate. Then place the tripod over the fire and start grilling, stewing or baking.
If you use a grill grid, you can play with the height of the grid above the fire, based on the ingredients on the grid. With a grill rack, you can not only grill. It is just as easy to place a Dutch Oven on the grid and use it for a soup or stew pot.
But a tripod is also good to use without a grill grid. For example, you can hang a large wok pan from a chain with carabiners and prepare a wok dish over an open fire. Or hang a cast-iron pan directly from the chain and let it simmer for a few hours.
Tips for outdoor cooking with a tripod
Would you like to try out various dishes with a tripod? We give you some tips to make it more fun, easier and tastier.
Hang the pan close to the fire to heat or cook something quickly
Want to simmer a stew for just hours? Then hang the pan higher above the fire
Using a grill rack? Grease the ingredients with oil beforehand
Handy, use a pulley to make the chain longer or shorter
La Hacienda tripod
A well-run tripod is the La Hacienda tripod. This tripod is easy to assemble using a handy screw system. The tripod comes with a chain and grill grid with a diameter of 65 cm, the height of the tripod is 172 cm.
In addition, the tripod is very stable but also light, making it easy to move while cooking. You can secure the chain with a hook located on one of the legs. That way, you can make the chain longer or shorter to play with different temperatures. The supplied grill grid is attached to the chain at three points with simple hooks. If you remove this grill grid, you can hang a wok pan or Dutch Oven from it and get to work with it. With this La Hacienda tripod, you really buy a complete tripod with everything you need for outdoor cooking. All you need is an open fire or fire bowl as a heat source.

Cooking with a tripod
Cooking outdoors with a tripod is not only very easy, you learn a lot about using temperature with various dishes and the popular accessory can easily be added to an atmospheric campfire or fire bowl. Are you camping, sitting in the garden or with friends? Cooking with a tripod is suitable to do anywhere and gives a brotherly feeling. Take a seat around the fire and prepare a delicious burger or tasty soup in the meantime. When you finish cooking, you can easily pick up the tripod and put it away to still benefit from an atmospheric fire.
If you now want to try out even more outdoor cooking and are perhaps looking for a complete outdoor kitchen from renowned brands such as OFYR or The Bastard, then look no further in our webshop and find the ideal outdoor kitchen!