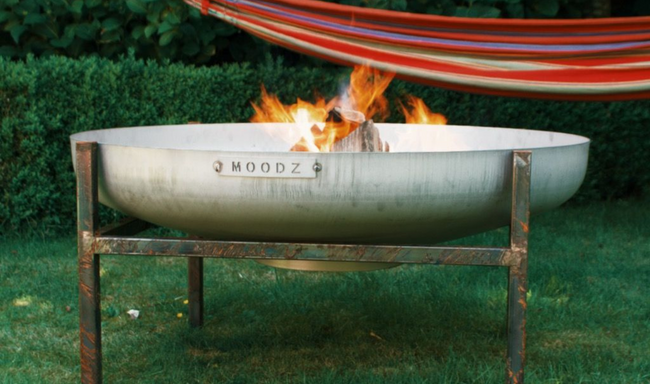 Be amazed by the possibilities of a firebowl as a heat source, mood creator and even barbecue! MOODZ outdoor Living is one of the top brands when it comes to the range of fire bowls available in our webshop. Learn, discover and be surprised and read on to find out more about this brand and its countless possibilities for your garden.
MOODZ fire bowls and bases
Nice to know is that MOODZ Outdoor Living is a brand that focuses entirely on quality fire bowls, the possibility of cooking outside with these bowls and also being able to fill the garden with atmosphere and warmth with one product. The fire bowls are made of corten steel and stainless steel and are available in no less than 5 sizes, for small and large gardens.
The most popular MOODZ fire bowl is the MOODZ Feet & Handle. This bowl stands on three legs and has two handles for moving the fire bowl. If you prefer to choose your own combination of fire bowl and base, this is also possible. MOODZ offers two types of bases, type 1 and type 2, both available in stainless steel and carbon steel. These bases are available in the different sizes to fit the fire bowl perfectly in or on the base. Type 1 base is a star shape where the firebowl rests on three points and is at a fine height from the ground. Type 2 undercarriage is a square model where, due to the different heights, you can place the fire bowl both low and slightly higher above the ground. Together with the fire bowl, both bases form a nice unit to place in the garden.
Cooking outdoors with a garden fire pit
In a previously written blog, you can read more about BonFeu's grills and planchas. These planchas and grills can also be used on the MOODZ fire bowls. A plancha is a smooth griddle that gets hot quickly, allowing you to cook a delicious, juicy burger within minutes. The great thing about a plancha is the different cooking options. The plancha offers different heat zones on the plate, allowing you to cook large pieces of meat on the centre of the griddle as well as vegetables and smaller dishes quietly on the edge of the griddle. In addition, a plancha is also good to use in combination with a smoking board for fish.
Besides the plancha baking trays, there are also classic bbq grill grids that can be placed on the firebowl. With these, you can grill and cook hard vegetables, for example, or create a nice grill pattern on a good piece of meat. The main difference between baking and grilling: with a plancha, you grease the griddle and put 'dry' ingredients on it, with grilling, you should grease the ingredients and then put them on the grill.
Grills and planchas can also be combined. Half and whole planchas and grills are available for all sizes. For example, if you want to cook burgers and prepare a sauce in a pan, the combination of a half grill with a half plancha on the firebowl is very suitable.
Cooking with a tripod
What has not yet been explained in detail is how you can also use a tripod to cook with over a firebowl. A tripod is a tripod often used with a chain and grill grid or Dutch Oven to cook over an open fire. Are you at a campsite and allowed to make open fires? Then be sure to bring a fire bowl and tripod and get adventurous.
A tripod is a very easy way to make something tasty quickly and easily. For example, use the grill for grilling meat, skewers and vegetables. To make soup in a simmering pan, easily hook a Dutch Oven or simmering pot on the chain and hang it over the fire. A final cool accessory for the tripod is a wok pan. You attach it to the chain with three carabiners and hang it low above the fire to make a delicious and tasty wok dish. Want to know more about the tripod? Then read the tripod blog and find out more.