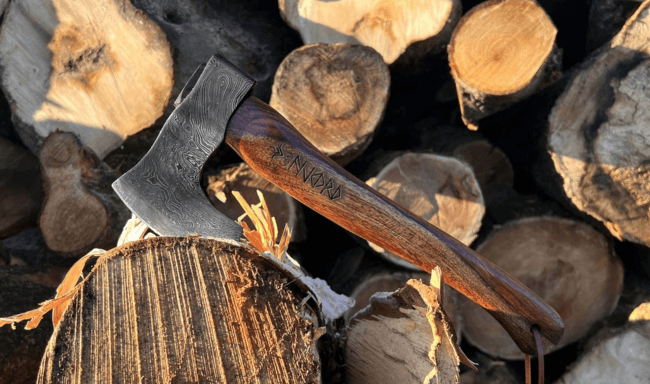 To start a nice fire, good firewood is of course a must. You can buy firewood in different sizes. But it is also possible to create your own firewood. If you have a fallen tree in the garden or a bag of large tree trunks, then a good splitting axe is obviously handy and necessary to make safe firewood for the garden fireplace. But what is the best (splitting) axe and what types of axes are there?
Types of axes for the outdoors
If you go searching for axes, you will find a lot of different axes. First of all, it is good to know which axe you need for which job.
In the range you will find different axes and you can decide which axe is best for your job. Well-known brands such as Fiskars, Njord and Morakniv can be found in their webshop.
Splitting wood yourself with a splitting axe
If you want to create your own firewood, it is a good idea to buy a splitting axe. With a splitting axe, you can turn large pieces of wood into smaller pieces to burn in the fireplace. A good splitting axe has the following features:
A heavy head so that the axe has enough weight to split the wood
A thin head to easily go through the wood
Different length available. Adjust the length to your strength and height
The cut does not need to be sharp
Intended to be used with two hands
Splitting seems simple but is good to practise and be aware of the technique you should use. The best steps to follow are as follows:
Choose the right length for your height and strength

Place the log on the back of a chopping block

Place the tip of the axe on the front of log

Raise the axe and connect both hands to the end of the handle

Drop the axe but maintain strength and tension in the arms

Bend (slightly) through the knees and the axe will go into or through the log
By following these steps, you can split a log easily, without too much force and, most importantly, safely.

The best splitting axes can be found at Firepit-online.com
Which splitting axe is best for you depends on how big the log is, how strong and big you are and how the axe feels in your hands. It is important to feel that you can handle an axe well and use it easily without it slipping out of your hands or being too heavy to work with. We have recently added a selection of axes to our range. It is an indispensable accessory for making firewood for your fire bowl or garden fireplace. So order today before 5pm and we will ship your axe the same working day.