Cyclus is the brand for circular products for in and around your home and garden! With the stylish fire baskets that they upcycle from old washing machine drums, Cyclus contributes to the reduction of waste while you can enjoy atmosphere and warmth. Available in three models, each fire basket is unique and through the perforated steel you can see the light and the flames sparkle. Unique fire baskets on Firepit-online.com.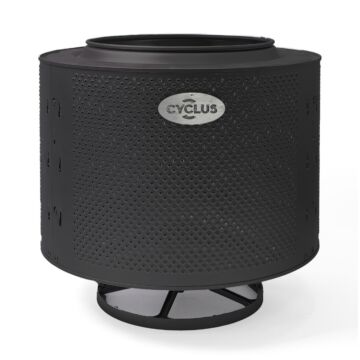 0 Reviews
L 49 x B 49 x H 53 cm
High-quality stainless steel
Special Price
€219.00
Regular Price
€249.00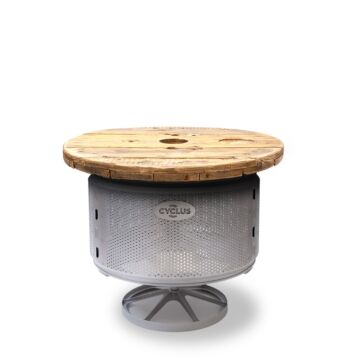 0 Reviews
L 60 x W 60 x H 3,5 cm
Made from an old reel
Special Price
€89.00
Regular Price
€99.00
Ordered before 17.00h,

SAME DAY

shipment

Delivery from

STOCK

Pay later
Cyclus sustainable garden products
Sustainable, circular and tough. These three characteristics are central to the brand cycle. Producing fire baskets made from old washing machine drums is a cool way to reduce the waste mountain of white goods and other materials. Cyclus devotes itself to making garden products more sustainable and makes recycled fire baskets. Consisting of a drive shaft and the drum of a washing machine, you can immediately use it as a cool fire basket after a short treatment.
Recycled washing machine parts
Cyclus produces fire pits. But not just any fire baskets, fire baskets consisting of an old washing machine drum made of stainless steel and a stainless steel drive shaft. Using old parts in this way is a sustainable way of producing and reusing an old product into a new, recognisable or unrecognisable, product. Upcycling is what we call it.
Cyclus Ecodrum fire pit
The Cyclus ecodrum fire basket is available in various designs. It must be said that each one of the Ecodrum fire baskets is unique given the nature of the fire basket. The Ecodrum GD is available in Medium and Large. This fire basket has a hole pattern that is round so it will cast round shadows on garden tiles. The Ecodrum HD is available in medium size and has a pattern on the drum with hexagonal planes. The holes between these planes are a bit smaller and therefore also give a unique shade in the garden.
Cyclus in development
Founded in 2022, the brand is in full development. Possible accessories or various other sustainable and recycled garden products may still be added to the range.
Interested in the growing brand
If you are interested in sustainable brands within garden artefacts, definitely keep an eye on this brand. If you opt for a more classic fire basket, be sure to check out the HEAT Outdoor Living brand. This brand is known for the classic looks of its fire pits.