Safe, user-friendly and good heaters!
User-friendly heaters for every terrace. Eurom offers a wide range of patio heaters and indoor fireplaces. Durability, safety, innovation and user-friendliness are high on the priority list and are also implemented in the products. Are you still looking for a suitable and quality patio heater or indoor fireplace, check out Eurom's entire range below and order soon!
Ordered before 17.00h,

SAME DAY

shipment

Delivery from

STOCK

Pay later
Eurom patio heaters for your patio
The garden is nowadays the extension of the house. Many people want to enjoy the garden for a long time. With the patio heaters from Eurom in your garden, porch or patio, you can stay outside longer and enjoy long summer evenings.
Very diverse patio heaters
To start with, Eurom's range contains a selection of ambient heaters for indoor use. Unlike a standard stove, an ambient fire not only provides pleasant warmth, it is also very stylish and will dress up the room nicely. The atmospheric fireplaces are available as stand-alone stoves or as insert stoves. Do you already have a recess and are you still looking for a fine ambient fireplace with a lot of power to warm up the room? Then take a look at the Valencia ambient fire. This fireplace has a capacity of 2kW and has an adjustable flame effect. This adjustable flame effect means that the flames can be set higher or lower, changing the appearance of the fire.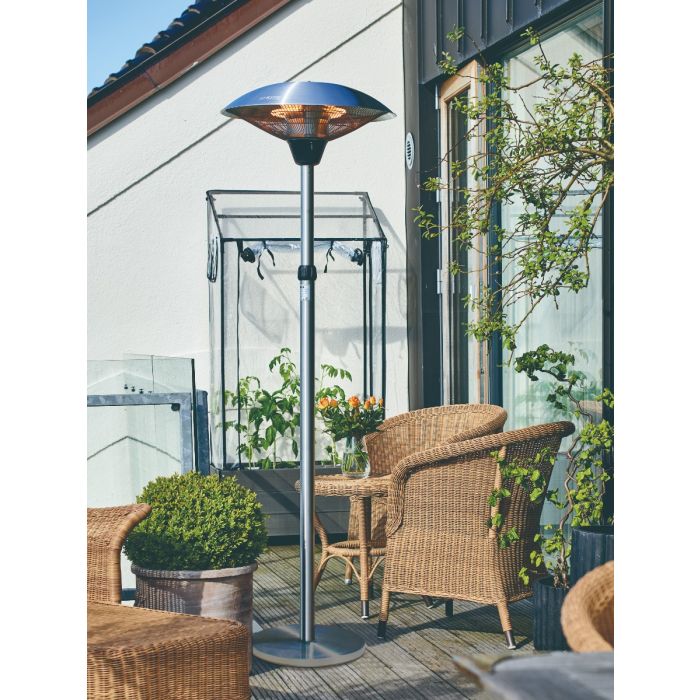 Wide range of terrace heaters
Do you have a cozy lounge set where you want to experience the heat close to the ground? Then a lounge heater offers a great solution. The lounge heaters from Eurom are powerful and perfectly suited to heat your terrace. The nice thing about the lounge heaters is that the heating system at the height of the lounge set radiates its heat. This way you are always warm and can sit outside for hours on a heated terrace!
Not only heaters next to the lounge set give you a tropical feeling. Consider the Barcelona table heater. You can easily place this heater on the terrace table and enjoy a delicious snack and drink. With a capacity of 1500 Watts, you can heat your terrace and also sit outside in the evening for a long time.
Terrace heating from above
If you need comfortable warmth in your veranda, a hanging patio heater for the wall or ceiling is ideal. But patio heaters for party tents, sheds and storage areas are also part of the range. With these hanging patio heaters you can enjoy a lovely heated terrace or roof. Now you can enjoy your terrace all year round and sitting outside is always an option!
Within the Eurom patio heaters there is the Golden Shadow line. These patio heaters must be hung and have a capacity of 1500, 2000 or 2500 Watts. With a capacity of 2500 Watts, a terrace of 25 square meters can be heated. All Golden Shadow patio heaters have two settings allowing you to choose how much heat is needed to properly heat the terrace. The versatility of the heater can therefore be used on any terrace.
Known from TV
You can recognize the Eurom patio heaters from TV. The Eurom patio heaters are used in programs like 'Rob's big garden renovation' and the new program 'On Hot Coals', broadcast on SBS6 and RTL7.