€309.95
(retail price)
€289.95
Ordered before 17.00h,

SAME DAY

shipment
14 day reflection period
Pay later
All products are for the

European

market
Notify me when this product is in stock
Eurom Golden 2500 ULTRA RCD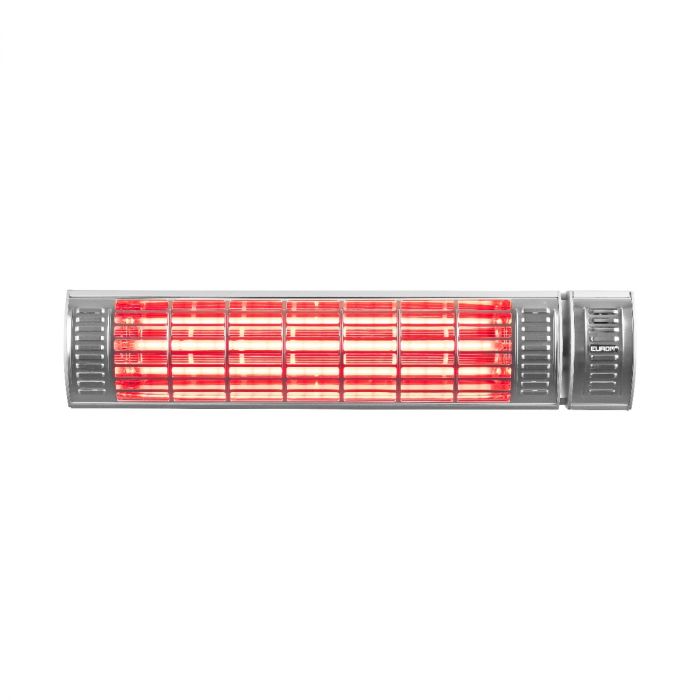 Product description
Eurom Golden 2500 Ultra RCD
If you are looking for a powerful high-effiency patio heater, the Eurom Golden 2500 ultra rcd is probably exactly what you're after! The Golden 2500 ultra rcd has an output of no less than 2500 watt and has a golden tube to achieve a higher efficiency. The dimmer is one of the main advantages of the Eurom Golden Ultra RCD. It ensures that you do not always have to sit in the full heat provided by 2500 Watt. The dimmer has 6 different settings.
Less light and more warmth thanks to the Low Glare infrared rays
A lot of heat Read more given off by the patio heater gets wasted on warming up the surrounding air. However, what you really want to achieve with the patio heater is that the people in the vicinity of the lamp are kept warm. This is why the aluminium Eurom Golden 2500 Ultra RCD has an infrared low glare lamp. This superior lamp with a life expectancy of no less than 8000 burning hours quickly makes all your guests feel comfortably warm.
Although the initial purchase price may be a little higher, it soon pays itself back with these high efficiency lamps. The new technology used in the low glare lamp ensures less light and more warmth. Another advantage is that the Eurom Golden 2500 Ultra RCD loses little to no heat because of wind which makes it perfect for outdoor use. The lowglare-lamp emits a low level of light in any position and this stops insects being attracted to your seating area during the evening. The rays have a range of 4-6 meters. The maximum range of the Eurom Golden 2500 Ultra rcd is approximately 25m².
Fully dustproof and splashproof
The Eurom Golden 2500 Ultra rcd patio heater is splashproof and has a IP65 classification. The IP65 classification indicates the resistance of the patio heater against water and dust. Therefore, the patio heater cannot be damaged by water spray (12.5l/min.). The housing of the Eurom Golden 2500 Ultra RCD ensures that the patio heater is resistant against dust particles.
Quick and easy mounting
You can simply mount this electric patio heater on the wall and connect the Eurom Golden 2500 Ultra RCD to the power supply. All fixings are supplied as standard. Another useful feature of this patio heater is that it can be vertically tilted up to 100°. This makes it possible to tilt the patio heater at the right angle at all times.
Please note: the peak starting current is 18 ampère. For the correct functioning and a safe start of the Eurom Golden 2500 Ultra RCD , it is important that you have a slow-blow current breaker in your home or (catering) company. With a quick-blow circuit breaker the power is cut immediately as it cannot process the high peak currents.
We recommend to connect the lamp to a separate group with a slow-blow circuit breaker (legal requirement). This is not necessary if your home still has an old-fashioned fuse box.
The Eurom Golden 2500 Ultra RCD BLACK in a nutshell:
- Ideal for larger patios
- 2500 Watt maximum output
- High efficiency Suncare low glare lamp
- Maximum range approximately 25m²
- Can stay outdoors the whole year round (IP65 / splashproof)
- Consumption costs approximately € 0.55 per hour
- Also particularly suitable for catering purposes
- Remote control included

Euromac is a dynamic Dutch company that has been importing and developing patio heaters since 1974. A Eurom patio heater is characterized as strong, reliable and powerful. Whether you are looking for a lounge heater, a gas heater, a wall or ceiling heater, with a Eurom patio heater you get quality in the house.
Read less
Specifications
Model
GOLDEN 2500 ULTRA RCD
Included
Wall bracket (2x) and 1.80 m cable
Heating range
Approx. 25m²
Number of fire hours
Approx. 8,000 burning hours
Protection class
IP65 - splashproof
Type of terrace heater
Hanging terrace heater
Maximum power
2.401 - 2.500 watt
Consumption costs
€ 0.41 - € 0.80 per hour
We found other products you might like!

This one!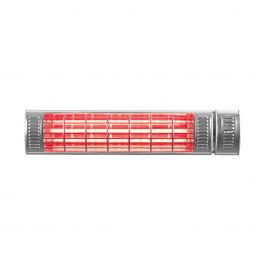 Eurom Golden 2500 ULTRA RCD
€309.95
(retail price)
€289.95