Happy Cocooning Firetable Cone Black
1 Review
4.5 out of 5 based on 1 reviews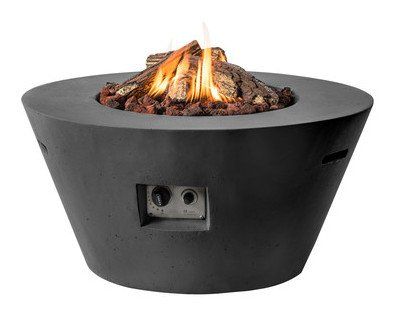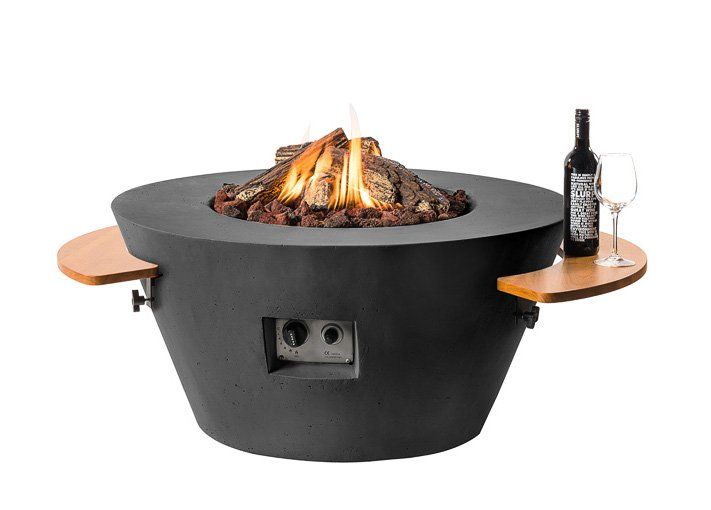 Happy Cocooning Firetable Cone Black
All products are for the European market

Ordered before 17.00h,

SAME DAY

shipment

14 day reflection period

Pay later
Accessories for Happy Cocooning Firetable Cone Black
Happy Cocooning Firetable Cone Black

The Cocoon Table Cone is an atmospheric gas firepit and a perfect alternative for an authentic fireplace. The Cocoon Table has no chimney and is therefore the ideal choice for every garden! The cosy gas fire of the Cocoon Table provides radiant warmth so that you can enjoy the garden until late in the summer evening.

The Cone firepit provides a cosy fire without smoke or sparks
The round Cocoon table is a firepit with integrated gas fire. The stainless steel burner (19.5 kw) of this fireplace is nicely camouflaged by the logs and lava stones which are supplied with this product. This means that it resembles a real wood fire. The fact that this fire does not give off any smoke or sparks is a huge advantage!
High quality and resistant against extreme heat
It appears as if the Cocoon tables are made from concrete but they are actually made from composite. The composite material protects the table against extreme heat and cold which means that you can leave it outside the whole year round. It is difficult to tell composite from real concrete but the lighter material makes the firepit easier to transport. We recommend you use the free included protective cover when the table is not in use.
Comfortable to use
The electronic ignition makes it easy to light. You can adjust the flame height with the useful rotary knob. Both the electronic ignition and the rotary knob are discreetly located in a useful stainless steel control panel.
This luxury lounge fire is available in three different colours (Black, Anthracite and Taupe) and can be enhanced with accessories such as a grill, a wine cooler or a useful side table. Ambiance and good times guaranteed
The Cone Firetable is supplied as standard with:
- Logs (4 units)
- Lava stones (6 kg)
- PVC protective cover
- CE approved rubber gas hose (250 cm)
-
Gas pressure regulator 30 mBar is not included
The Happy Cocooning Firetable Cone Black in short:
- Comfortable gas firepit
- Stylish round model
- The electronic ignition with thermocouple makes it easy to light
- Also available in the colours: Anthracite and Taupe
- Click here for the
Cocoon Table User instructions
- Cosy, Comfortable and user-friendly gas fire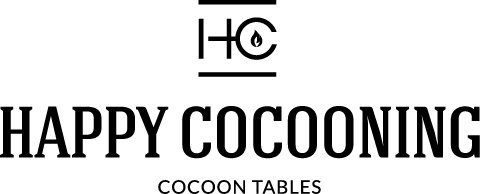 The COCOON TABLE is a lounge table made from composite with a concrete look that will put all other tables in the shade. The cosy gas fire is completely integrated, which means that you can enjoy the garden till late in the summer evening.
Cocoon firepits are manufactured by the Dutch company Happy Cocooning. The company works closely with a carefully selected retail network to sell their Cocoon Tables. It is important that customers are provided with excellent advice at all times when they are considering buying one of these stylish firepits.
Read more
Specifications
| | |
| --- | --- |
| Brand | Happy Cocooning |
| Model | Firetable |
| Article number | SRR6508Z |
| Color | Black |
| Material | Composite |
| Dimensions | L 96 x W 96 x H 46 cm |
| Weight | 35 kg |
| Included | See product description |
| Shape | Round |
| Capacity | 19,5 kW |
| Control-Panel | Stainless Steel with black bakelite control knob |
| Burner | Stainless Steel, 19.5 kW |
| Gas bottle | Cannot be stored at the bottom of the Firetable |
| Ignition | Electronic ignition with thermocouple, safety design and CE approved. |
Govert Bruursen
Wij zijn erg vriendelijk geholpen door uw klantenservice en hebben direct besteld. De vuurtafel werd de volgende dag geleverd en we waren blij verrast. Over de duurzaamheid kunnen we nu nog niet veel zeggen, maar het ziet er allemaal heel degelijk uit. Prima winkel.
Other people also viewed these products
Bundles

Happy Cocooning Firetable Cone Black

€869.00

Happy Cocooning Side Table Bowl/Cone

€129.00

Gimeg Universal Gas Pressure Regulator (50 mbar)

€9.95

Save 6.00% on accessories

Happy Cocooning Firetable Cone Black

+

+

Happy Cocooning Firetable Cone Black

€869.00

Happy Cocooning Glass Screen Surround Round

€169.00

Gimeg Universal Gas Pressure Regulator 30mbar

€9.95

Save 6.00% on accessories

Happy Cocooning Firetable Cone Black

+

+

Happy Cocooning Firetable Cone Black

€869.00

Happy Cocooning Glass Screen Surround Round

€169.00

Gimeg Universal Gas Pressure Regulator (50 mbar)

€9.95

Save 6.00% on accessories

Happy Cocooning Firetable Cone Black

+

+

Happy Cocooning Firetable Cone Black

€869.00

Happy Cocooning Side Table Bowl/Cone

€129.00

Gimeg Universal Gas Pressure Regulator 30mbar

€9.95

Save 6.00% on accessories

Happy Cocooning Firetable Cone Black

+

+

Happy Cocooning Firetable Cone Black

€869.00

Happy Cocooning Side Table Bowl/Cone

€129.00

Happy Cocooning Glass Screen Surround Round

€169.00

Gimeg Universal Gas Pressure Regulator 30mbar

€9.95

Save 8.00% on accessories

Happy Cocooning Firetable Cone Black

€869.00

Happy Cocooning Side Table Bowl/Cone

€129.00

Happy Cocooning Glass Screen Surround Round

€169.00

Happy C. Enclosure LPG Tank Black

€199.00

Gimeg Universal Gas Pressure Regulator 30mbar

€9.95

Save 10.00% on accessories