Fire bowls
Create some extra atmosphere in the garden with a beautiful fire bowl
A cosy way to have a fire in the garden is to place a fire bowl. Fire bowls add a special touch to the garden when they're lit. But even when they're not used, they're real eye-catchers. Fire bowls come in a variety of sizes, types and designs. Firepit-online.com sells fire bowls featuring both modern and more traditional designs. With the purchase of this kind of special fire bowl, you can be assured of a long-term investment for your garden.
Do you want to buy a fire bowl? Then you have come to the right place at Firepit-online.com!
With a stylish fire bowl you'll get yourself a true eye-catcher in your garden and on warm summer evenings you can enjoy
the pleasant warmth coming from the fire.
With a fire bowl you picture yourself, as it were, around a cosy campfire with friends or family. You can create this wonderful family gathering
in your own garden! Everyone can enjoy a cosy fire and stay nice and warm while enjoying a
snack or a drink.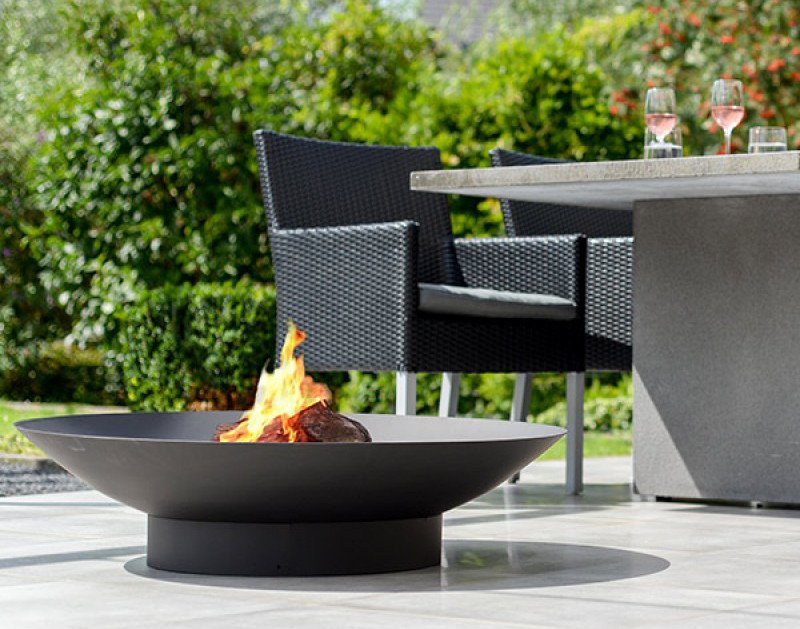 Fire bowls in many shapes and sizes
Our product range consists of various fire bowls from brands such as Esschert, Barbecook, 2L Home & Garden and Storm Lifestyle.
The fire bowls differ in shape, size and design. Available are modern fire bowls, fire bowls made of Corten steel and
fire bowls made of cast iron. There is something for everyone.
Cast-iron fire bowls
A large number of fire bowls is made of cast iron. This material is particularly strong and lasts long, even if you use the cast-iron fire bowl intensively. Cast iron is resistant to the heat of the fire so that the bowl retains its shape. You can easily recognise a cast-iron fire bowl, as this material has a very robust appearance.
Outdoor cooking on a fire bowl
Fire bowl are undisputed atmosphere makers and also provide the necessary warmth when it is a bit fresher. Many fire bowls are also very suitable for barbecuing or grilling. Delicious outdoor cooking over a real wood-fired fire, who would not want that?
Separate barbecue grills or grill plates are now available for many fire bowls. You simply place this on the fire bowl and you can cook deliciously. Do you want it more luxurious or comfortable? Then the OFYR BBQ may be something for you. This beautiful corten steel cooker contains a high base with the fire bowl and griddle, also known as plancha.
Maintenance of a fire bowl
When you stow away the fire bowl after use, it is essential to throw out ash residue and the like first.
The only maintenance the fire bowl needs is to be stowed away under a shelter, in a shed or in a storage room.
The fire bowl will then be less likely to wear or rust. But of course, also the purchase of a protective cover contributes to the lifespan of your fire bowl. You can, however, never completely prevent corrosion, but you can, of course, after due time, provide the fire bowl with a new, heat-resistant coating. The aerosols with heat-resistant paint are available with us.
Are you convinced? Then order your beautiful fire bowl now!
The choice of cheap fire pits is enormous. If you have made your choice, you can order the fire bowl online.
If you order before 17.00, your fire bowl will be shipped the same day for a quick delivery at your place !