Cooking & grilling with the OFYR is the new way of outdoor cooking.
The unique design makes the OFYR an incredibly versatile cooker. The conical fire shell has a broad, flat edge that also serves as baking sheet / plancha. OFYR grill hereby unveils a new world full of opportunities for healthy outdoor cooking.
From the very first introduction, Firepit-online.com is of the OFYR official dealer in among others the Netherlands and Belgium. For questions or advice you can contact one of our employees. Call +31-13-5451966 or send us an email. Read here more about the use of the OFYR.
Ordered before 17.00h,

same workday

shipment

Ordered before 17.00h,

same workday

shipment

Ordered before 17.00h,

same workday

shipment

Ordered before 17.00h,

same workday

shipment
Delivery from

STOCK

Pay later

Culinary enjoyment in the private garden with the OFYR BBQ
With its simple, classic lines, the OFYR fire dish is more practical and stylish than a traditional barbecue and fits perfectly in every area, from garden to chic restaurant terrace. When it's time for a cozy gathering in the outdoors, this elegant artwork transforms into a warm, welcoming place to cook and entertain guests.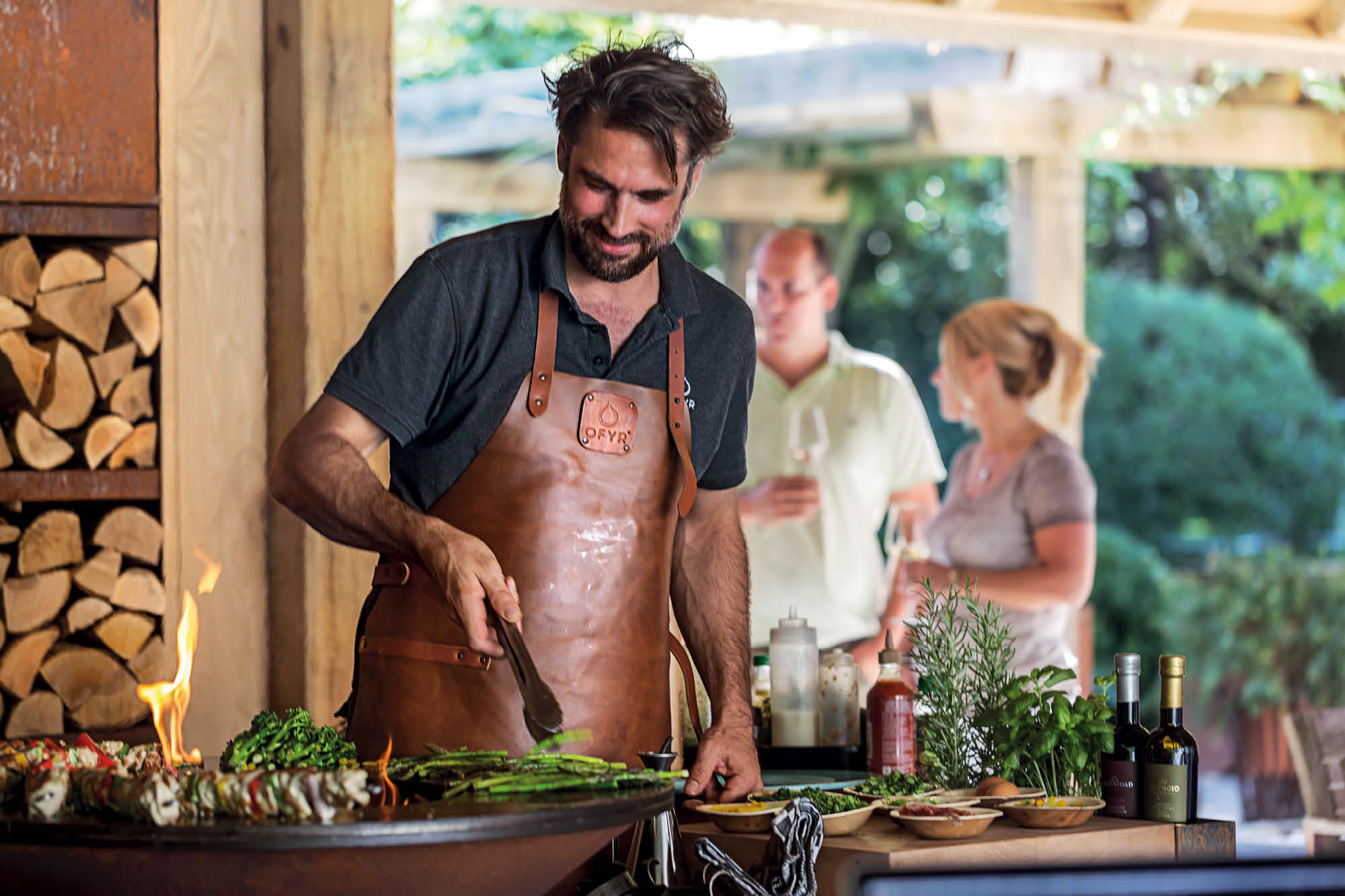 All year round, cozy together

Like a traditional campfire, OFYR BBQ brings people together. The wood-fired fire scales emit warmth within a radius of two meters, that enables outdoor cooking and fir you to eat outside in winter. The OFYR is designed in such a way that family and friends can prepare their own food while enjoying a drink and a cozy conversation.
The unique design of the OFYR fire scale
The unique design of the OFYR makes it a very versatile cooking appliance. The conical fire shell has a broad, flat edge that serves as a baking sheet, either "plancha". From the middle the heat radiates in a perfectly smooth gradient, so that one cooking plate has more cooking temperatures. Whether you are baking eggs, cooking vegetables slowly or grilling a juicy steak, the OFYR unlocks a new world full of cooking opportunities.
The 12 millimeter thick baking tray is available with a diameter of 100 or 85 cm. Through the wood fire in the fire dish (coal is also possible, but is less fun because it does not give flame and no smoke flavor) the plate is heated to about 300˚C. Spread the plate with oil and the cooking starts. The cooking surface is big: on the plate with a diameter of 100 cm can be cooked for 50 people without any problems.
The OFYR BBQ; easy to use and easy to clean
Unlike other outdoor cooking appliances, the OFYR is very easy to clean and virtually maintenance free. Food residue and excess oil easily slide into the fire. The baking sheet is easy to clean with the OFYR spatula, because all the dirt is pushed into the fire. Then oil again, cool down and the OFYR is ready for use again.
The OFYR consists of three parts (baking tray, fire dish and pedestal) and can easily be moved. In the cone there is a 2cm hole which makes the rainwater run smoothly.
Made of beautiful corten steel
The OFYR pedestal and fire shell are made of copper-containing steel (corten). Corten steel is also known as weather-resistant steel. Characteristic of corten steel is on the one hand the brown-orange rust color and, on the other hand, the long life span. The life span is so long because the first corrosion layer prevents further corrosion by rust, which makes painting unnecessary and maintenance is very low. The more you use the OFYR, the more beautiful it becomes. Over time, the steel gets a beautiful natural patina layer.
This means that the ORYR can stay outside in all weather conditions and does not have to be covered.
The OFYR accessories make it complete
OFYR currently has all kinds of beautiful accessories to complete the experience around this mood maker. For example, an OFYR oil can, an OFYR wood bag or an OFYR grill are available. All stylish accessories come with the official OFYR logo
But in addition to this practical outdoor cooking tool, you can also think of an OFYR butcher block to create additional work space. This block features a thick wooden worktop and a convenient holder for accessories and spices.
And what about an OFYR wood storage? A handy storage for your fireplace and of course made of the same beautiful cortenstaal. It fits beautifully with your OFYR fireplate.
An eye-catcher on every (catering) terrace
The OFYR fire scale provides Outdoor Living and Outdoor Cooking in Optima Forma. Cool, hot and infinite culinary possibilities! Watch the OFYR videos below to get a full picture. Of course, you can always contact us for further information.
We can offer catering companies the OFYR Classic 100/100 for a special price exclusive of VAT. The same goes for the extra large OFYR Classic XL. This is specially designed for caterers and restaurators. With a diameter of 150 cm, this catering item is suitable for cooking for even larger groups. Also for this copy we have a special catering price exclusive of VAT.
Check out some atmosphere impressions and become as enthusiastic as we are!
Order OFYR BBQ online
Firepitonline.com is now the largest OFYR shop in among others the Netherlands and Belgium and we are proud of that. We are official dealer from the first day and our enthusiasm is still as great. We are huge fan.
We have the entire OFYR assortment in stock and can therefore deliver quickly. If you order before 17:00, your order will be shipped still to same day for a quick delivery!
For questions, advice, a visit to our showroom or personal delivery (including free installation and explanation) you can contact one of our employees. Call + 31-13-5451966 or send us an email. The coffee is ready for you and our staff will be happy to advise you!
Read here more about maintenance and use of an OFYR