€4,245.00
(retail price)
€3,995.00
Ordered before 17.00h,

SAME DAY

shipment
14 day reflection period
Pay later
All products are for the

European

market
Product description
OFYR Classic XL
Although the OFYR Classic models are all extremely suitable for professional use, this extra large OFYR Classic XL is especially designed for caterers and restorers. With a diameter of 150 cm, this restaurant is suitable for larger groups to cook. Without any problems, two chefs can provide a group of 150 guests with a culinary meal. Which chef does not like to prepare his dishes on this magnificent cooker?
The OFYR Classic XL brings people together
Just like a traditional campfire, OFYR brings people together. The wood-fired fire dish gives off cosy warmth within a radius of two metres, so Read more that people can also cook and eat outside in winter. The OFYR has an innovative round design, so you can grill a delicious piece of meat or fish in an attractive way without losing contact with your guests.
An eye-catcher on every (catering) terrace
The unique design of the OFYR makes it an incredibly versatile cooker. The conical fire dish has a wide, flat edge (read: plancha) which also functions as a highly efficient cooking surface. From the centre, the heat radiates in a perfectly smooth flow, so that one cooktop has several cooking temperatures. Whether you bake eggs, cook vegetables slowly or grill a tender steak, the OFYR opens up a new world of possibilities for outdoor cooking.
The 12 millimeter thick baking tray has a diameter of 150 cm. Through the wood fire in the fire dish, the plate is heated to approximately 300˚C. Lubricate the plate with oil and bake. The cooking surface is very large: on the plate with a diameter of 150 cm it is easy for 150 men to cook.
Easy to use and easy to clean
Unlike other outdoor cookers, the OFYR is very easy to clean and virtually maintenance-free. Food residues and excess oil end up directly in the fire. The baking tray is very easy to clean with a spatula because all the dirt is pushed into the fire. Then it is time to wipe it off with a damp cloth and the OFYR is ready for use again.
Thanks to the three-part modular design, the OFYR can be moved easily. The hob, fire tray and plinth can easily be lifted and moved separately. There is a 2cm hole in the cone which allows rainwater to drain away neatly.
Made of durable corten steel
The OFYR can be left outside in all weather conditions and does not need to be covered. The base and fire bowl of the OFYR are made of copper-containing steel (corten). Corten steel is also known as weatherproof steel. Characteristic for Corten steel is the brown-orange rust colour on the one hand and the long life span on the other hand. The life span is so long because the first corrosion layer prevents further corrosion by rust, which makes painting unnecessary and maintenance is therefore very low. The more you use the OFYR, the more beautiful it becomes. Over time, the steel acquires a beautiful, natural patina layer.
The OFYR is available in different sizes
The OFYR fire bowl barbecue is available in different sizes. Both the height of the base and the diameter of the fire bowl can be adjusted as desired. Please contact us for more information or come and see the OFYR in our showroom. - View the complete OFYR range - here.
- View the full OFYR range of multiple atmospheric impressions.


The OFYR Firebowl Barbecue 100/100 in short:
- Unique design
- For use as barbecue and fire dish
- Easy to move: three-piece construction
- Made of durable corten steel: The OFYR can stand outside all year round.
- Available in different sizes (height of base and diameter of fire bowl)
- Also very suitable for catering purposes
Below you can see a short impression of the OFYR: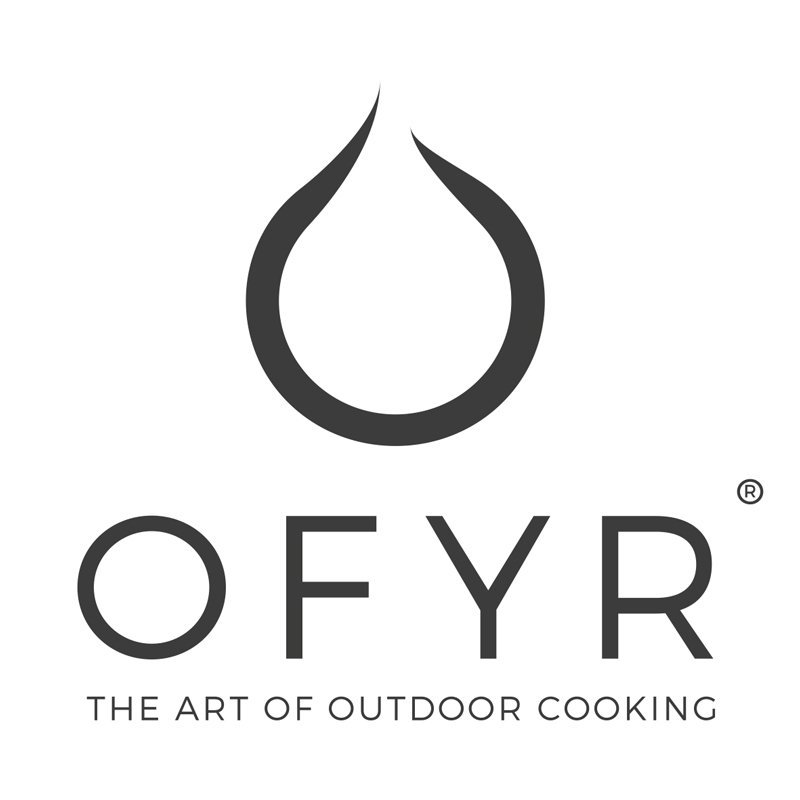 Read less
Specifications
Baking tray material
Steel
Baking tray thickness
25 mm
Thickness steel cone
3 mm
Dimensions
L 150 x W 150 x H 110 cm
Weight
Base 36 kg, cone 68,8 kg and baking tray 125,7 kg
Downloads
We found other products you might like!
OFYR Classic 100

Special Price

€1,695.00

Regular Price

€1,895.00

Order before 17.00, delivered tomorrow
Write a review about OFYR Classic XL Corten
And possibly win a € 100,- giftcard
This one!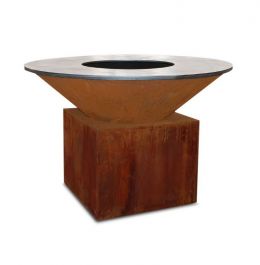 €4,245.00
(retail price)
€3,995.00