Outdoor cooking is a party with a fantastic smoke oven, nice tripod or pizza oven
Outdoor cooking is totally "hot". Bring yourself a fire, cook soup with a tripod over open fire, make pizza in a nice wood-fired pizza oven, barbecue, bake meat or fish on a firepit... It's all possible! Outdoor cooking is being active and enjoying nature and beautiful products. Cooking above open fire is also cozy, tasty and healthy.
In short, outdoor cooking is simply enjoying the best dishes in your own garden with your family, friends, acquaintances, neighbors ... and that year-round. In addition to grilling or baking, it is extremely popular to smoke dishes. Read more about smoking dishes here. If you want to buy a nice or cheap smoking oven, then you are at the right place at Firepit-online.com!
Ordered before 17.00h,

same workday

shipment

Ordered before 17.00h,

same workday

shipment

Ordered before 17.00h,

same workday

shipment

Ordered before 17.00h,

same workday

shipment
Delivery from

STOCK

Pay later

Ordered before 17.00h,

same workday

shipment
Delivery from

STOCK

Pay later

Ordered before 17.00h,

same workday

shipment
Delivery from

STOCK

Pay later
Outdoor cooking can be done all year long!
If you enjoy life outdoors, outdoor cooking should definitely be a part of that. Cooking over an open fire is cosy, tasty and healthy. Choose a stew pot or grill grate with the tripod above an open fire and you're ready to cook. Start a fire after dinner, end with roasting marshmallows and your meal will be complete.
But outdoor cooking is much more than that. The possibilities are endless. How about an old-fashioned barbecue, making delicious pizzas or smoking yourself? This can now all happen in the garden!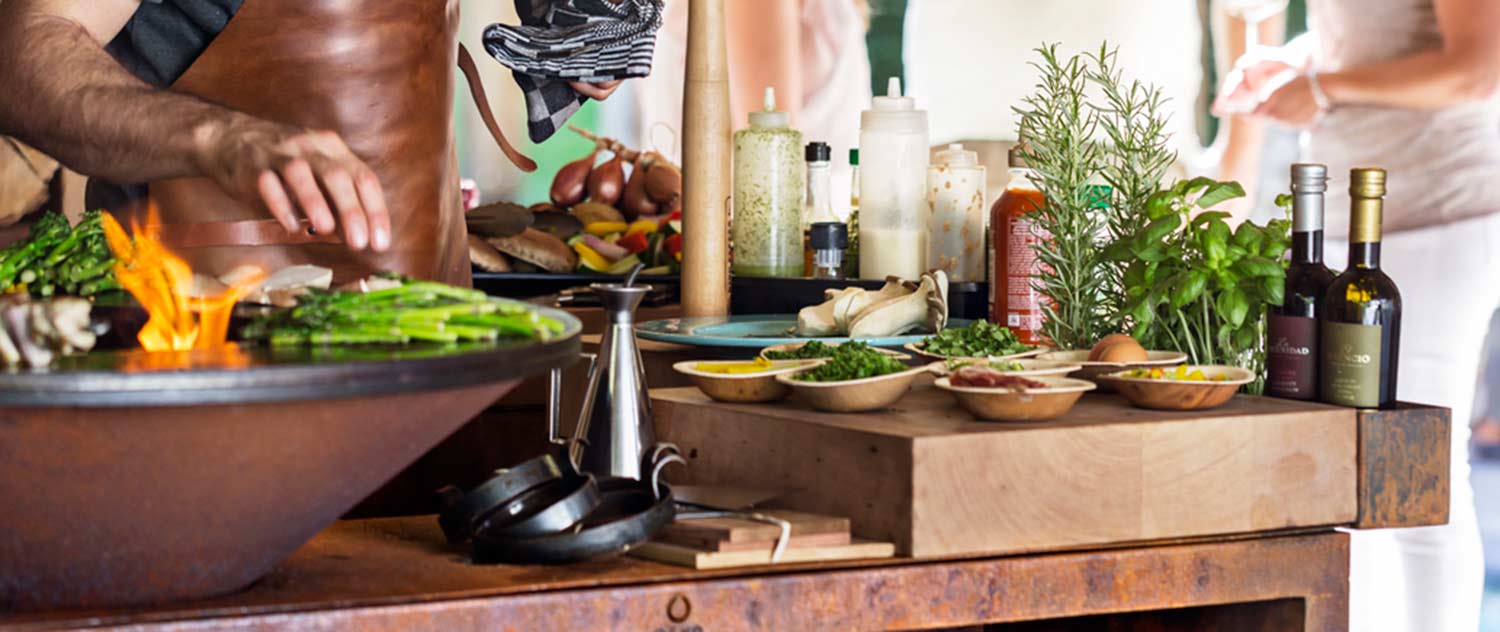 Smoking fish or meat in a smoker yourself
By smoking fish, meat, cheese and vegetables, you will give every dish a special and unique flavour. A smoker in fact works in a very simple way. In essence, it's a simple device that by burning wood chips adds a smoky flavour to the food. Today's smokers have a storage space where wood chips are burnt at a low temperature. Because of the lack of oxygen in a smoker, the wood chips do not catch fire, but do release smoke. Smoke will be led past the meat or fish through a specially designed channel, giving it its delicious smoked aroma.
The Barbecook smoker chips Oak include a great seasoning for use in the smoking oven. This will give the dishes an extra flavour sensation.
The authentic pizza oven for the garden
Roasting meat or fish outdoors is the most natural thing in the world. But did you know that you can bake pizzas in your garden or on your patio? With an Outtrade pizza oven you'll bake a crispy, fresh pizza in no time. And that while you're sitting outside, with a drink in your hand.
The Outtrade PIZ13 is an authentic pizza oven with which you can bake delicious pizzas. This steel oven can easily warmed up by adding firewood, charcoal or briquettes. Or are you in the mood for grilled meat? The Outtrade pizza oven comes with a grill grate so you can also use the pizza oven as a barbecue. This way you can decide what you're using the oven for!
Cooking with a tripod
Cooking with atitlebuy a Barbecook tripodtitle tripod above an open fire is a cosy way of outdoor cooking with endless possibilities. In a time that we all become more and more aware of what we eat, cooking in cast-iron pots is back on trend again.
Cooking in stew pots above open fire is for everyone. Whether you're making vegetable soup with your kids or are preparing a delicious lamb curry for friends. It's all possible, it just depends on what you're in the mood for.
Outdoor cooking was never easier. Place a fire bowl with a few burning logs under the Tripod, attach a stew pot to the chains and enjoy a home-cooked stew n no time. Ambience and grill fun guaranteed!
Good old fashioned barbecue
When we talk about outdoor cooking, then we should of course talk about the old-fashioned barbecue too. After all, it is a great joy to light the barbecue while entertaining friends and family.
Barbecues are available in many shapes and sizes, but buying a charcoal grill does is something you do for the delicious taste that barbecue meat will get through the fire that burns underneath. For that reason, it is important to ignite the barbecue timely if you opt for barbecueing above the hot coals of a charcoal grill. Briquettes should have been burning for at least 1 hour when you place the meat on the griddle. If you're using charcoal, the barbecue needs at least half an hour to warm up. But once the charcoal or briquettes are ready to use, then there's nothing like a delicious grilled piece of meat from the barbecue.
These days, you can also buy also all kinds of nice fire pits with barbecue griddle, or patio fireplaces with a grill rack. This way, burning a nice fire can be easily combined with the use of a barbecue. Super practical! How about the Fire-Up Troll-700 or the outdoor fireplace BBQ? These are two absolute hot shots among the outdoor fireplaces!
Outside Cooking on an OFYR
You've probably already seen the stylish OFYR on a pedestal.
Characteristic of the unique design of the OFYR Classic 100 is the conical fire pit with wide, flat edge that also serves as baking sheet / plancha. This design makes the OFYR an incredibly versatile cooker. Practical, stylish and a lust for the eye (even if the OFYR is not used yet). Cooking on the OFYR ensures the ultimate cooking experience! Check out the full OFYR range here.
To sum it up: having a barbecue in summer is delicious and enjoyable. But why not also cook outside for Christmas, or on another winter day? Decorate your garden with fire pits, Christmas lights and lanterns, and enjoy a wonderful get-together with friends. Outdoor cooking can be done all year long!