Cooking with a tripod over an open fire, making pizza in a beautiful wood-fired pizza oven, plancha baking, smoking meat or fish... It's all possible! Cooking together outdoors is being active and enjoying nature and beautiful products. Furthermore, cooking over an open fire is cosy, tasty and healthy.
Ordered before 17.00h,

SAME DAY

shipment

Delivery from

STOCK

Pay later
Outdoor cooking in all seasons
If you like being outdoors, then outdoor cooking is definitely for you! Cooking over an open fire is cosy, tasty and very easy. Make a tasty stew with your own simmering pot and tripod, or a big pan of soup. Prefer a different taste sensation? Then smoke for example your own piece of fish in an authentic smoker. Of course, you can also opt for the classic barbecue, for a delicious vegetable skewer or a piece of steak.
The best thing about outdoor cooking is that it can be done in any season. Why not cook outside at Christmas? Dress up the garden with fire baskets and Christmas lights and enjoy a wonderful time together. Outdoor cooking is possible all year round!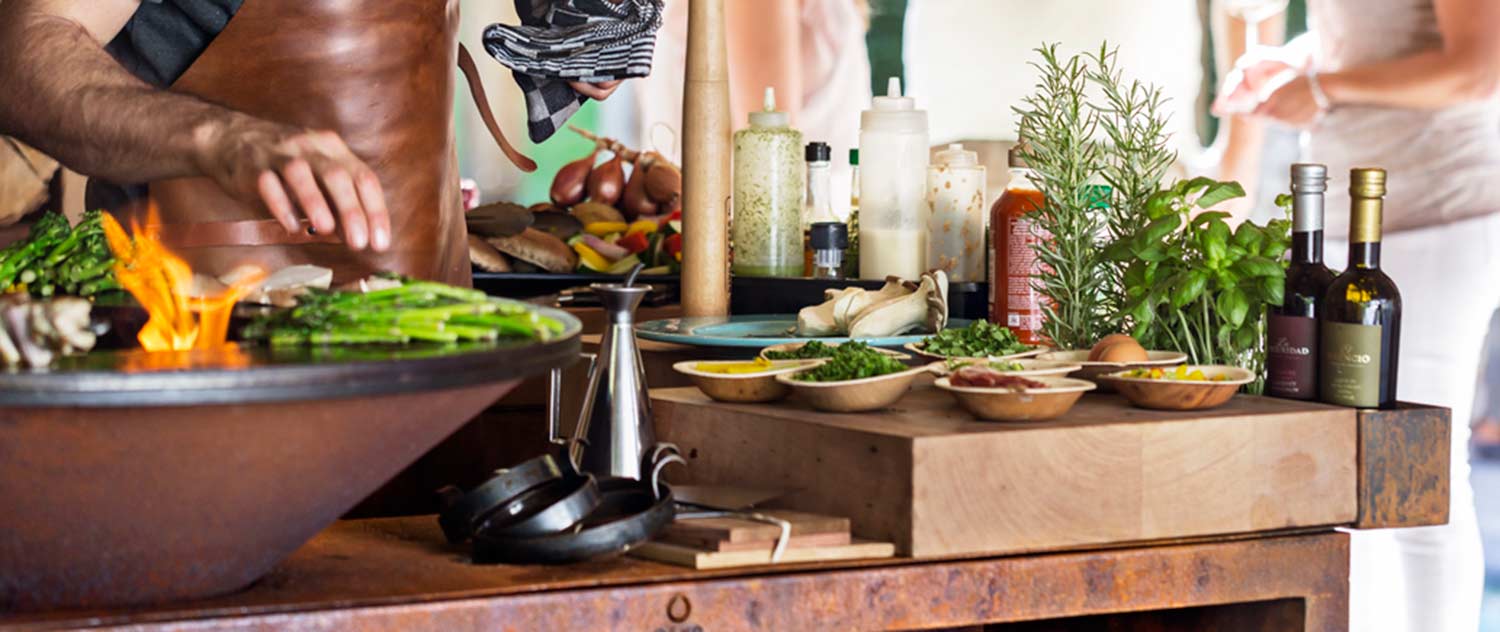 Smoking your own food with a smoker
Always wanted to smoke products yourself? Grab your chance with the smokers from Firepit-online! Smoking food gives a unique and refined flavour to any dish. Smoking sounds like a difficult process, but with a smoker it is very simple. A smoker is actually a device that gives a smoky flavour to food by burning wood chips.
Modern smokers have a compartment where the wood chips are burned at a low temperature. Due to the lack of oxygen, they do not catch fire, they only smoke. Through a special channel, the smoke is led along the food, giving it a delicious taste. Take for example the Smoking chips Oak of Barbecook: great flavour enhancers for in the smoker.
Authentic pizza oven for in the garden
Barbecuing is widely known, but have you ever baked a pizza yourself in the garden? With a pizza oven you can bake a crispy, fresh pizza in no time. For example, you can use the La Hacienda Lorenzo pizza oven: an authentic pizza oven for the best home-made pizzas! This steel oven can easily be brought up to temperature with firewood, charcoal or briquettes.
Do you prefer a grilled piece of meat or fish? The Outtrade pizza oven comes standard with a barbecue grid. This pizza oven is at home on all markets!
Outdoor cooking on an OFYR BBQ
You've probably seen it before, the stylish OFYR fire bowl on pedestal.
Characteristic of the unique design of the OFYR BBQ is the conical fire bowl with a wide, flat rim that also functions as a baking tray/plancha. This design makes the OFYR an incredibly versatile barbecue. Practical, stylish and a feast for the eyes (even when the OFYR is not in use). Cooking on the OFYR fire bowl provides the ultimate outdoor cooking experience! Take a quick look at the full OFYR range here.
Similar to OFYR is the BonFeu BonBiza. Here too, you bake and grill over a wood-fired BBQ fire bowl. The BonBiza is available in four models and the main difference is the shape of the cone. The BonFeu cookers all have a round fire bowl and base. The BonBiza Corten Open is somewhat similar to the OFYR Classic Storage 100 and also has a wood storage in the plinth in a corten steel material and rust colour.
Slow-cooking on a tripod
Are you more into slow-cooking? Do you want to sit outside with a glass of wine while waiting for a stew? Then a tripod is really something for you.
The tripod is a durable product with its cast iron cooking pot and suitable for many meals. Cooking with a tripod offers a convivial experience, without rushing or fear of burning. You can prepare a delicious soup for your children or a spicy curry with your friends.
You place a fire bowl with burning logs under the tripod, hang the simmering pot from the chains and get cooking!
Classic barbecue
A classic part of outdoor cooking is the barbecue. It is always great to have a barbecue in the garden with friends or family. A well-known barbecue is the charcoal barbecue. By lighting the barbecue one hour before use, everything is well warmed up and your dinner will taste delicious!
Nowadays, besides traditional barbecues, fire baskets or garden fireplaces with a grill grid are also available. So you can barbecue, but continue to enjoy the garden with a patio fire afterwards.
How about a Fire-Up Troll 700 or a Bastard kamado barbecue? Do you prefer a more simple and industrial model? Then the BarrelQ is for you. Outdoor cooking all year round!
In short: barbecuing in summer is delicious and fun. But why not cook outside at Christmas or on any other beautiful winter day? Dress up the outdoor area with fire baskets, Christmas lights and lanterns and enjoy a wonderful time together. Outdoor cooking is possible all year round!