La Hacienda brings warmth and atmosphere into your garden
Whether you want to cook outside or just want to enjoy a nice fire, with the products of La Hacienda that is no problem at all. The range of La Hacienda is very diverse and consists of, among other things, beautiful garden fireplaces, decorative fire bowls and colorful Mexican fireplaces. View the complete range below.
Ordered before 17.00h,

SAME DAY

shipment

Delivery from

STOCK

Pay later
La Hacienda brings colour to your garden
La Hacienda was originally a family business founded in England in 1998. La Hacienda is now a world player with an enormous range of garden fireplaces, fire bowls, braziers, patio heaters and outdoor cooking accessories. La Hacienda stands for high quality and a very varied range.
Cast-iron garden fires
A cast iron fireplace is known for giving off a lot of radiant heat. This radiant heat is of course very pleasant when you sit outside around the fireplace. This way, you will quickly warm up and enjoy an atmospheric fire until the wee hours of the morning. Cast iron is a material that retains its heat well. Keep this in mind when refilling the fireplace or cleaning it.
A garden fireplace is the ideal way to enjoy a lovely fire but not to experience smoke pollution. Because of the stove pipe, the smoke can go straight up and will not end up in your garden. In addition, the garden fireplaces have a pleasant door so that you can regulate the amount of oxygen yourself and the sparks cannot shoot outside of the fire. Finally, La Hacienda also offers many protective covers to protect your garden fireplace against weather influences.
Special designs of La Hacienda
The Mexican fireplace is a real eye-catcher in your garden and gives a cozy Mediterranean atmosphere to the whole. These colourful garden fireplaces are beautifully designed, making them always a pleasure to look at. The beautiful format of these fireplaces makes them suitable for any garden.
Heaters
La Hacienda stands out with their special garden fireplaces, but they also have very pleasant heaters in their range. For instance, you'll find a fine table heater called the Nero, which has a maximum capacity of 700 watts, or the Nerva, which has a maximum capacity of 1200 watts. With this heat you can enjoy after dinner a drink on the terrace without getting cold! Another fun heater is the Tower Heater with speaker. This standing heater includes a speaker and has a capacity of 1500 watts. With this heater you can relax in the garden and enjoy a nice music in one.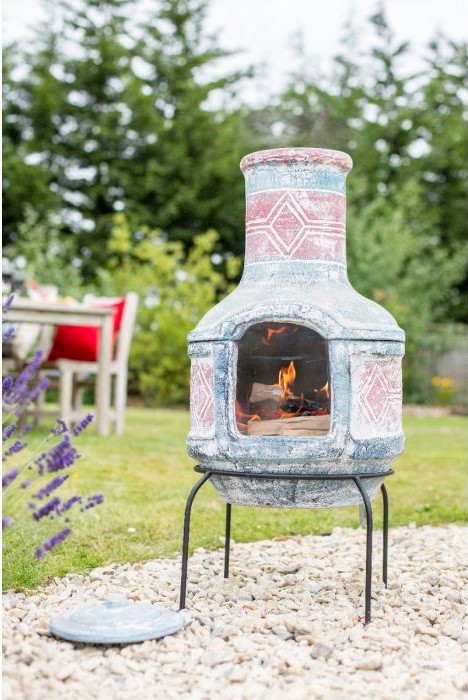 Fire baskets and fire pits
A fire bowl or fire pit can be placed in your garden or terrace and provides a safe and trouble-free fire. A fire basket creates a social spot in the garden where you can enjoy a good conversation late at night under the stars.
In addition to the special Mexican garden fires, La Hacienda has wonderfully exceptional fire baskets with various designs. The Leaves Globe, for example, is a special specimen to have in the garden. Not only is the play of flames in the fire basket beautiful, the design of the basket itself is a special sight.
Be inspired
Not only La Hacienda has very nice and diverse fire baskets. The entire assortment of Firepit-online.com also contains surprisingly nice garden places and fire bowls, something for everyone! Be inspired by the colourful and stylish atmosphere makers. Order today before 17:00 and we will ship your package the same working day!