Ordered before 17.00h,

SAME DAY

shipment

Delivery from

STOCK

Pay later
Outdoor cooking with Planchas & Grills
The new outdoor cooking. That is how plancha baking is also called. Baking on a baking plate / plancha is not only fun and effective, but baking in this way will bring out the nutrients in the food even better and the flavours will be preserved optimally in the food. With accessories, it is possible to prepare the tastiest dishes outdoors. Choose from half or full Planchas and Grills or combine two halfs together for an optimal outdoor kitchen! By choosing the right size, you can easily slide the Grill or Plancha on top of the outdoor product and the plancha baking and grilling can begin. Always make sure the Plancha is greased and kept at room temperature to prevent rust damage.
High quality cooking
BonFeu stands for a recognisable design, a well-considered design and high quality. Everything is always done to develop products that are pleasant to use and also suitable for outdoor cooking.
All these characteristics are reflected in the brand's planchas and grills. A plancha is a 6 mm thick baking plate with handy handles, and the grills are made of high quality steel with pleasant pins to keep the grill in place.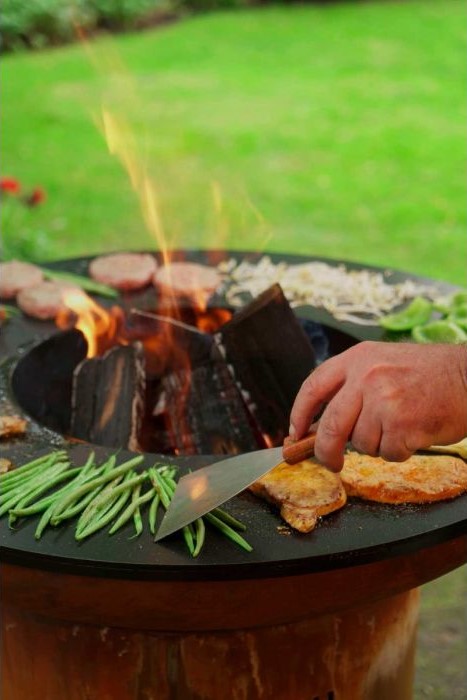 Of course, the best example of BonFeu plancha baking is the BonBiza. This fire basket with plancha on top is a robust item for your garden and allows you to prepare a delicious meal easily, quickly and safely. This way of cooking is also a great asset for hospitality businesses. Cook several meals quickly and serve several meals in a short time. The ideal product to cook outside and to discover plancha baking completely.
Plancha and grill accessories
Complete your outdoor kitchen set with matching accessories for outdoor cooking. Gear up from head to toe with an apron, useful baking tools and a good cookbook and be ready for an evening at the griddle. With the matching BonFeu Spatula, you can easily turn food and scrape the Plancha clean after use. This spatula is a real must-have for every cook who likes to cook outside. The BonFeu Spatula makes your cooking experience complete.
Ask your question about our planchas & grills
Would you like to know more about the BonFeu planchas & grills? You can! Contact us by e-mail or phone and our customer service will be happy to help you.