Article number
OCS-100-PRO
14 day reflection period
Pay later
If ordered before 17.00h.,

same day

shipment

All products are for the

European

market

OFYR Classic Storage Corten 100 PRO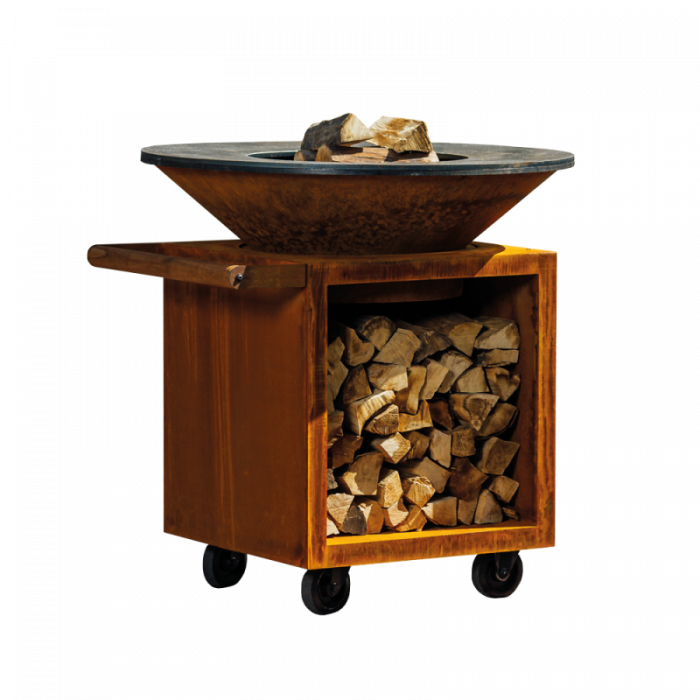 Product description
OFYR Classic Storage Pro Corten

The OFYR Classic Storage Corten Pro is a beautiful mobile cooking unit with handle and wheels. This makes the cooking unit easy to move around. The handle is made of teak and it is therefore advisable to store the OFYR Classic Storage PRO inside or under a roof after use.
Featuring the distinctive style and simplicity of the OFYR with the addition of a handy wood storage area. The OFYR Classic Storage not only looks great on its own but also in combination with other OFYR products such as the Butcher Block or an OFYR Mise en place Read more table.
Cozy outdoors all year round with OFYR
Just like a traditional campfire, the OFYR brings people together. The wood-burning fire bowl gives off cosy warmth within a two-metre radius, allowing people to cook and eat outside in winter too. The OFYR has an innovative round design, so that family and friends can prepare their own food while enjoying a drink and a pleasant conversation.
With an OFYR, outdoor cooking is a celebration
The unique design of the OFYR Classic Storage Pro makes it an incredibly versatile cooker. The conical fire bowl has a wide, flat rim (read: plancha) that also functions as a highly efficient cooking surface. From the centre, the heat radiates in a perfect flow, allowing for multiple cooking temperatures on the same plate. Whether you are frying eggs, slow cooking vegetables or grilling a tender steak, the OFYR opens up a new world of possibilities for outdoor cooking.
The 12-millimetre thick baking plate is available with a diameter of 100 or 85 cm. The plate is heated up to approximately 300˚C by the wood fire in the fire bowl (coal is also an option, but is less fun because it does not burn). Grease the plate with oil and bake. The cooking surface is very large: the 100 cm diameter plate can easily accommodate 50 people. 
Easy to use and clean
Unlike other outdoor cookers, the OFYR is very easy to clean and virtually maintenance-free. Residues of food and excess oil end up directly in the fire. The baking tray is very easy to clean with a spatula because all the dirt is pushed into the fire. It is then briefly wiped off with a damp cloth and the OFYR is ready for use again.
Thanks to its three-part modular design, the OFYR can be easily moved. The hob, fire bowl and plinth can easily be lifted and moved separately. There is a 2cm hole in the cone through which rainwater can drain away neatly.
A lifestyle object that fits into any environment
The OFYR Classic Storage Pro is a true lifestyle object. The OFYR fulfils a function as an artistic object, which is a beautiful addition to the environment in which it is placed. Fire in its natural form invites you to enjoy its warmth all year round. The simple addition of wood allows this function to be exploited. The crackling fire contributes to a beautiful ambiance, transforming the Ofyr from an object to a fire basket, adding an extra dimension to a cosy get-together.
De OFYR Classic storage Corten Pro in short:
-  Unique design
-  To be used as barbecue and fire bowl
-  Easily movable: fitted with wheels and handle
-  Base is equipped with a convenient wood storage
-  Made of high quality Corten Steel
-  Also available in black  
Watch a short impression of the OFYR Classic below:
Read less
Specifications
Model
OFYR Classic Storage Corten 100 PRO
Article number
OCS-100-PRO
Baking tray material
Plaatstaal
Baking tray thickness
12 mm
Thickness steel cone
3 mm
Dimensions
Base 67 x 65 x 65 cm / Cone height 23,5 cm
Weight
Base 59 kg, Cone 22 kg en bakplaat 55 kg
We found other products you might like!

Write a review about OFYR Classic Storage Corten 100 PRO
And possibly win a € 100,- giftcard
This one!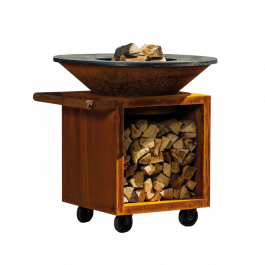 OFYR Classic Storage Corten 100 PRO