Within the range of standing patio heaters, you will find electric heaters, flame heaters and lounge heaters. These patio heaters come in various colours and sizes. Consider, for example, the Sunwood Marino, available in 4 standard colours and, upon request, in your chosen RAL colour.
Ordered before 17.00h,

SAME DAY

shipment

Delivery from

STOCK

Pay later
Patio Heater Standing
With a floor-standing patio heater, you can enjoy your garden and the outdoors longer. A standing patio heater is easy to move so you can use the pleasant warmth in different places in your garden. Choose from an electric patio heater that you immediately feel or go for a gas patio heater with its flames adding a nice atmosphere. There are also fine heaters for smaller terraces. Or do you have a large terrace and want to heat it completely. Then consider an electric patio heater that can heat up to 50 square meters.
Electric patio heaters
Within the range of standing patio heaters you can choose from the electric version. Electric patio heaters are quick and efficient to heat the desired area or terrace. A disadvantage to an electric patio heater is that you always have to deal with a socket. This gives you not the full freedom to move the heater to any place and it is important that no one falls over the cord.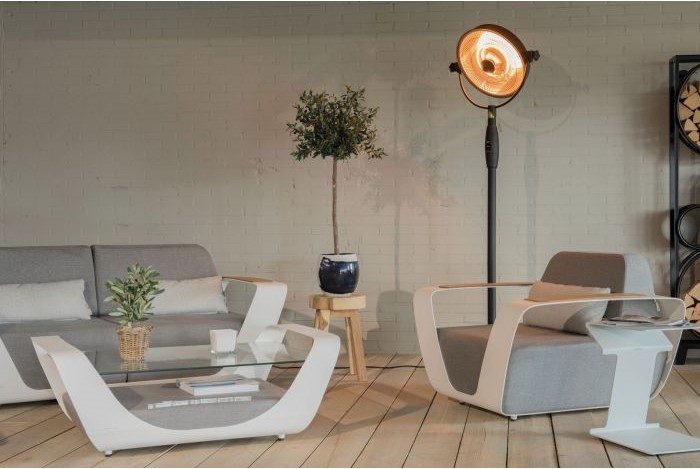 The advantage of standing electric patio heaters is that they are easy to place compared to a hanging heater and the terrace faster and better heat. The radiation of the electric heater is often very large. Some heaters can, for example, 22 square meters of heating.
Gas patio heaters
The biggest advantage of a gas patio heater is that the product does not have to deal with an electric cable. The gas bottle is hidden in the base of the product and is easy to change. You have the freedom to move the patio heater to anywhere in your garden or on your patio. A disadvantage of gas patio heaters is that they often take up more space. And often not very stylish. An exception to this is the beautiful modern Sunwood Marino. This is one stylish and economical in use of gas.
Flame heaters
The standing flame heaters of Firepit-online.com all work on gas. The beauty of the flame heaters are the atmospheric flames that can be seen. So you can enjoy heat and atmosphere! The maximum range of a Eurom Flame Heater is about 50 m2, so you can easily heat a large part of your room. However, there are also other flame heaters with a range of 25 m2. Depending on the space you can choose which heater is suitable for you.
Lounge heaters
Lounge heaters are low patio heaters that are especially suitable for heating a lounge area. They give a lot of heat at sitting height so you can also enjoy a drink on the terrace during cold days. Lounge heaters are also suitable for under a roof because the heaters are not very high. A very nice variant of the lounge heater is the Tower Heater La Hacienda. This heater gives not only heat and mood light, in the heater is a speaker and disco light built in. So you can sit comfortably on the lounge set, listening to music and enjoying the wonderful heat.