Enjoy your garden for hours to come with a garden fireplace! Our range includes garden fireplaces made of various materials, such as steel, corten steel and cast iron. View our extensive range of garden fireplaces below.
Ordered before 17.00h,

SAME DAY

shipment

Delivery from

STOCK

Pay later
Scala garden fireplaces at Firepit-online.com
In our webshop, you will find different types of garden fireplaces. Whether you are a fan of a modern black garden fireplace, a robust cast-iron garden fireplace or a colourful Mexican garden fireplace, you will find it in our webshop. With a wood-burning fire, you bring atmosphere and warmth to the garden and can enjoy the outdoors until late.
Cast-iron terrace fireplaces
A cast-iron terrace fireplace gives a nice warmth and a sturdy look. The advantages of cast iron?
Retains heat for a long time
Radiates heat well
Low-maintenance
Heavy weight (can take a beating)
Gets better and better
Wood burning stove or garden fireplace
Important to know is the difference between a wood-burning stove and a garden fireplace. These terms are often used interchangeably and this makes sense, given the operation and functionality of both types of fireplaces. Wood-burning stoves often include fireplaces where the stove is placed in one place under the veranda and here the stove pipe is often led outside through the roof. A garden fireplace is often moved through the garden, just where you want to sit, and is often thinner in material.
Garden fireplace with chimney
Many garden fireplaces come with a chimney pipe as standard. This can easily be extended for many garden fireplaces. In our range, we have additional stove pipes and possible bends for many of the BonFeu garden fireplace. Garden fireplaces such as the BonTino, BonBono and the BonCarré can be extended with an extra stove pipe. However, please note that this will reduce the draft in the garden fire and therefore more smoke may be produced in the body of the patio fire.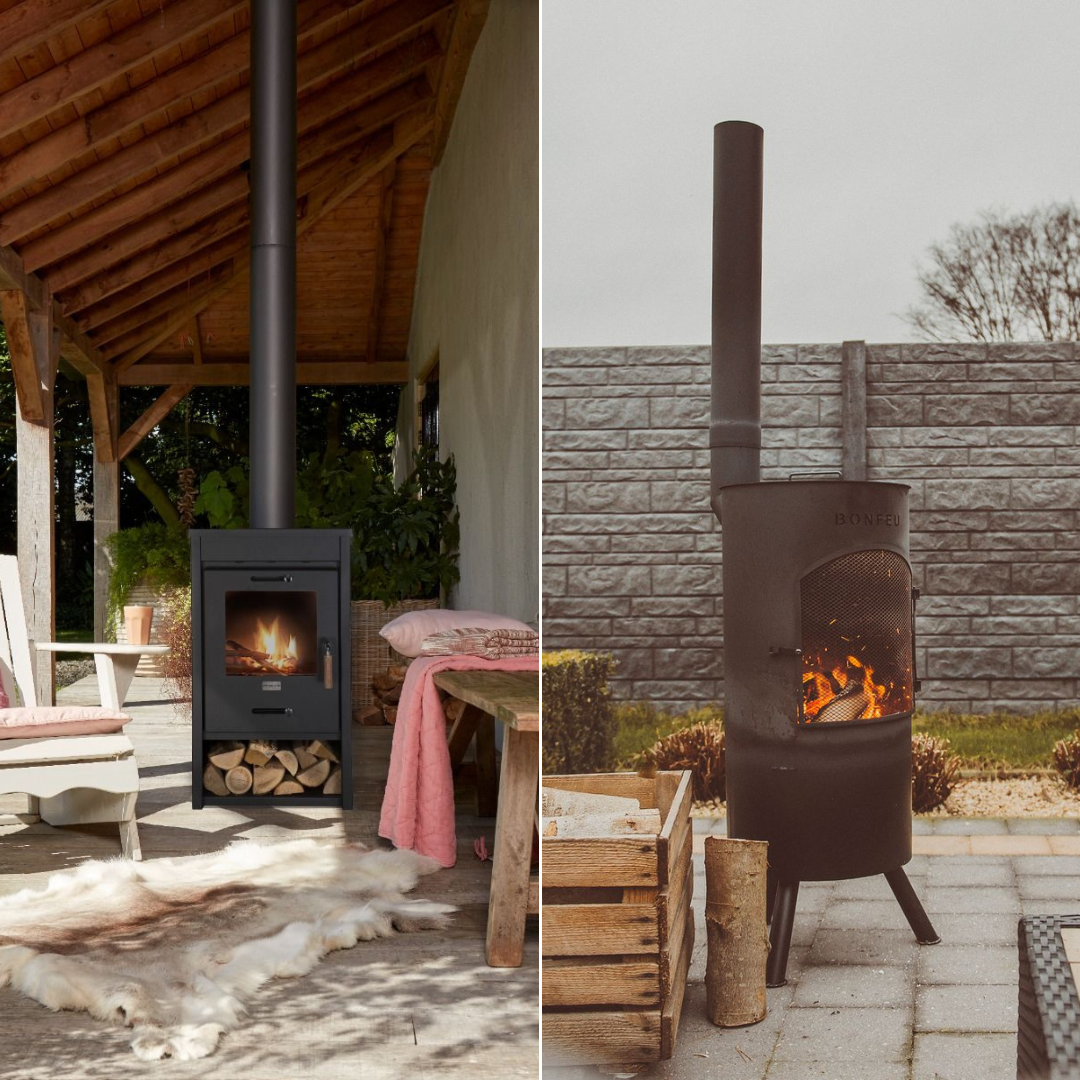 Making a fire with your outdoor fireplace
Stoking a garden fire is very beneficial for the warmth on your terrace and gives a lovely atmosphere. But how do you start a good wood fire?
Place two logs parallel to each other and place another two logs a quarter turn parallel to them
Place firelighters and/or wood shavings in the middle of the logs and light them.
The logs will burn by themselves. When replenishing the wood, make sure the stack is stable and neat. This will give you the most beautiful fire and you can easily replenish wood again and again
Want to put out the fire? Throw sand over the fire and disassemble the logs if possible. The logs will then cool down faster and go out.
For more tips and inspiration, check out our YouTube channel.