Fun accessories for the adventurous outdoor chef
Outdoor cooking is very trendy right now. What could be more fun than preparing a delicious meal for everyone in the open air? Sun is shining and you can start to grill.
At Firepit-online.com you'll find all the ingredients for a successful outdoor cooking adventure. You can find traditional stock pots, grill racks and popcorn pans at Firepit-online.com. But of course, we also have smokers, pizza ovens and tripods!
Ordered before 17.00h,

same workday

shipment

Ordered before 17.00h,

same workday

shipment

Ordered before 17.00h,

same workday

shipment

Ordered before 17.00h,

same workday

shipment
Delivery from

STOCK

Pay later
Outdoor cooking; back to basic!
Have you ever cooked with those sturdy cast-iron pans over a wood fire? Outdoor cooking is fantastic and the basis of all cooking. In a simmer pot or with a pancake pan over a fire you can easily make all kinds of one-pan dishes such as a tasty soup, risotto, a delicious stew or a pancake.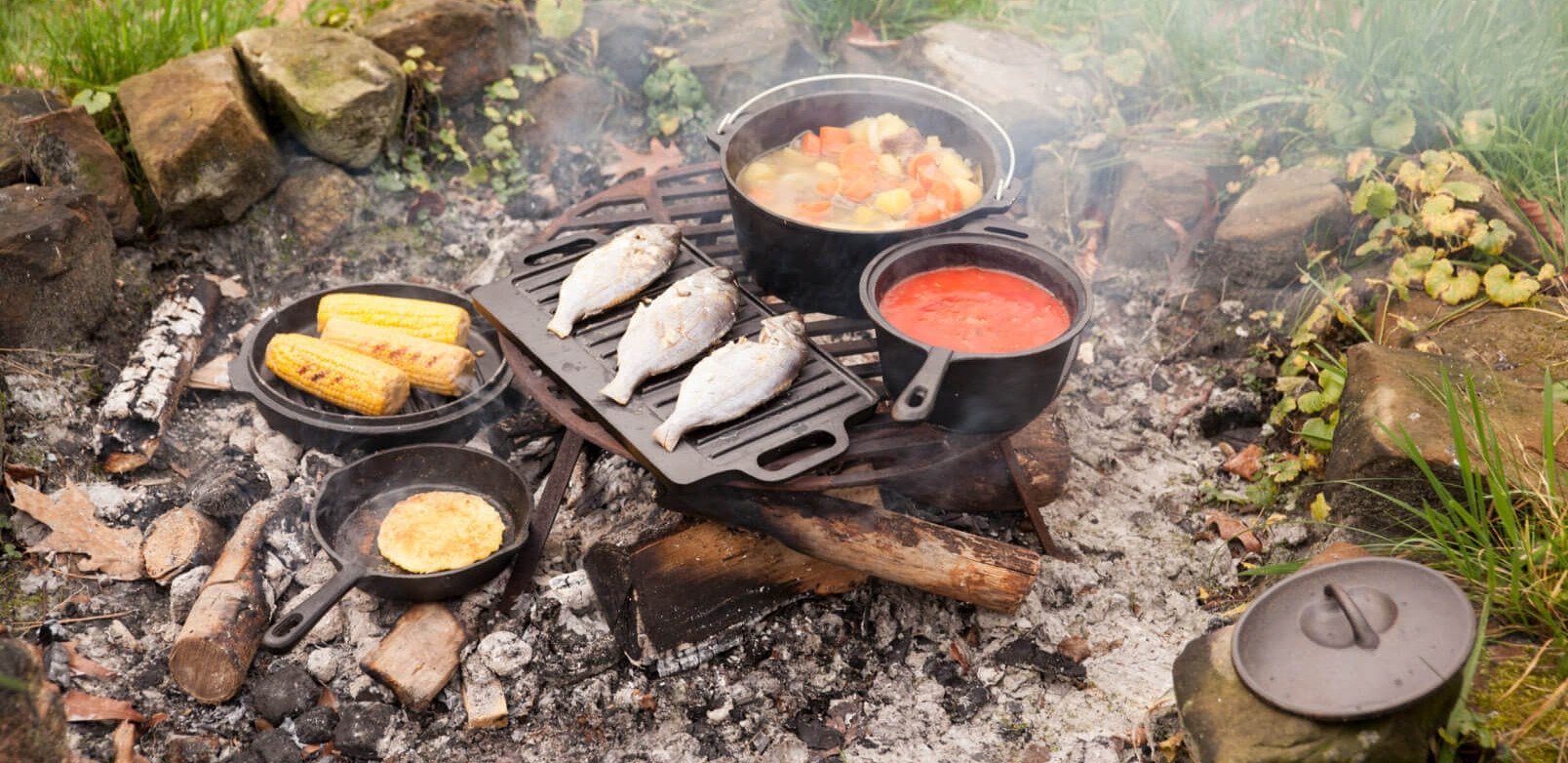 At Firepit-online.com we offer a huge assortment of campfire pots and grill grates
Firepit-online.com has a huge assortment for adventurous outdoor cooking. Tripods, fire bowls, Dutch ovens, campfire pots, grill grills, outdoor pans, popcorn pans, etc. And all - of course - made of solid material for outdoor cooking.
Cooking outside with a tripod
It is very popular to cook outdoors with a tripod over an open fire. It used to be no different, but nowadays it is especially cool, fun and cozy. A tripod is very versatile because, in addition to the traditional simmer pot, you can - for example - also hang a barbecue pan or grill rack.
Outdoor cooking with an OFYR BBQ fire bowl
With an OFYR BBQ it is wonderful to cook outside. This fire bowl with baking tray brings out the best in every outdoor cook. OFYR now has all kinds of beautiful and practical accessories for lovers, such as a leather apron, an OFYR wood bag or an oil can. But also a matching OFYR Grill rack or a Brazilian grill set are available. All these accessories make cooking on an OFYR even more fun and enjoyable.
Marshmallows roasting over a fire pit or fire bowl
What could be more fun than going out with the children and enjoying nature? Combine this with making popcorn over a fire basket or roasting chestnuts in a special chestnut pan.
Kids love it and making popcorn is of course the best thing there is! Show the children how dried corn over open fire turns into delicious popcorn. The sound of the popping and the smell of the warm corn will captivate every child. The extra long handle of the popcorn pan ensures that the pan is safe and easy to handle.
But also for a marshmallow pin, a sausage grill or a campfire grill you have come to the right place. Within our assortment, the adventurous outdoor chef undoubtedly finds the nicest accessories, ranging from a campfire cooking set to a Barbecook smoke generator.
Lots of fun!