Are you looking for a nice patio heater to sit outside even in colder weather? From standing patio heaters to table heaters and lounge heaters, we have the ideal patio heater for your garden. Besides the design also pay attention to the wattage of the patio heater.
Ordered before 17.00h,

SAME DAY

shipment

Delivery from

STOCK

Pay later
Outdoor heated terrace? More than 80 different patio heaters on Firepit-online.com
Does it get chilly in the evening and you still want to sit outside? A patio heater on your terrace or in the garden gives you fine warmth that can extend your summer evenings for hours. Will you opt for a gas heater, an electric patio heater and will it hang in your garden or will you simply set it up? You can find patio heaters in various designs at Firepit-online.com.
Types of patio heaters
In our range, you will find various types of patio heaters. We like to explain the differences.
How does a gas patio heater work?
A gas patio heater is easy to purchase. Often, the gas bottle for the heater can be stored at the bottom of the patio heater. The Schwank heaters you can connect to a gas pipe, ideal as a hospitality entrepreneur.
Connect the gas bottle to the patio heater.
Open the knob on the gas bottle.
Place the gas bottle in the patio heater.
On the gas heater will be a (rotary) knob to ignite the burner.
You may have to ignite the burner 1 to 2 until the burner burns properly
Because a patio heater on a gas cylinder has no wires or pipes, you can easily move the gas heater around the garden and place it anywhere. How long does a gas bottle last? This depends on the type of gas heater. On average, this is between 25 and 35 hours. See how much energy it consumes per gasheater.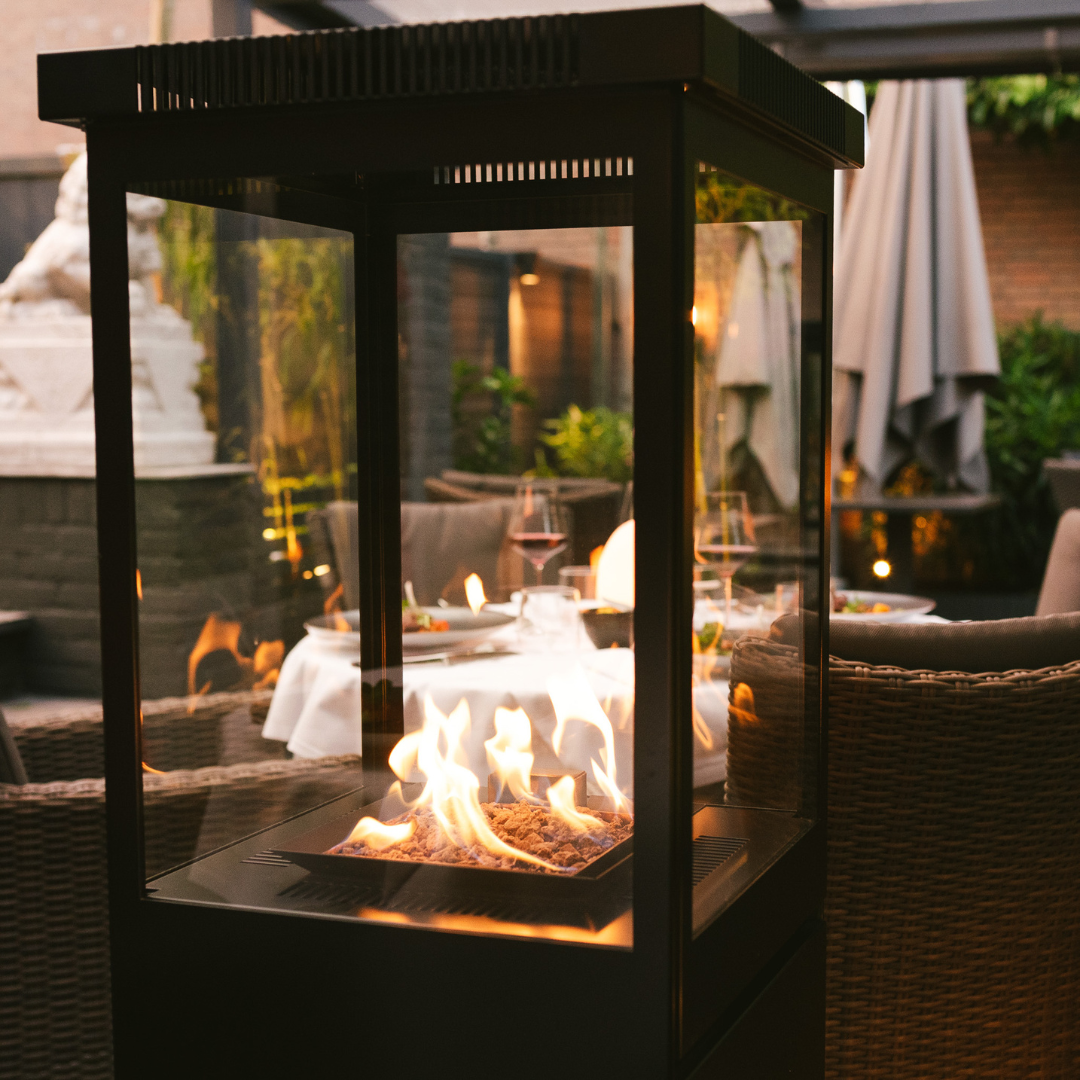 Electric patio heaters
An electric patio heater is easy to connect. Most electric heaters have a long cord that simply plugs into the outlet to be plugged. The electric heaters in the range of Firepit-online.com differ in power between 1300 to 3100 watts. With this, you can heat a large room, ranging from 10m² to about 20m². The consumption in euros also varies greatly per patio heater, however, this can range between €0.25-€1.00 per hour.