An instant heater next to the lounge set is very nice, both in winter and during late summer evenings. Lounge heaters are easy to install and available on gas and electricity.
Ordered before 17.00h,

SAME DAY

shipment

Delivery from

STOCK

Pay later
A lounge heater: pleasant warmth next to your lounge set
A lounge heater is your best friend for your lounge set in the garden or on the terrace. With a lounge heater you get optimal heat from the heater because it is at the height of the lounge set. Within the range of Firepit-online.com there are five lounge heaters each with their own characteristics. There are three lounge heaters on gas and two on electricity!
A lounge heater on gas
Striking to the lounge heaters on gas is the length! Compared with the lounge heaters on electricity, these are much smaller and compact. The gas cylinder is hidden in the base of the heater and is easy to replace. Because the heaters are gas and have wheels you can easily move the lounge heater in your garden or on your patio.
The Sunred gas heaters are not only ideal for a private balcony. Also in the hospitality industry, these heaters are perfect to place on the terrace. This way you can provide your guests with pleasant warmth and they might even stay longer on the terrace. Because the heaters have a radiant heat of up to 50 square meters, you can spread it over the terrace and provide each guest with a pleasant warm place.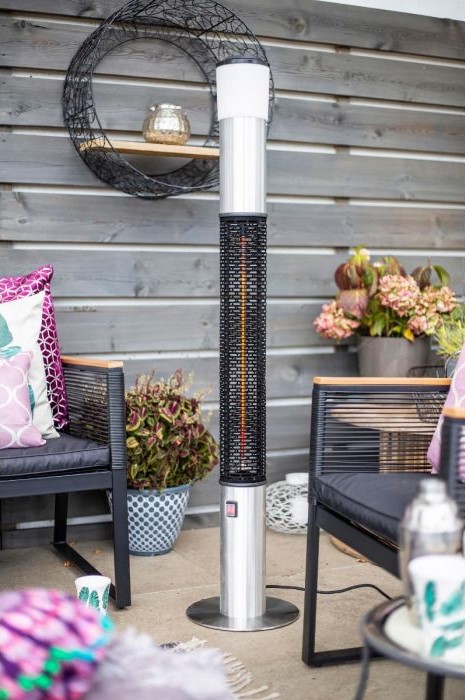 An electric lounge heater
The electric lounge heaters may be slightly larger, but that does not make them less pleasant. The heating elements run through to the base so you feel the heat from top to bottom. The design of these lounge heaters are often slightly more modern and stylish than the gas heaters. Also, the electric lounge heaters are slimmer than the gas heaters lounge so they take little space and easy to move. Unfortunately, you are bound by the power so the heater can not move to any place.
The Tower Heater standing La Hacienda is a very nice model lounge heater. With this heater you can enjoy a pleasant warmth of the electrical elements. In addition, there is disco light and a speaker in this heater. With this heater, your roof terrace or garden a real party.
Accessories for your heater lounge
Obviously there will come a time when you no longer sit in the garden or on the terrace because it's really cold. Often the lounge heater stored in the garage or shed. To ensure that your heater nice and neat you can choose a matching protective cover to purchase. The protective covers are made of high quality making it weather resistant and washable.
Buy a lounge heater?
Are you planning to buy a lounge heater, but you still have questions? Our customer service is happy to assist you via e-mail or telephone.