OFYR Island Black 100 PRO Ceramic Dark Grey
Reviews
0 out of 5 based on reviews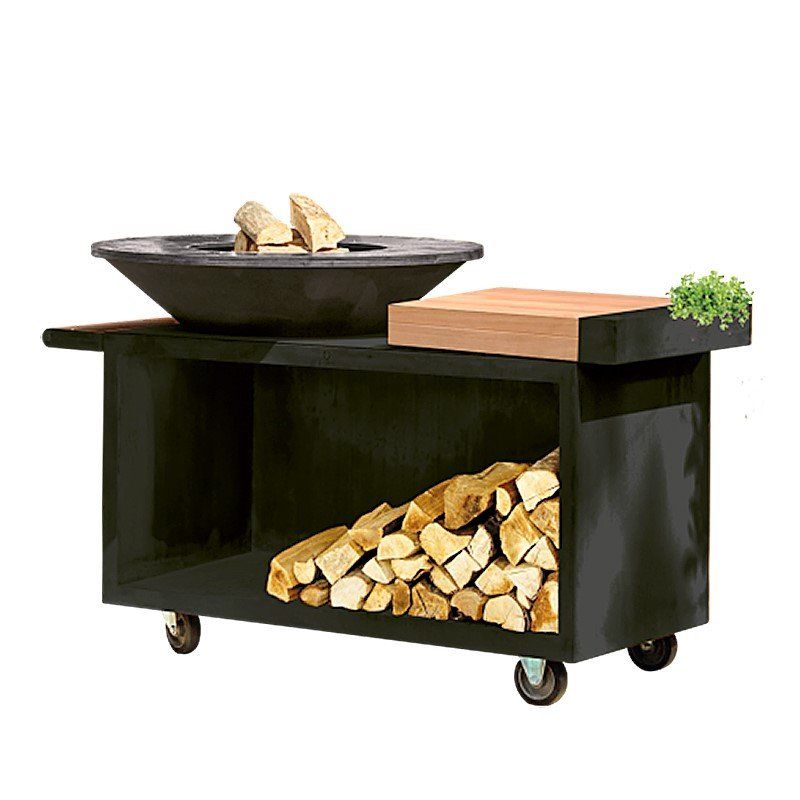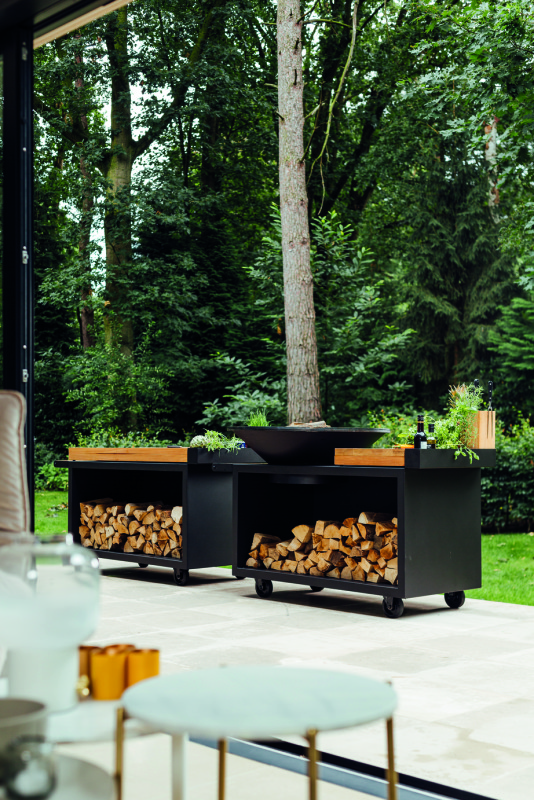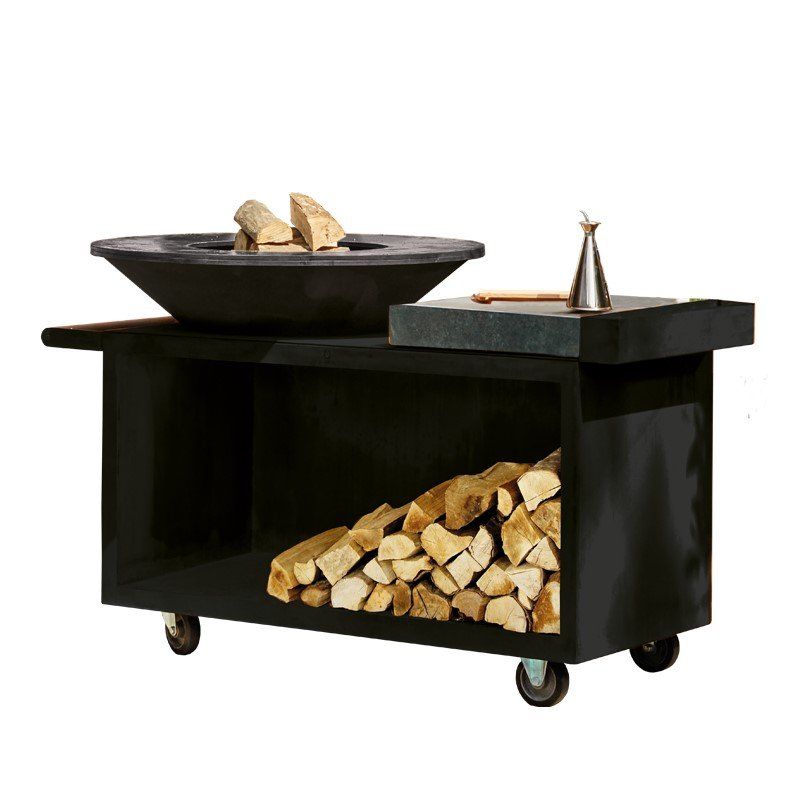 OFYR Island Black 100 PRO Ceramic Dark Grey
All products are for the European market

Ordered before 17.00h,

SAME DAY

shipment

14 day reflection period

Pay later
Accessories for OFYR Island Black 100 PRO Ceramic Dark Grey
OFYR Island Black 100 Pro Ceramic Dark Grey
The OFYR Island Black 100 Pro Teak Wood is a complete outdoor kitchen with spacious wood storage, a thick worktop/cutting block (available in 3 versions) and a practical holder for accessories and spices, ideal! The Island PRO is suitable for use on paved surfaces. It consists of a sturdy cutting block for food preparation and a practical holder for accessories. There is a storage space for wood underneath the worktop. The cutting block is available in teak and dark grey ceramic.
The OFYR Island is designed to enrich your outdoor life with beauty, warmth, food and friendship. With its simple, classic lines, the OFYR cooking island is more practical and stylish than a normal barbecue and fits perfectly into any environment, from the garden to the chic restaurant terrace. When it's time for an outdoor get-together, this elegant work of art turns into a warm, welcoming place to cook and entertain your guests.
With the OFYR Island outdoor cooking is a feast for every (hobby) cook.

The unique design of the OFYR Island not only creates a show cooking effect, but is also very functional. The cone-shaped fire bowl has a wide, flat rim that acts as a griddle/plancha. From the centre, the heat radiates in a flowing gradient, giving the hob multiple cooking temperatures. Whether you are baking eggs, slowly cooking vegetables or grilling a tender steak, cooking on the OFYR is a feast!
The 12 millimetre thick baking tray is available with a diameter of 100 or 85 cm. Through the wood fire in the fire bowl (coal is also less fun because it doesn't burn) the plate is heated up to about 300˚C. Lubricate the plate with oil and bake. The cooking surface is very large: on the plate with a diameter of 100 cm it is easy to cook for 50 people. 
Easy to use and easy to clean
Unlike other outdoor cookers, the OFYR is very easy to clean and virtually maintenance-free. Residues of food and excess oil end up directly in the fire. The baking tray is very easy to clean with a spatula because all the dirt can be pushed into the fire. It can then be wiped off with a damp cloth and your OFYR is ready for use again.
Thanks to its three-part modular design, the OFYR can be easily moved. The baking tray, fire tray and workbench with wood storage can be easily lifted and moved individually. There is a 2 cm hole in the cone through which rainwater can drain away neatly.
The OFYR Island is available in different versions
With this OFYR Island Black 100 PRO, the cutting board is available in two different versions. You can choose between wood (Teak Wood) and ceramics (dark grey). The wooden cutting board should be stored indoors after use. The ceramic cutting boards can be left outside on the OFYR Island workbench. Above you can easily indicate your preference.
The OFYR Island Black 100 Pro Ceramic Dark Greyin short:
-  Complete outdoor kitchen
-  Cooking on a baking plate/plancha or griddle (optional)
-  The cone is placed on a practical wood storage with worktop
-  The cutting board (Teak Wood) and holder for accessories and/or spices are included as standard.
-  The cutting board is available in two models: teakwood and ceramics dark grey.
-  Made of durable steel and black coated
-  Available in two different sizes (cone diameter) and colours (also Corten steel)
-  Expandable with many fun accessories
-  Also very suitable for catering purposes  
Watch a short impression of the OFYR below: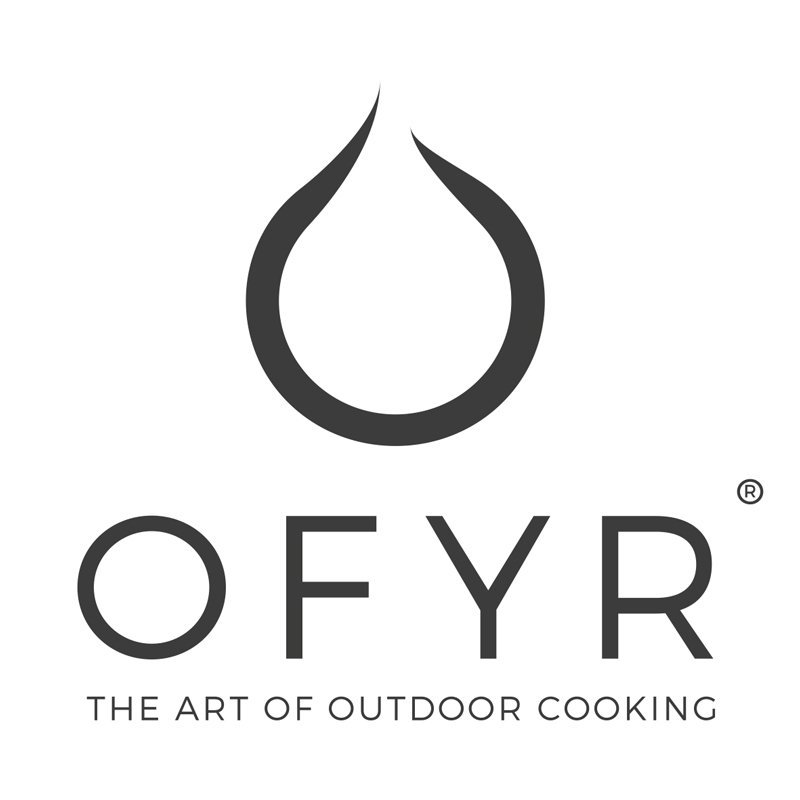 Read more
Specifications
| | |
| --- | --- |
| Brand | OFYR |
| Model | OFYR Island Black 100 PRO Ceramic Dark Grey |
| Article number | OIB-100-PRO-CD |
| Color | Black |
| Material | Steel |
| Dimensions | L 135 x W 73 x H 65 cm |
| Weight | 225 kg (Plancha/Grill 55 kg) |
| Fuel | Wood |
| extra options | with wood storage |
| Thickness steel cone | 3 mm |
| Baking tray thickness | 12 mm |
| Cone depth | 25 cm |
| Cooking surface | Ø 98 cm |
| Table top material | Teakhout or Ceramic Dark |
| Baking tray material | Sheet steel |
Other people also viewed these products
Bundles

OFYR Island Black 100 PRO Ceramic Dark Grey

€3,795.00

OFYR Grill grate 100

€205.00

Save 6.00% on accessories

OFYR Island Black 100 PRO Ceramic Dark Grey

+

OFYR Island Black 100 PRO Ceramic Dark Grey

€3,795.00

OFYR lid Black (Ø 100 cm)

€199.00

Save 6.00% on accessories

OFYR Island Black 100 PRO Ceramic Dark Grey

+

OFYR Island Black 100 PRO Ceramic Dark Grey

€3,795.00

OFYR Grill grate 100

€205.00

OFYR lid Black (Ø 100 cm)

€199.00

Save 8.00% on accessories

OFYR Island Black 100 PRO Ceramic Dark Grey

+

+

OFYR Island Black 100 PRO Ceramic Dark Grey

€3,795.00

OFYR Grill grate 100

€205.00

OFYR lid Black (Ø 100 cm)

€199.00

OFYR Leather apron

€159.00

Save 10.00% on accessories