OFYR Island Corten 100 Pro Ceramic Dark Grey
Reviews
0 out of 5 based on reviews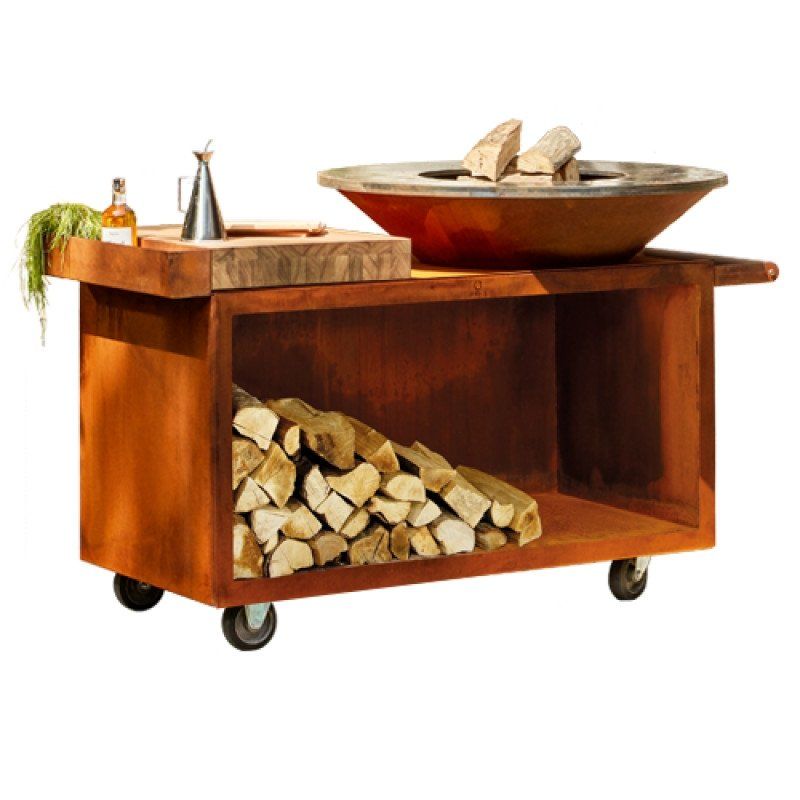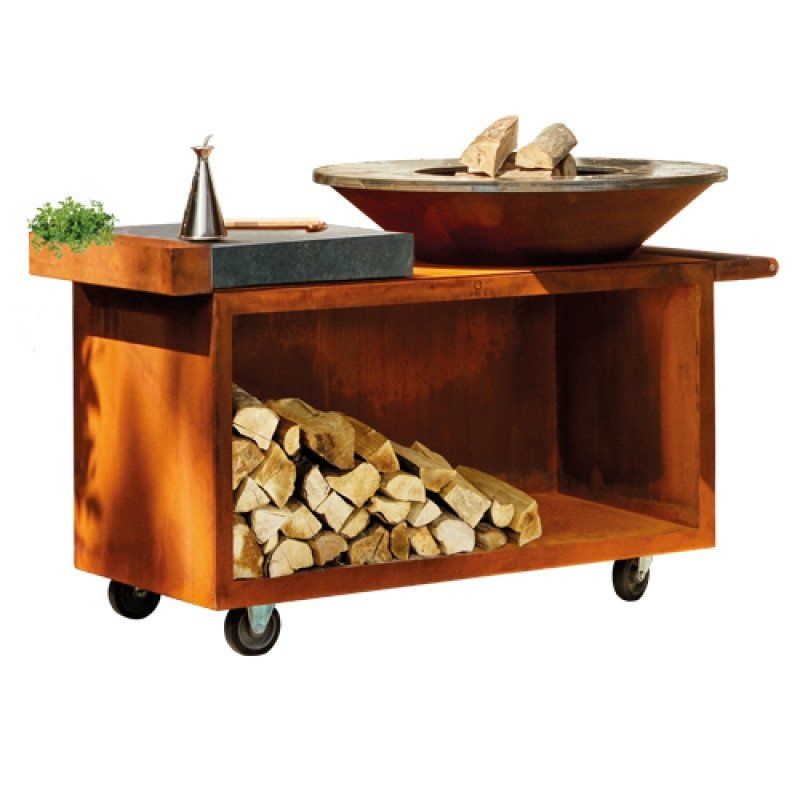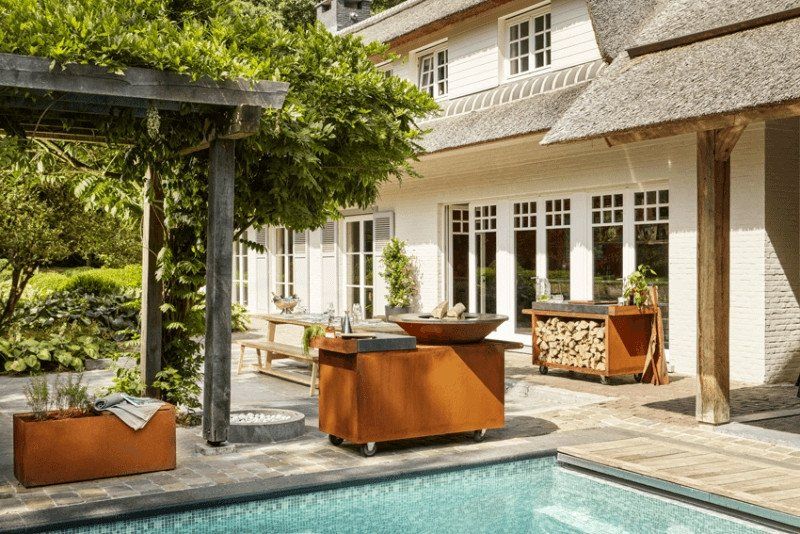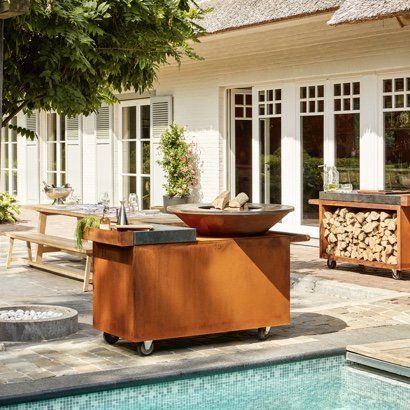 OFYR Island Corten 100 Pro Ceramic Dark Grey
All products are for the European market

Ordered before 17.00h,

SAME DAY

shipment

14 day reflection period

Pay later
Accessories for OFYR Island Corten 100 Pro Ceramic Dark Grey
OFYR Island Corten 100 Pro
The OFYR Island Pro is the mobile version of the OFYR Island 100 in corten steel. The OFYR Pro stands on four castors and can therefore be moved easily. This is very practical for use in the catering industry, but is also ideal in your own garden.
Just like the original version, the Island Pro is equipped with a wooden cutting board for preparing ingredients, a practical holder for accessories and spices, and a 0.4 m ² wood storage area for storing firewood. In functionality, the Pro is a complete outdoor kitchen that still has the unique OFYR design.
The OFYR Island is a complete outdoor kitchen

The lovely design of the OFYR Pro makes it an incredibly versatile cooker. The conical fire bowl features a wide baking plate (read: plancha) that functions as a cooking surface. From the centre, the heat radiates in a smooth gradient, allowing for multiple cooking temperatures. Whether you are frying eggs, cooking vegetables or grilling a tender steak, with OFYR a culinary world will open up for you./p>

The 12 millimetre thick baking plate has a diameter of 100 cm. The plate is heated up to approximately 300˚C by means of the wood fire in the fire bowl (coal is also an option, but is less fun because it does not burn). Grease the plate with oil and bake. The cooking surface is very large: the 100 cm diameter plate can easily accommodate 50 people.
The OFYR Island Pro comes standard with a cutting board made of thermal beech wood. However, you also have the option of choosing a ceramic stone in the colour dark grey. The advantage of a ceramic stone is that you can leave the Pro outside all year round. The wooden cutting board will have to be stored inside. Above you can simply indicate your preference.
Easy to use and clean
In contrast to other barbecues, an OFYR is very easy to clean and virtually maintenance-free. Food remains and excess oil end up directly in the fire. The baking plate is very easy to clean with a spatula because all the dirt is pushed into the fire. Afterwards, just wipe with a damp cloth and the OFYR is ready for use again.
Made of beautiful corten steel
The OFYR Island Pro is made of durable corten steel and makes a wonderful combination with the many other OFYR accessories such as a Wood Storage Dresser or a Herb Garden Bench.
Corten steel is characterised by its brown-orange rust colour on the one hand and its long lifespan on the other. The lifespan is so long because the first layer of corrosion stops further damage by rust, making painting unnecessary and maintenance very low. The longer the Pro is used, the more beautiful it becomes. In time, the steel will acquire a beautiful, natural patina.
Corten steel is also known as weather-resistant steel. This means that the OFYR Pro can remain outside in all weather conditions.
The OFYR Island Pro in short:
- Complete outdoor kitchen from OFYR
- Provided with four wheels, so easily movable
- With handy holder for spices and accessories
- Equipped with a convenient wood storage (0.4 m3 firewood)
- With wooden cutting board (also available in teakwood)
- Made from durable corten steel: the OFYR can be left outside all year round
- Also very suitable for catering purposes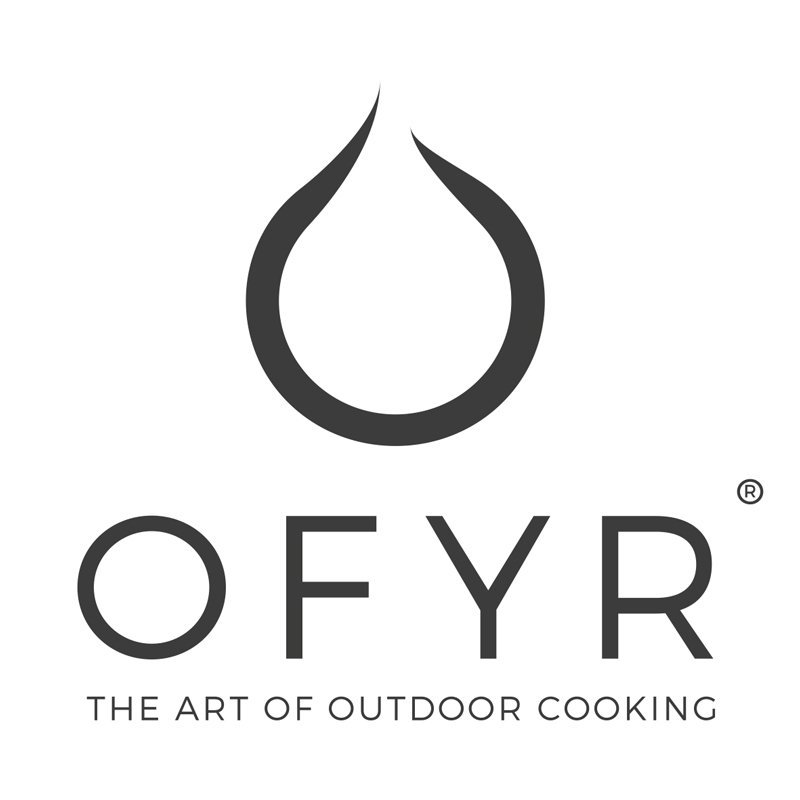 Read more
Specifications
| | |
| --- | --- |
| Brand | OFYR |
| Model | OFYR Island Pro Corten 100 |
| Article number | OI-100-PRO-CD |
| Color | Rusty brown |
| Material | Corten steel |
| Dimensions | L 65 x W 135 x H 100 cm |
| Weight | 225 kg ( Plancha 55 kg) |
| Fuel | Wood |
| extra options | with wood storage |
| Thickness steel cone | 3 mm |
| Baking tray thickness | 12 mm |
| Cone depth | 29,5 cm |
| Cooking surface | Ø 98 cm |
| Table top material | Ceramic Dark |
| Baking tray material | Steel |
Other people also viewed these products
Bundles

OFYR Island Corten 100 Pro Ceramic Dark Grey

€3,795.00

OFYR Grill grate 100

€205.00

Save 6.00% on accessories

OFYR Island Corten 100 Pro Ceramic Dark Grey

+

OFYR Island Corten 100 Pro Ceramic Dark Grey

€3,795.00

OFYR lid Black (Ø 100 cm)

€199.00

Save 6.00% on accessories

OFYR Island Corten 100 Pro Ceramic Dark Grey

+

OFYR Island Corten 100 Pro Ceramic Dark Grey

€3,795.00

OFYR Grill grate 100

€205.00

OFYR lid Black (Ø 100 cm)

€199.00

Save 8.00% on accessories

OFYR Island Corten 100 Pro Ceramic Dark Grey

+

+

OFYR Island Corten 100 Pro Ceramic Dark Grey

€3,795.00

OFYR Grill grate 100

€205.00

OFYR lid Black (Ø 100 cm)

€199.00

OFYR Leather apron

€159.00

Save 8.00% on accessories