Fireplace Corten steel / Rust

A rusty or corten steel fireplace adds character to your garden. Corten steel is a material that uses a rust coating to prevent further rusting and remains beautiful for years. Want to put together your own corten steel fireplace? Check out the unique Stoked BBQ Braai.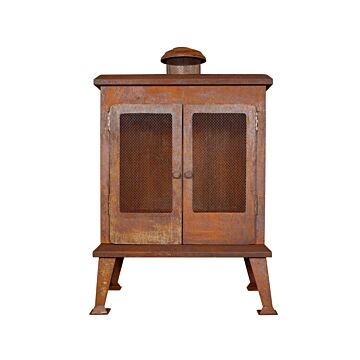 1 Review
W 74 x D 44 x H 113 cm
Rusted steel
Special Price
€349.00
Regular Price
€495.00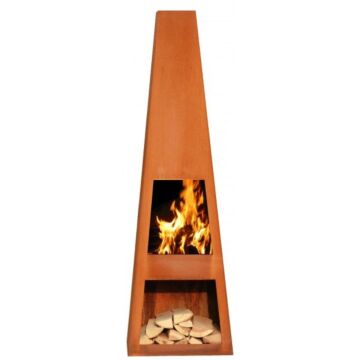 3 Reviews
L 44 x W 37 x H 150
With wood storage
Special Price
€289.00
Regular Price
€319.00
Ordered before 17.00h,

SAME DAY

shipment

Delivery from

STOCK

Pay later
Outdoor fireplaces made of corten steel
Many garden fires, patio heaters and outdoor fireplaces are made of corten steel. But fire pits, fire bowls and other objects in the garden are also frequently made from this type of steel.
Corten steel is a type of steel containing copper. Corten steel is also known as weather resistant steel. Corten steel is characterised by its brown-orange rust colour on the one hand and its long lifespan on the other. The lifespan is so long because the first layer of corrosion stops further damage by rust, making painting unnecessary and maintenance very low. The more you use the garden fire, the more beautiful it becomes. An important property of Corten steel is that the garden fire will not rust through and can therefore be left outside in all weathers.
In short, with a corten steel garden fire you do not only get a special object in the garden, you are also sure that it will last for years.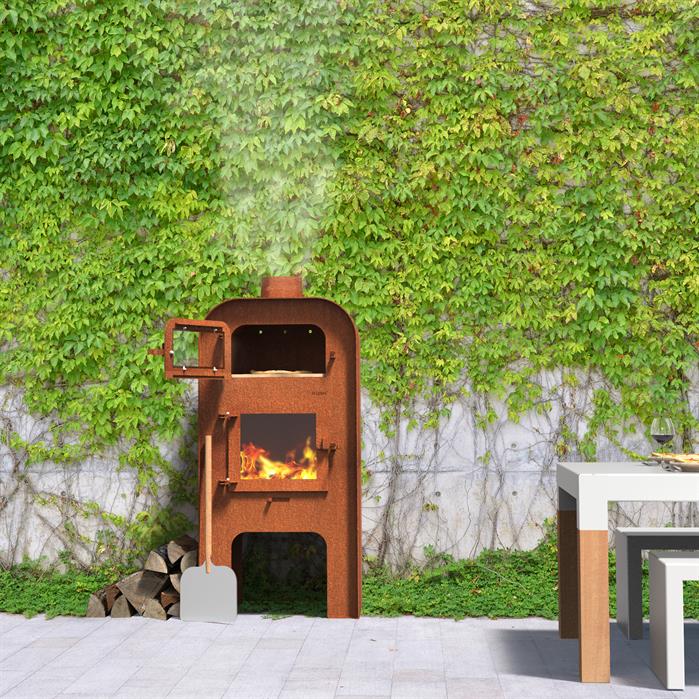 Tip when buying a corten steel patio fire
Attention: It happens that a certain type of outdoor fireplace or garden fire made of corten steel is not directly delivered with a rust look. Often the manufacturer delivers the fireplaces already with a recognizable corrosion layer, but it also happens that it is still plain steel and the first "rust formation" has yet to occur. But don't worry, this goes very quickly. After a few uses or a while standing outside, the garden fireplace will start to rust and you can enjoy a beautiful eye catcher in your garden!
Corten steel garden fireplaces from Firepit
We have many models of corten steel garden fireplaces. Gardenmaxx, for example, has a very extensive range. These fireplaces are made from 1.6 or 2 mm thick steel. Many models are available in both a small version and an XL version. Smaller models such as the Rengo fire place have an average height of 120 cm. The height of the larger corten garden fires can vary from 1.50 to 2 metres. An example of a large garden fire is the Pular Corten XL garden fire.
Garden fire and cooking range: Stoked BBQ Braai
Stoked BBQ manufactures garden fireplaces from corten steel and ships them as construction kits. Assemble the garden fireplace and let your Braai shine in the garden. This garden fireplace can be expanded with various accessories. Think of a lid, a base plate, a chimney or a cooking plate. In this way you turn this garden fireplace into a cooker for a delicious stew or to bake simple hamburgers.