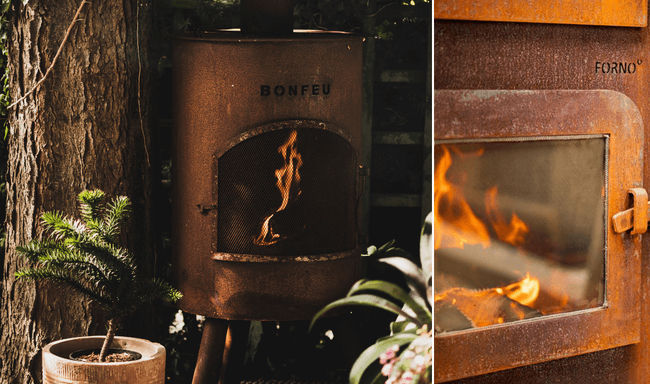 It is a popular material and certainly within garden design specialists, Corten steel is widely used. Now you may wonder, what is Corten steel anyway and why is it used so much? You can read all the benefits and applications of Corten steel in this blog.
What is Corten steel?
Corten steel is a type of steel with special properties. This type of steel has a rust-brown colour that is formed by weathering, such as rain, cold or dirt. The top layer will rust, protecting the underlying steel layer from corrosion. As a result, the material is very weather-resistant and can remain outside for years.
The top layer of steel will rust, which is a good and protective feature. It is good to know that this rust, just like the rust on normal steel, can give off. That is why it is wise not to place a Corten steel fire bowl or fire basket directly on the garden tiles but to use a suitable base plate or older paving stone. Pedestals are also available on which, for example, a fire bowl can be placed.
What are the advantages of Corten steel?
Besides the fact that the material is very weather-resistant and can therefore easily be left outside, there are a few more advantages to an outdoor product such as a corten steel garden fireplace:
Maintenance-friendly: because the top layer protects the underlying steel, it is maintenance-friendly. You can even leave a fire bowl or garden fireplace made of Corten steel outside during the winter. After this, you will still be able to use the fireplace or fire bowl.

High quality: Corten steel is a material that can last for years without diminishing in quality.

Discolours over the years: Corten steel is a special kind of steel because it continues to discolour. Depending on the environment (humid or dry), your garden fireplace will discolour as the seasons and year go by.

Fully recyclable: because Corten steel is not treated with corrosion inhibitors, the steel is fully reusable. This combined with its high quality, you can safely turn an old planter into a fire bowl or turn a Corten steel panel into a garden fence.
Corten steel can be used everywhere in the garden
In the Firepit-online.com range, you will find various garden articles made entirely or partly from corten steel. This makes these garden articles of solid quality and brings a sturdy look to the garden.
Besides the well-known garden fireplaces, fire bowls and fire baskets made of Corten steel, there are many more applications. Consider the following ways of using Corten steel, both in the garden and indoors:
Planters
Wood storage
Surrounding an indoor electric fireplace
Pedestals and columns
Border edges
Art objects
Cooking unit (e.g. OFYR)

Maintenance of Corten steel
As told earlier in this blog, Corten steel is a low-maintenance, or maintenance-free, material. This is ideal if you don't like a lot of maintenance on a garden fireplace or fire bowl and just see the rust layer as a cool element. However, it is important with any garden fireplace or fire bowl to remove the burned ashes from the fireplace after use. If you still want to maintain the Corten steel a little, you can clean the garden fireplace or garden fire bowl once a year with a sturdy brush. Protective covers are also available to protect the fireplace from dirt. However, these covers do not protect against the rusting process, which will always take place with Corten steel.
Top 5 most popular Corten steel products at Firepit-online.com
It's not a new material, but over the years Corten steel has become very popular. Its quality, low maintenance and tough colour attracts people to incorporate these products in the garden, whether it is a garden fence, border edging or garden fireplace. We would like to list 5 more popular Corten steel garden products for you to get inspiration and perhaps choose Corten steel yourself!
Sunwood Marino Gas fireplace
OFYR Classic 100
FORNO Fire table Brann
Stoked BBQ Braai fireplace/BBQ
Of course, the range extends beyond these popular products and you can find a Corten steel garden fireplace, fire bowl or barbecue for a variety of styles and prices.