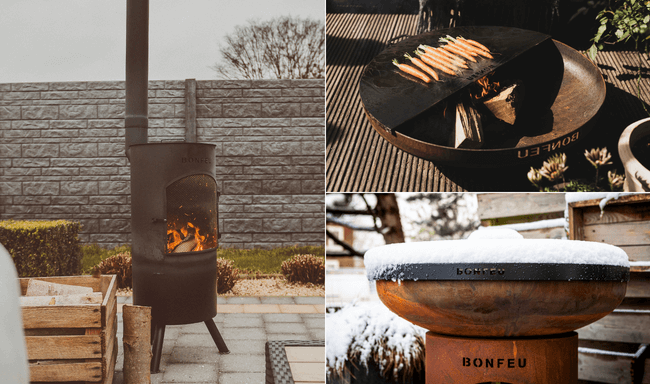 One of the most popular brands within the Firepit-online.com range is BonFeu. The brand stands out because of its lasered logo, its extensive range and the good value for money of its garden products. Want to know more about the brand? Read on quickly!
BonFeu the brand
BonFeu is a Dutch brand that started in 1999. A few garden fireplaces were designed whereby the brand has now grown into a brand that has spread throughout Europe. In the process, the range has greatly expanded and you now find not only garden fireplaces from the brand, but also complete outdoor kitchens and quality and useful accessories are offered by the brand.
BonFeu's garden products are distinguished by a number of features. First of all, the lasered logo is a nice feature with the garden articles. Through the logo you can see the flames and the logo is highlighted from within the fireplace or fire basket. All products are designed and manufactured with care, making them of solid quality and will enjoy a long life. Creative designs make the garden fireplaces and fire baskets unique, playful and suitable for any garden.
An extensive range of garden articles
BonFeu started out producing garden fireplaces, small and large. Over the years, the range has expanded so much that they now offer not only garden fireplaces. The range features various garden fireplaces with and without a cooking option. The BonVes is a fire basket available in two colours and two sizes. You can buy a matching plancha with this fire basket.
The range also includes a unique outdoor kitchen. The BonBiza is a firebowl on a base with a plancha plate on top. This makes the BonBiza a complete outdoor kitchen and you will be able to prepare all your favourite dishes with it.
Finally, BonFeu also has fire bowls in its range. BonFeu's firebowls are all made of strong steel. In addition, there are fire scales of corten steel. This type of steel will rust quickly, but this is a good thing about it. As it rusts, the top layer of rust will protect the steel layer below from rusting through and a Corten steel fire bowl can last a lifetime. Naturally, various sizes of these fire bowls are available and the BonFeu fire bowl is also available with handles and feet. A matching plancha or grill cannot be missing from the fire bowls either.

Excellent quality mood makers
Everything from BonFeu is made and thought out with care. New designs are often thought up and once in a while a new item is added to the range. All parts are welded so that the connections between, for example, fireplaces and legs are finished neatly and remain good.
The latest model within BonFeu's range is the BonGiro Garden Fireplace Black. This garden fireplace has a completely different design from the garden fireplaces we know from BonFeu. The stoking part of the fireplace is close to the ground and has a diameter of 55 cm, making the garden fireplace perfect for stoking at a low height, but where a good fire can certainly be made. The garden fireplace has a total height of 125 cm, most of which is the stove pipe. The garden fireplace is very nice if, for instance, you are picnicking or sitting in a low garden chair reading a book. The garden fire comes with a grill grate and can thus also serve as a barbecue.
Passion for outdoor cooking with BonFeu
BonFeu started out making garden fireplaces to add atmosphere to the garden. Meanwhile, a large number of garden fireplaces, fire baskets and fire bowls allow you to cook outdoors, both in summer and winter. BonFeu's passion for outdoor cooking and different ways of cooking outdoors is what they want to transfer to the buyer of their products. That is why BonFeu also produces matching accessories with most products to complement the garden fireplace or fire basket with a plancha baking tray, grill rack or smoking board for fish. So with BonFeu, you can complete your own mood kitchen.

Everything from BonFeu at Firepit-online.com
You can find the entire assortment of BonFeu in our webshop. It is a very popular brand and is regularly updated with new mood makers or accessories. Would you also like to buy a BonFeu and do you still have some questions about their range, how to use them or other questions? Then feel free to contact us or leave a comment below the blog and we'll be happy to help. Besides a blog, are you curious about atmospheric images of BonFeu fireplaces and fire pits? Then surf to our YouTube channel for inspiration.