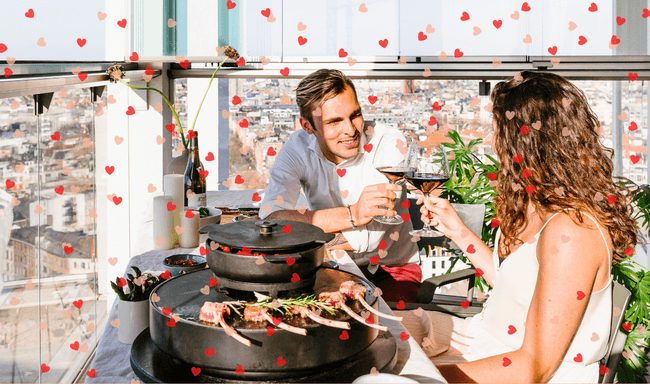 Surprising your partner with a nice dinner, going to the movies together or eating out. Most people celebrate Valentine's Day with a loved one or do something fun with friends to celebrate the day of love. Would you like to take a different approach this year and organise an original date for your Valentine? In this blog you will read about 4 Valentine dates that will definitely surprise your Valentine!
Date idea 1: Make your own cinema
Going to the cinema is something that is often done during Valentine's Day, but how nice is it if you make your own cinema? Enjoy the privacy and cosiness of sitting on the sofa together or really go all out by, for example, putting a mattress or air mattress in front of the sofa, decorating the bed with pillows and blankets and creating a super romantic setting this way. Now, if you want to create even more atmosphere by, for example, lighting a fire, put a crackling fire on the TV or turn on the fireplace for huge ambiance and a romantic look in the room.

Date idea 2: Make a delicious (barbecue) dish
A fun idea to agree on is to both make a dish that the other (and you) really like. For example, agree that one person makes a main dish and the other a dessert and/or starter. This way, you show that you enjoy making an effort for each other and you can enjoy a cosy dinner together.
An addition can be to experiment with the way you cook. You will soon dive into the kitchen, but have you ever thought of making a dish on the barbecue or trying out plancha baking? Even in winter and spring, you can fire up the barbecue to make a delicious dish. Think fried salmon with a flavoursome marinade or dessert pancakes on the plancha plate.
Date idea 3: Dine with ambient lighting
Speaking of dining, make this Valentine's Day dinner a very romantic setting. Set the table with a pretty tablecloth and put some extra mood lighting in the room such as candles or a gas lantern from Cosi. These gas lanterns are available in different colours and can be used both outdoors and indoors. With these gas lanterns, you will have an atmospheric light spreading through the room within seconds.
Want to make it a fairytale setting? Then scatter several small candles and some lanterns around the room and you will feel a very romantic atmosphere.
Date idea 4: Organise a romantic picnic with a fire pit
Are you and your Valentine loverss of the outdoors and nature? Then organise an all-out picnic in your neighbourhood or in your own backyard. Lay a big rug in the grass, choose your favourite snacks and make it a cosy afternoon/evening. If you want to go even bigger, set up a fire bowl next to you and romantically roast some marshmallows. Especially in the month of February, a warming fire from a firebowl can be a nice source of warmth and also makes the atmosphere extra romantic.

Romantic gifts for your valentine
This year, make your Valentine's Day even more special with an original date. Would you like to give an original gift to your Valentine in addition to the date? In our webshop, you will find a range of great Valentines gifts, from a real leather apron to an atmospheric lantern or a cool barbecue set for the real barbecue lovers.