FORNO Base CortenSteel
5 Reviews
4.45 out of 5 based on 5 reviews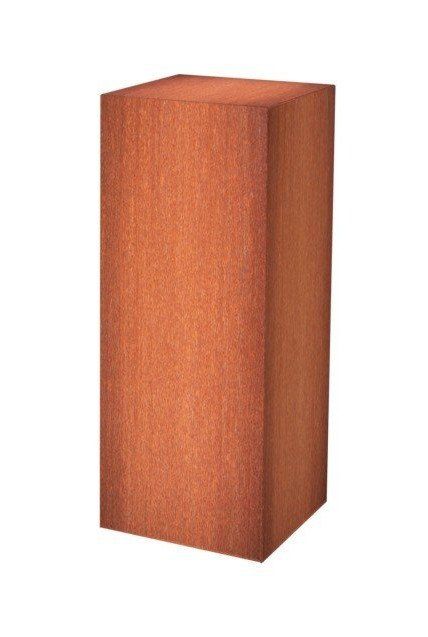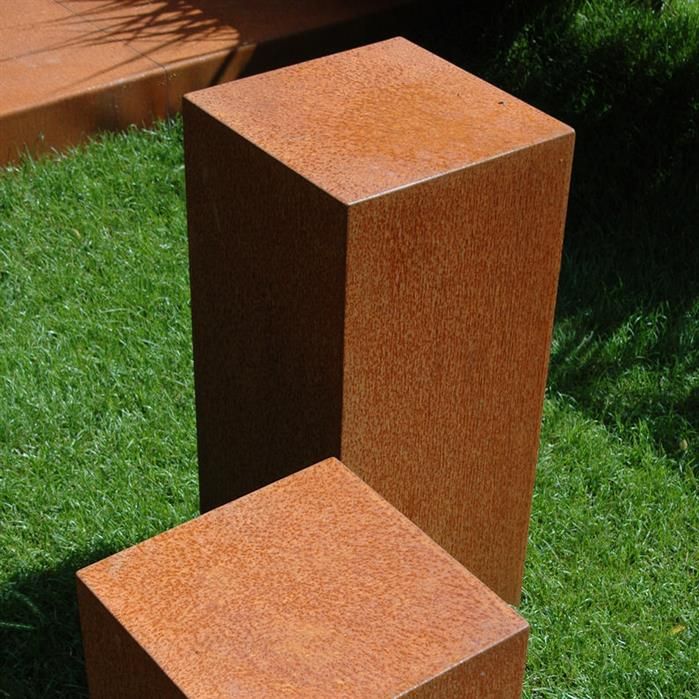 All products are for the European market

Ordered before 17.00h,

SAME DAY

shipment

14 day reflection period

Pay later
FORNO Base CortenSteel (available in 13 different sizes)

Would you like to give your fire bowl pride of place in the garden or on your patio? Does your garden sculpture deserve to get a prominent place in the garden? This stunning base from CortenSteel is probably your best choice. This base can be put in the garden but also looks good in your home topped with a beautiful flower arrangement.
Weighing between 9 and 42 kg and varying in height, these plinths are an absolute asset for your garden. The plinth is available in no fewer than thirteen different sizes! We have listed all the details for you below;
- CK 1 - L 500 x W 500 x H 1200 mm - 42 kg
- CK 2 - L 500 x W 500 x H 1000 mm - 36 kg
- CK 3 - L 500 x W 500 x H 800 mm - 29 kg
- CK 4 - L 500 x W 500 x H 600 mm - 23 kg
- CK 5 - L 400 x W 400 x H 1200 mm - 33 kg
- CK 6 - L 400 x W 400 x H 1000 mm - 28 kg
- CK 7 - L 400 x W 400 x H 800 mm - 23 kg
- CK 8 - L 400 x W 400 x H 600 mm - 18 kg
- CK 9 - L 400 x W 400 x H 400 mm - 13 kg
- CK 10 - L 300 x W 300 x H 1000 mm - 21 kg
- CK 11 - L 300 x W 300 x H 800 mm - 17 kg
- CK 12 - L 300 x W 300 x H 600 mm - 13 kg
- CK 13 - L 300 x W 300 x H 400 mm - 9 kg
Made from 2 mm thick CortenSteel
The FORNO base is made from 2 mm thick CortenSteel . This means that the base can be left outside in all weather conditions without the need for cover. The pillar is made from a type of steel that contains copper (Corten).
CortenSteel is sometimes called weathering steel. Corten steel is characterized by a brown/orange rusty colour and its long lifespan. The reason it lasts so long is that the first corrosion layer prevents any further deterioration caused by rust. Painting is therefore not necessary, which makes this material very low maintenance. The longer your base has been in the garden, the better it looks. After a while, the steel forms a beautiful and natural patina layer.
In brief; The FORNO base is a high quality product for your garden. It will really show off your fire bowl and/or garden sculpture!
The FORNO base from CortenSteel in short:
- Stylish base made from CortenSteel
- Looks stunning when paired up with a fire bowl or piece of art
- High quality product
- All bases from FORNO have a 5-year full warranty
- Available in 13 different sizes
For your consideration:
Please note: It may happen that a certain model fireplace or fire bowl made from Corten steel does not have the rust-coloured look that you expect when it is delivered to your home. Your initial thought may be that you received the wrong product. However, nothing could be further from the truth. Once you put the fireplace outside, it will form the first corrosion layer caused by damp and/or rain. The manufacturer will generally deliver the fireplace with the corrosion layer that you expect but sometimes the steel still looks smooth as the first 'corrosion' still has to take place. Don't worry. The fireplace will get that rusty look in no time.

FORNO is a Dutch company with a small team of professionals engaged in the design and manufacture of garden fireplaces, fire bowls and fire tables. Hand-made, with the greatest care for design and quality. At FORNO, everything is about pure craftsmanship!
All FORNO products are of an outstanding quality. You will enjoy them for years. Whether it's a fire table, a patio fireplace or a fire bowl, all models are made of no less than 3 mm thick corten steel. To sum it up; With the stylish FORNO products, you choose special design and high quality.
Read more
Specifications
| | |
| --- | --- |
| Brand | FORNO |
| Model | Base CortenSteel |
| Color | Rusty brown |
| Material | Corten steel |
| Dimensions | Different sizes - see text |
| Weight | Different weights - see text |
| Shape | Square |
| Warranty | 5 years |
| Thickness steel cone | 2 mm |
Costa
Le pliage est bien réalisé, les soudures sont parfaites et les faces sont bien planes . L 'ensemble est très rigide.
Deux bandes corten sont soudées à l'intérieur de la base du piedestal certainement pour renforcer la rigidité.
Il a été livré en acier corten non rouillé.
Il me faut le dégraisser par précaution et le laisser s'oxyder.
Satisfait de l'achat et de la livraison.
celineetmarc
Très satisfaite du support en acier carré que j'ai acheté. Il a été livré très rapidement, bien emballé et le rendu correspond tout à fait à ce que nous souhaitions. Ni trop lourd ni fragile, il est top ! Soit le laisser prendre une teinte rouille naturellement, soit le protéger dès sa livraison.
Tony
Der Sockel ist sehr gut und massiv verarbeitet.
Leider hat er noch keine Patina wie abgebildet und es wird wohl noch bis zu einem Jahr dauern ,bis er die Patina des Cortenstahls hat. Was jetzt für meine Ausstellung als Künstler nicht hilfreich ist.deshalb nur 2 Sterne.
Other people also viewed these products