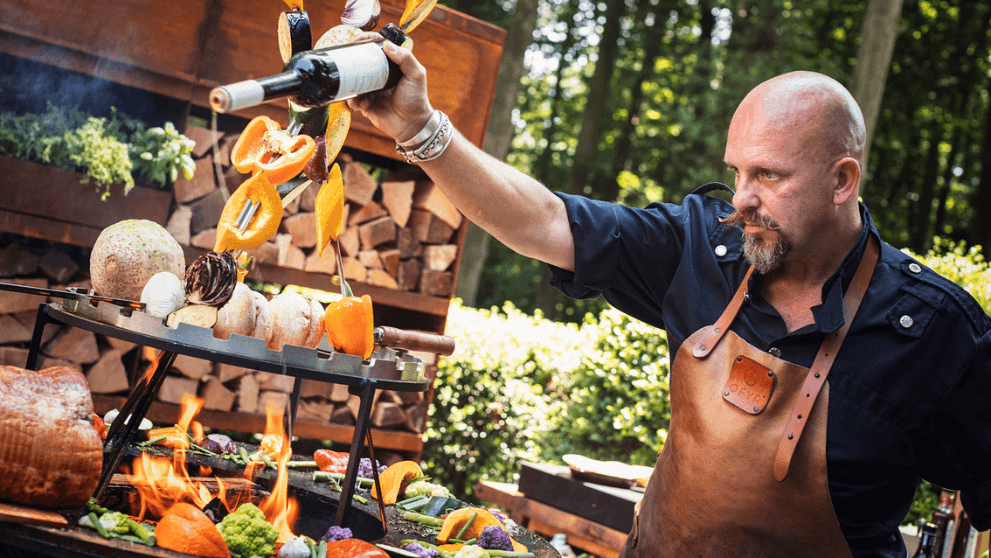 Summer is about to officially begin, the shorts are coming out of the closet and the barbecue can be dusted off. Cooking outside is the way to both enjoy the beautiful weather and prepare a delicious meal for you and your company. Would you like to try something different than the 'simple' barbecue? Then read this blog and get inspired by the many techniques you can use to cook outside.
Grilling; the standard BBQ technique
Grilling is a technique where the meat is seared directly, making the outside crispy and the juices of the meat stay in the meat. Besides that, you make sure that the meat gets a nice pattern by grilling it. In this way, your piece of meat becomes very tender and juicy and the meat will not get dry or tough quickly. The barbecue is known for grilling meat, vegetables and other ingredients.
Not only a barbecue is a good instrument for grilling. Grilling can be done in many ways, as long as you have a grill and a fire! Many garden fires and fire baskets nowadays come with a grill grid, like the popular BonFeu fires. The BonFeu BonVes or BonFeu BonBono are popular fireplaces in our range which are known for their cooking possibilities. They are delivered standard with a stainless steel grill so you can grill deliciously. So if you like a nice tender piece of meat with a crispy outside, then grilling meat is the right cooking technique for you!
Smoking on the barbecue or in a smoker
Smoking is a technique which uses indirect heat and smoke from the fire to prepare food. The heat of the fire cooks the food gently while the flavour of the smoke penetrates the meat. Therefore, when smoking, make sure that the lid remains on the barbecue so that the smoke in the barbecue can come into contact with the meat for as long as possible.
Food can be smoked both on a barbecue and in a special smoker. For smoking food, no large fire is required, only heat that will cook the food. With the Oskar Smoker by Barbecook, for example, you can smoke a delicious piece of fish. Usually, charcoal and smoke chips are used for smoking. These smoke chips are also available with a smell/flavour that is given off to the food by burning.
The versatile Bastard kamado is also ideal for smoking a piece of meat. Do you have a fire bowl and want to try smoking with it? Then a Bonfeu smoking board is an excellent accessory for smoking a nice piece of fish.

You can stew on any fire
Simmering is a cooking technique that allows you to slowly prepare meat, chicken, fish or vegetables at a low temperature. The long stewing time in combination with constant heat ensures slow cooking. Because of the long stewing time, all the flavours of the spices can mix deliciously with the food. Therefore, stewing is also called slow cooking. With a Dutch Oven from our range, you can make a fine stew on any fire, with meat, fish, chicken or vegetarian.
The casseroles are made of cast iron and can therefore be used on any fire. This means that you can even stew on a brazier or a fire basket! All you need to stew is a fire and enough time and patience.
The Bastard: the versatile kamado barbecue
A very popular and versatile brand is The Bastard with its kamado barbecues. With these kamados you cannot only grill with a grill grid, but also smoking and stewing are cooking techniques which can be practised with The Bastard. Because these kamado barbecues are complete outdoor kitchens with nice extras like plate setter, stainless steel grid, charcoal basket and axle lifter, there is always a way to cook outside with The Bastard.
Plancha baking is the trend
Besides the fact that plancha baking is becoming a real trend, it also has many advantages. A plancha is basically a 6mm thick baking plate which can be placed on a fire bowl or fire basket. This plate becomes red-hot and can be used to sear pieces of meat, fry vegetables or even make a delicious omelette. With plancha baking, a minimum of fat is used and because of the high temperature and short baking time, the ingredients retain their flavour and nutritional value. Because the plancha plates at Firepit-online.com are also for sale separately, you can prepare a delicious dish on a fire basket, such as the BonVes.
BonFeu is a well-known brand when it comes to plancha baking. In the assortment are several articles with which you can plancha bake. The BonFeu BonBiza is our popular model when it comes to plancha baking. This fire bowl with plancha stands on a base so that you can organise a delicious barbecue.

Enjoy all the possibilities this summer
The assortment of Firepit-online.com concerning outdoor cooking is very extensive. There is a way for everyone to enjoy cooking outside this summer! Surf to our webshop and order, because a order before 17:00 hours is shipped today from our warehouse! If you have any questions, please contact us via our contact form. Our customer service will be happy to help you.