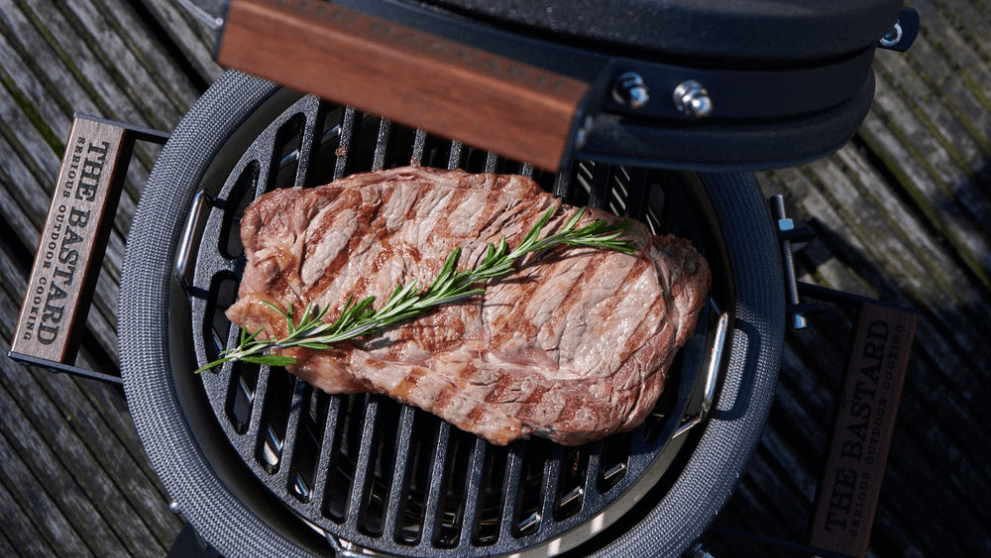 It's almost summer and that means only one thing; it's time to get the barbecue out of the closet again. Next month is barbecue month at Firepit-online.com and each week we will highlight a different cooking technique to inspire you. Barbecuing is already centuries old and through the years a lot of different ways of cooking with the barbecue have been developed. Of all these methods, grilling is surely the best known. In this blog, we tell you a little more about this popular way of cooking.
Grilling methodes
Almost everyone knows what grilling is, but what many people do not know is that there are different grilling methods for the barbecue. Two of these methods are direct grilling and indirect grilling.
The direct grilling method is the most common way of grilling on the barbecue. This methode can actually be used on almost all barbecues, whether it works on briquettes, charcoal or gas, it's all possible. The principle of direct grilling is actually quite simple. In this methode, you place the piece of fish or meat directly above the heat source and heat it to an even temperature. By doing so, you grill the outside closed and cook the meat right through. Direct grilling is mainly used for smaller pieces of meat and fish such as hamburgers, bacon slices and steaks.
The indirect grilling method is a little less well known and is mainly intended for the more advanced barbecuers. With this method, the heat source of the barbecue is moved to the sides of the barbecue. This prevents the food from burning on the outside before it is cooked inside. You can compare this principle a bit with the hot air oven in your kitchen. The indirect grilling method is mainly used for larger pieces of meat and fish such as poultry or rolls.
Grilling possibilities
In addition to there being different grilling methods, you can also grill on different types of products. The most well-known way of grilling is of course with the barbecue. And with the barbecues of The Bastard you do not only have a beautiful, but also an efficient and functional barbecue at home! Heat the kamado between 175 and 230 degrees and make sure that both ventilation grids are partially or fully open and place the grill grid directly above the fire. Make sure the grid is hot enough and then the grilling can begin!
Another way of can with the BonFeu products. On almost all fireplaces of BonFeu is naively to grill. From the BonVes fire pit to the BonBiza and the BonFeu BonBono garden fireplace to the fire bowls grill grills, nothing is too crazy. All grills are pleasant to use and of high quality. Also, the grills are all easy to alternate or use in combination with the plancha's that also fit on many BonFeu products. All in all, BonFeu gives you enough options for outdoor grilling.

Good to know
If you are going to grill, there are a few things important to know.
First of all, when grilling, it is wise to give your barbecue enough time to warm up. How long you have to preheat it does differ per barbecue. With a charcoal barbecue, such as the barbecues by Stoked BBQ, it is warm enough when the coals see gray or white. This is usually after half an hour. This is different again with, for example, a ceramic barbecue, such as the barbecue of The Bastard, which takes a little longer to heat up. Here you have to light the barbecue already one hour in advance.
Secondly it is smart not to use your new barbecue or your old one which you have not used for a long time (for example since last summer). Before you make your first meal again, you should let a good fire burn in the barbecue for about 45 minutes. This will ensure that the metal is properly cauterized and other bacteria, dirt and oil burned.
Finally, it is very important to keep your barbecue clean. Not only is this important because it is hygienic, but also because it prevents your food from sticking to the grid when you grill. Read in one of our previous blogs 6 tips on how you can clean your barbecue grill the easiest way.
Grilling tips
Anyone can grill, but it's in the little details to get you from an average chef to a fantastic one. We give you two tips to get you to an even higher level.
1. When grilling, many people use olive oil, but this is not ideal. This is because when you heat olive oil to high temperatures, the aroma and flavor is no longer delicious. It is much wiser to use grilling oil or groundnut oil for grilling. These oils are perfect for this purpose!
2. To become an even better grill chef you will, of course, need the right materials. There are several accessories that will make grilling even easier for you. Think for example of the BonFeu Spatula or the Bastard Deluxe Tongs. These make flipping your meat and vegetables even easier.
Tips from our chefs
In addition to the general tips above, we asked three chefs if they had any good tips to make grilling even easier and more fun.
◊ Tip from chef Axel van Lent: ''Oil your food well, but not the grill itself! Otherwise you will get too much oil and it will catch fire."
◊ Tip from chef Armijn van Nierop: ''Make sure the meat or fish is at room temperature. That gives an even better grilling result!"
◊ Tip from chef Bart van de Wal: "Make sure you use a good quality meat with the right marbling. Preferably dry aged beef or grain fed from Australia."

As you can read in this blog, grilling is a popular form of barbecuing with lots of possibilities. In the assortment of Firepit-online.com is enough choice to ensure that you have everything you need for the perfect barbecue. Are you still not quite out or do you want more information? Do not hesitate and contact our customer service via our contact form or call +31 (0)13 545 19 66.