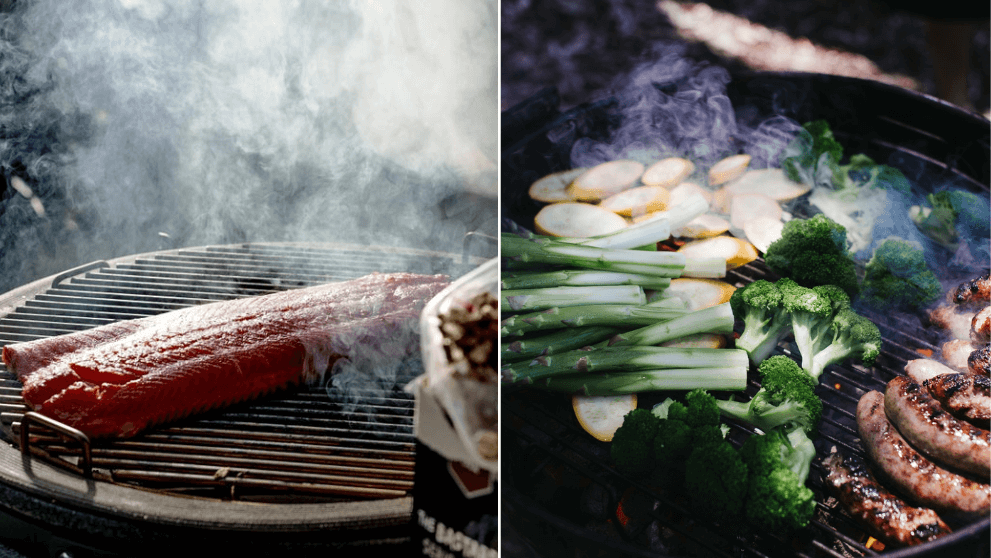 Smoking food is a not very well known way of cooking outside. Yet it is easy to do yourself, has many advantages and is incredibly tasty. Cold smoking of food allows you to keep the ingredients longer and to make a delicious meal at a higher temperature. Ideal for a delicious white fish with cooked vegetables or a self-smoked salmon sandwich. Curious? Read this blog and be inspired!
What is smoking?
Smoking food is a technique that has been used for centuries. With the technique of smoking, you can decide whether you will smoke cold or hot. Originally, cold smoking was mainly used to give food a longer shelf life. Smoking is in fact a healthy method of preservation. Hot smoking ensures that the ingredients are cooked but still remain soft and juicy.
Cold and hot smoking: how to do it
Cold smoking is a technique whereby the cold is used to prevent the ingredient from cooking, but to smoke it. Use a smoke generator and tea light to generate smoke. Now that the smoke chips or moth are beginning to discolour, they can be placed in the smoker or the barbecue. The smoking chips can remain smoking for up to 10 hours. After smoking, it is wise to let the ingredients or the dish rest for another day to get rid of the heaviest smoke flavour.
Hot smoking is done by lighting a small fire in an iron container and keeping it at a controlled temperature of around 100°C. Place the fire in the smoker or barbecue and put the ingredients to be smoked on a grid above it.
With this technique, you can create delicious dishes. 60°C is perfect for a fish, 100°C is ideal for smoking a piece of meat. Is your mouth watering already? Try it yourself! Read on for more tips and inspiration.
Smoking outdoors in various ways
Using a smoker makes the process even easier. In the smoker, you gently light the briquettes and, for extra flavour, you can add smoke chips to the briquettes. Slide the bottom air vents fully or partially open for good smoke production. Fill the tray with water and place the ingredients to be smoked on the grid or on a hook in the smoker. Now it's a matter of patience until your dish is ready.
Barbecook Oskar Smoker: easy to use and maintain
The Barbecook smoker is an ideal smoker for getting acquainted with smoking. This smoker stands upright, allowing you to smoke a whole fish or large piece of meat with a meat hook. When smoking food, it is important that the temperature is adjusted to the ingredient to be smoked. Use for example the Bastard Pro Thermometer or read the temperature on the smoker.
The Bastard: Easy Smoking
The Bastard kamados are very versatile barbecues which, with the right technique, can easily be used for smoking. The temperatures can go up to 350°C in this kamado. At higher temperatures, you can prepare a tasty meal within minutes. How about a smoked chicken pasta salad? Or a smoked salmon sandwich? All delicious meals you can prepare yourself on The Bastard.
Use a smoke board
Don't have a barbecue in your garden, but do have a fire pit? Then the Bonfeu Smoking Board is an ideal way to turn your fire pit into an outdoor kitchen. You clip this slice onto a fire bowl and prepare the fire bowl for a lot of smoking. This way you can enjoy a deliciously smoked fish next to a cosy fire in your garden fire!

Tips from our chefs
In addition to the general information that is useful to know when smoking food, we have three chefs who have a tip for making smoking food even more fun and easy.
◊ Tip from chef Axel van Lent: "Make sure your smoke moths or chips do not catch fire. But make them a little wet with water or a liqueur.
◊ Tip from chef Armijn van Nierop: "When smoking, always let the white smoke escape first. It can give off a bitter taste.
◊ Tip from chef Bart van de Wal: "Ensure that your product has the right brine so that there is not too much moisture in the product. Dab dry with a clean cloth before smoking."
Smoking is a fun way to try out a different cooking technique. Have you become enthusiastic about this unique cooking technique and do you want to know more about how best to carry it out, fun recipes and more? Check out our smoking page and get inspired!