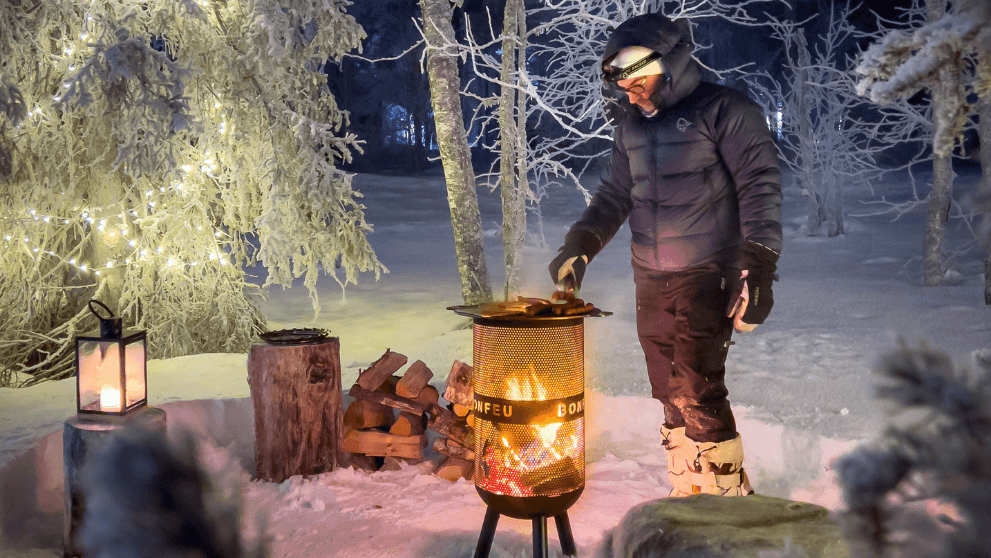 Father's Day is coming up. Sunday, 19th of June is the day to celebrate fatherhood and show your appreciation for your father, grandfather or daddy-to-be. The assortment of Firepiy-online.com is perfect for all kinds of nice Father's Day gifts, from big to small, from expensive to competitively priced. Do you want to exceed your Father's Day 2021 gift and give an even more awesome gift this year? Do not wait and read our tips for the best and most original Father's Day gift for your father below!
A sturdy garden fireplace for your father
Is your father a real tough guy and does he love the outdoors? Then the Stoked Braai is a perfect combination of a garden fireplace and a barbecue. The Stoked Braai is a robust corten steel garden fireplace that you or your father can put together yourself. With this garden fireplace, you can light a wonderful fire. But also barbecuing is certainly possible with this fireplace. Take the Chef's Edition of the Braai. This fireplace is equipped with everything needed to make your father enjoy the barbecue and show his bbq skills. Has your father already bought the Braai, but is he still looking for the perfect accessories to transform this fire into an ideal barbecue? The accessories for the Braai are also available in our webshop.

A real barbecue chef
Now that the summer weather is showing its face, cooking and dining outside is very nice to do. If your father is a real barbecue fanatic, then The Bastard is the ideal all-in-one barbecue as a gift for Father's Day 2022. This complete outdoor kitchen can be expanded with many accessories. Does your father like to grill and is he a real grill master? Then the cast-iron grill grid is the ideal Father's Day gift for your father. But is your father a real pizza maker and does he also want to do this on his Bastard? The Bastard pizza stone is made of high quality ceramic and is ideal for baking your own pizzas.
Not only The Bastard has an extensive range to cook outside on summer evenings. With the fine accessories by BonFeu, OFYR or Esschert Design for example, you can turn your father into a real chef! The leather apron from OFYR is perfect for cooking at high temperatures. A good spatula or tongs are also essential for pleasant outdoor cooking behind the barbecue.
Plancha gift at BonFeu!
The entire month of June, there is a special promotion on the BonFeu fire baskets and garden fires. With selected products, you get a plancha worth 99.95 free! In case your father likes to cook outside, this promotion is perfect to give him not only a fire basket or garden fireplace. With the plancha, your father can improve his cooking skills and fully master the plancha baking process!

Build a good fire
Chopping wood, starting a fire and then enjoying a beer next to the fine fire. Perhaps this is something your father enjoys doing after work, but he is still looking for the ideal fire bowl for it. The MOODZ bowls are made of Corten steel or stainless steel, which makes them of high quality and perfect for a nice fire. The fire bowls are available in various sizes. This way, you can choose a suitable size for your father's garden and surprise him with an original and fun Father's Day gift.
Stoking a fire is of course also very nice to do when camping. By means of a tripod with grill grid, cooking outside is immediately an option at a campfire. A grill grid is attached to the tripod so that you can also grill deliciously on an open fire. In this way, you turn a simple fire into a place for grilling and cooking.
We hope that we have given you enough inspiration for a fun and original Father's Day gift. If you still need more tips or information, please feel free to contact our customer service. We are happy to help you score a great Father's Day gift!