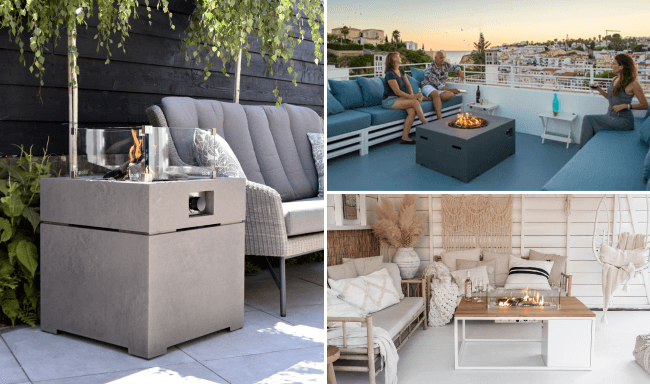 The beautiful sunny days are coming again and this means that many people want to get their garden ready for summer. After winter, the garden often looks messy, but now is the time to freshen up your garden. How nice is it to add a stylish element like a fire table as the focal point of the lounge area. Find out which fire table suits your garden and how to style it with the rest of the garden in this blog.
Tip: at the bottom of this blog you will find a great promotion, valid in May!
Round or square fire table?
Start by choosing the right shape for your garden. If you have a straight garden with lots of rectangular furniture, a round fire table is a nice way to break up these corners. If, on the other hand, you have more round lounge chairs, a sleek square or rectangular fire table is a playful way to make use of different shapes.
Combine different materials and colours in the garden
The fire tables in the Firepit-online.com range are mostly made of aluminium or composite. Using different materials in the garden also gives a unique look and makes your garden stylish. For example, you can choose to place a sturdy composite Happy Cocooning fire table in a garden with wooden furniture. This way, you combine different materials to create your own style.
Besides combining different materials, you can also use materials from the fire table in the decoration of the garden. A good example are fire tables with a teak tabletop. Teak is a weatherproof material that can be used in many ways. For example, you can also stick teak against the wall or combine other teak furniture with a teak fire table. This way, you create a whole and can, for example, create a bohemian style in the garden as shown in the photo below.

Create your own style outdoors
Within our product range, you will find many styles of fire tables. To perfectly match these fire tables with your garden, it is good to think about the style of your garden. Below are some popular styles and a tip for a matching fire table.
Tough garden with clean colours and shapes
If you have a stark garden with many neutral colours such as black, white and grey, the Happy Cocooning Rectangle Lounge & Dining Anthracite Fire Table is a good option. In addition, the Happy Cocooning fire table round white is a nice way to stay within this style with its neutral colour and round shape.
Light colours and airy furniture
If you have a garden with many light colours such as white, beige and light wood, then the CosiLoft 120 White/Teak or Happy Cocooning fire table aluminium is a good choice. The CosiLoft fire tables have a light and open design and therefore fit well in a garden.
Natural colours and materials
If you often use natural materials, such as wood and natural colours, then the Happy Cocooning Fire Table Rectangle Anthracite is a nice option for you. This fire table has a light wooden exterior and an anthracite table top. This fire table is also available with a mid brown surround for an even more natural look. Place this fire table in a garden full of green plants and wooden furniture and create a country garden.
Luxurious garden with an austere style
If you like a luxurious look with stylish and luxurious accessories, an all-black fire table is a good option. The Cosiloft 120 Black/Black or CosiBrixx 60 Anthracite are good fire tables to get this luxurious look.
Style your fire table with matching accessories
Styling the garden for the summer season is easy and fun by adding a style. Choose your style or create a whole of different styles. Besides the fire tables, you can play with matching accessories to complete your garden. Think about hanging photo frames, a rug or an atmospheric lantern such as the Cosi gas lanterns.
With a matching gas lantern, you complete the decoration of your garden and add a beautiful atmospheric light. For example, combine a sleek black fire table with the Cosiscoop Dome Black or place the Cosiscoop Bamboo in your bohemian garden next to the Cosiloft White/Teak!

Cosiscoop Drop action in May
Completely in keeping with this blog: throughout the month of May you will receive a free gas lantern with the purchase of a Cosi fire table. Just tick the gas lantern on the product page of your favourite fire table and add it to your shopping basket. So order your Cosi fire table now and enjoy this atmospheric promotion until 31 May!