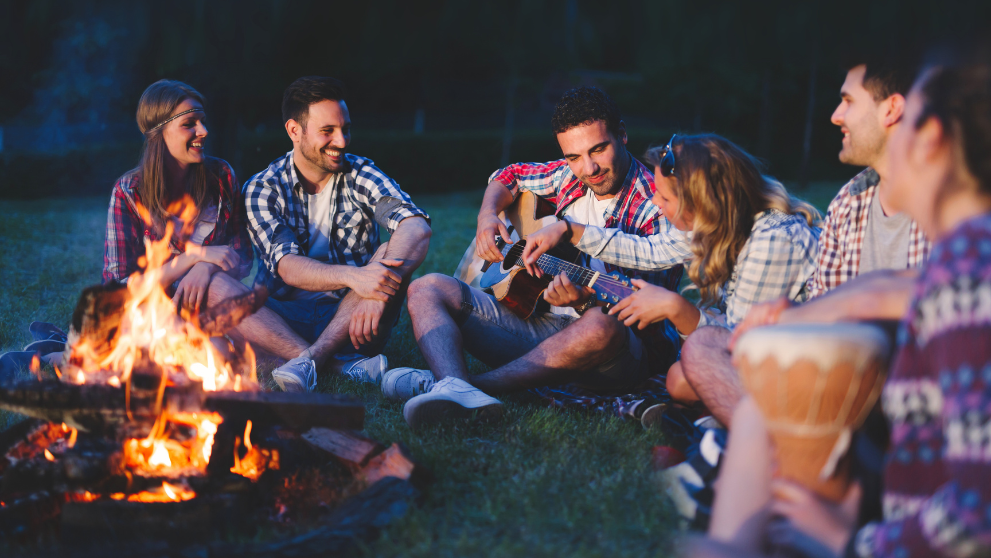 Summer is not over yet, but most people are already preparing for autumn. The garden or terrace will have to be tidied up if you want your garden to be neat and tidy when autumn arrives. And if your garden has been completely redone but you are still looking for fun activities to do in the autumn, read on and find new discoveries. Read on and you'll make new discoveries.
A walk in the woods or on the beach
Autumn means falling leaves and beautiful colours. That is why it is so much fun to go outside now. Admire the changing nature with its beautiful colours and take a walk in the woods or on the beach. In this way, you let yourself be surprised by nature and enjoy hot chocolate with whipped cream after the walk. When you get home, you can light your garden fireplace and extend the day with a delicious outdoor dinner or simply roasted marshmallows.

Not an outdoorsman? Think up something for inside!
Autumn brings many special leaves, fruits or plants that you can use to create a great autumn arrangement. You can dry particularly coloured leaves or flowers and turn them into a great book. Or discover a whole new hobby such as crocheting, painting or a high-tea to discover new tea flavours.
In addition to pursuing a hobby, you can also put your living room or veranda in an autumnal mood. Here are some examples of an autumnal interior:
Change the brightly coloured cushion covers for brown and yellow shades
Put a nice dried bouquet or autumn branches in a vase and place it on the coffee table
Get the blankets out of the cupboard and put them on the sofa
Buy autumnal candles, for example with a cinnamon scent, and light them in the evening
Enjoy a heated terrace
Now that temperatures can drop in the evening, we soon move back inside. To be able to eat outside, we have plenty of solutions. Think of fine patio heaters like the Barcelona Heater that you can easily hang up or put down, creating enough warmth above your garden table to still sit outside comfortably. Not only a heater gives you fantastic warmth to sit outside even in autumn. Also a patio fireplace or a fire basket gives off a lot of heat so you can sit outside until the late hours. Take the BonVes fire basket for example. This basket gives off delicious warmth through the perforated steel and is pleasant to watch dance to the flames.

Outdoor dining, even in autumn!
Outdoor cooking is certainly still possible in autumn and can easily be done with the barbecues or various cooking options from our assortment. Whether you make an elaborate dish on The Bastard or you keep it simple and use a fire bowl with a tripod and Dutch Oven above it, everyone can use some inspiration to cook outside in the autumn.
Tripod with simmering pot
The first dish is an ideal recipe for cooking over an open fire using a tripod and a simmering pot. Make a richly filled goulash soup for a deliciously warm feeling during the cold days. Fill the soup with carrots, potatoes, onions and delicious spices and herbs. This way, you can make a delicious dish within an hour, and all that with a simple fire and a simmering pot.
Baking pizza in the pizza oven
Make your own toasted pizza in a pizza oven. This oven is ideal for baking the pizza dough and cheese crispy and will also cook the other ingredients gently. In this way, you can prepare a delicious pizza to enjoy within minutes!
Plancha baking with BonFeu
In addition to making complete meals, it's also fun to try things out for yourself with a plancha plate on top of a fire basket, for example. When you purchase the BonFeu BonVes, you can buy a matching plancha. This way, you do not only buy a great fire basket for the warmth, but you also buy a cooking option to enjoy the warmth as well as to bake some delicious ingredients. Use the plancha to make some delicious hamburgers or bake a baguette on the plate.
Game night
Now that the weather is cooler and you prefer to sit under cover or inside, organising a game night is definitely a good idea. Invite friends or family and make it cosy with a nice fire from the fire table. In this way, you will benefit from the warmth and pleasant ambient light while you still have enough space to play a game. In this way, you can turn the dull autumn evenings into something cosy and you will certainly get through the autumn well.
Autumn is certainly not a dull time if you do fun things yourself. And as you have read in this blog, there are plenty of activities you can do, even when the weather outside is less pleasant and you'd rather stay inside. Make autumn a cosy time and do some fun activities to get you through the autumn days. Do you love outdoor cooking and want to get even more inspiration? Check out our Pinterest account and discover great dishes you can make both indoors and outdoors.