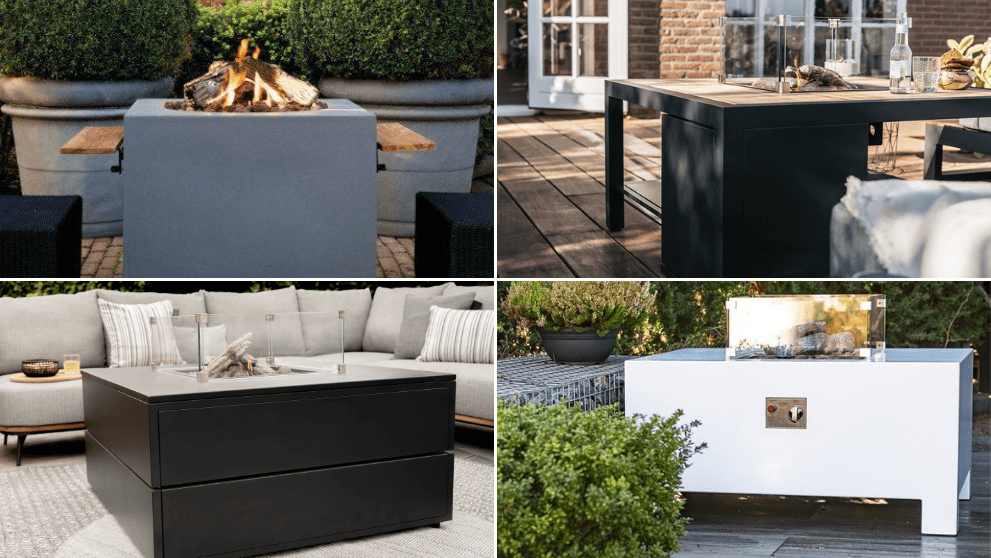 Sitting outside after dinner with a delicious drink, enjoying the lovely warm sun or a place to play a game with the children. In the garden, it all happens in the summer and then a fine garden table is obviously indispensable. A fire table can be the perfect addition to your lounge area and add more atmosphere and light. In this blog, we will discuss the advantages and possibilities of a fire pit table, a garden table and mood light in one!
What is a fire pit table?
First of all, what exactly is a fire pit table? A fire pit table is, as the name suggests, a table with a fire in the middle. The light and the flames are created by a fine technique, all incorporated in the burner and the table. When purchasing a fire table, it is only necessary to purchase a gas cylinder, connect it and the cosiness can begin!
Fire tables of various brands and in various styles
Well-known brands within the fire tables are Cosi Fires and Happy Cocooning. Both brands specialise in the production of fire tables, but have their own style and design. Are you curious which fire table suits you best? Then read on and find out more about the extensive assortment of fire tables on Firepit-online.com.
Cosi Fires fire pit tables
The Cosi fire tables can be described as stylish, modern and simple. The design is often light and open in design and colours. A very popular model of Cosi is the Cosiloft. This open fire table gives a light appearance and is therefore beautiful in various garden designs. Besides the fine open design, you can choose from several colours and sizes within this line, the fire table is available in a length of 100cm or 120cm.
Besides the Cosiloft fire tables, the Cosipure fire tables are also a feast for the eyes. These fire tables are closed at the bottom and have a teak table top with a black or white base.
New in the range of Cosi are the CosiBrixx fire tables. These sturdy fire tables have a sleek look and a capacity of 9 kW. The square fire table can be placed as a focal point in the lounge area or on one side of the lounge set for concentrated warmth.

Happy Cocooning fire pit tables
The Happy Cocooning fire tables are totally different from the Cosi fire tables. Happy Cocooning uses tougher colours and materials for their fire tables, giving them a more robust look. Happy Cocooning also has a separate line for their light teakwood fire tables. This so-called Nice & Nasty line consists of teak tables with a black or anthracite tabletop.
The assortment of Happy Cocooning is very diverse and can be described as tight, natural and powerful. The diversity is shown by the fact that Happy Cocooning has fire tables made of 3 different materials. There are the fire tables made of composite, aluminium or teak. The Square Anthracite Lounge & Dining Fire Pit Table for example is a heavy composite firing table where the gas bottle can be placed underneath. This sturdy fire table is available in two colours (black and anthracite) and both in a square and rectangular format.
The Happy Cocooning fire tables are characterised by their special shapes. For example, apart from rectangular and square tables, there are also round tables such as the Bowl or Cone table. These light tables have a special shape and look fantastic in the garden.

FORNO corten steel fire pit tables
In addition to Cosi and Happy Cocooning we also offer FORNO fire pit tables in our assortment. These fire tables are made of corten steel which is a perfect material for outdoor products. Corten steel is known for its rust look and ensures that there is an extra rust layer on the fire pit table. This rust layer protects against further rusting and prevents the fire pit table from breaking down quickly. FORNO has 4 unique fire tables in its range. The Brann fire pit table of corten steel or white aluminium and the corten steel fire pit tables square or round are examples of these. These fire tables have a simple and robust design but are certainly a real eye-catcher in your garden!
Built-in burner for the handyman
But not only the fire tables which are sold as a whole can function as a fire table. In our assortment you will also find various built-in burners. A built-in burner can be built into your own garden table. Make a recess in the current table and let the burner in this hole down. After this you can connect the fire table to the gas cylinder and you have a fire table entirely to your own taste!
Ready to enjoy the whole year
Would you like to be able to sit outside all year round with a nice cosy fire? With a fire table, it is possible and you will be nice and warm and cosy. View all our fire tables in the assortment or contact us for questions!