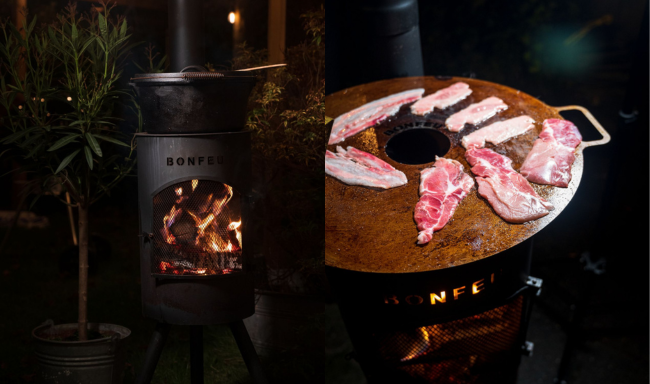 Enjoying a warming fire and a hot snack in hand? That sounds like a fine summer evening in the garden. And let Firepit-online.com sell a diverse range of garden fireplaces where grilling is an immediate option. In this blog, you will discover various garden fireplaces where grilling is an extra fun option and how to use the grill or griddle. Tip: read to the end, here we give some very useful tips.
Garden fireplaces with a standard grill
A garden fireplace is nice for creating atmosphere and warmth all year round. But what could be more fun than using the garden fireplace multifunctionally with a grill, griddle or wok ring? Read on and discover various garden fireplaces with a standard cooking option.
La Hacienda garden fireplaces with grill
Within La Hacienda's range are some garden fireplaces where a grill comes as standard. Create a small to medium fire in the garden fire with which you can easily use the grill to fry hamburgers, toast a bread roll or heat up a pan of soup.
BonFeu garden fireplaces with various cooking accessories
Many BonFeu garden fireplaces come with one or more cooking accessories as standard to enable you to use the barbecue garden fire immediately for a cosy barbecue. Besides the standard grill, an additional plancha griddle to be purchased is available for the following BonFeu models: BonTino, BonGiano and BonCarré.
The models above come standard with a grill grid and wok ring, turning the garden fireplace into a small outdoor kitchen with which you can prepare various grill and wok dishes.
Stoked BBQ corten steel garden fireplace and barbecue
The Stoked BBQ Braai garden fireplace is meant to function as a sturdy corten steel fireplace in the garden. You can also purchase additional accessories or pre-designed bundles of the Braai garden fireplace. The corten steel garden fireplace is easy to assemble yourself and will turn a rusty brown colour as time and use go by.
If you choose the Stoked BBQ Braai Chef's Edition, for example, you will receive the patio fireplace with stainless steel grill grid, lid, door and base plate. This is the perfect combination for making a warming fire and thereby using the garden fireplace as a barbecue.
HEAT Saga garden fireplace
From the HEAT brand, there is only the HEAT Saga garden fireplace, which comes standard with a grill grate. This garden fireplace has a good height for placing by the garden set and grilling at the same time.

Tips for grilling with a garden fire
Keep a close eye on the ingredients and remove the grill over the fire in time to avoid burnt food
Use a spatula and barbecue tongs for turning or grabbing products
Don't make the portions too small. Because cooking is quite fast, you can grill larger pieces of vegetables or meat well over direct heat. These will also not easily fall through the grill into the fire.
Outdoor cooking with a garden fireplace, garden fire or barbecue
Now that the summer days are still here and hopefully will continue for a while, you can buy a cool barbecue for some more cosy summer evenings. Besides garden fireplaces with a cooking option, Firepit-online.com also offers fire pits and fire bowls that can be used to cook with a grill or griddle. And the range of complete barbecues is also extensive and easy to order. Who doesn't fancy cosy summer evenings with a delicious snack on the table?