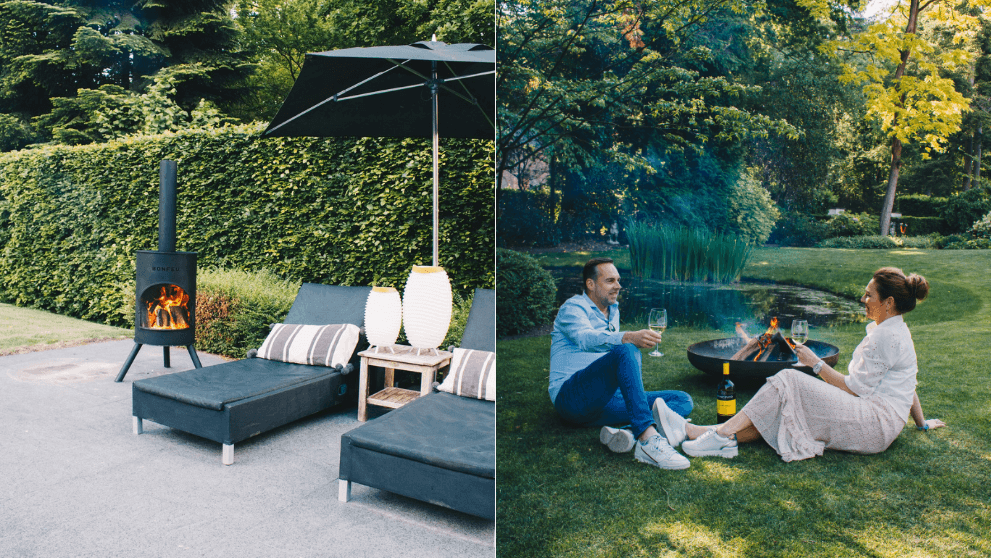 Hopefully, 2022 will be just as great a summer as the past few years. We are very spoilt with the wonderful weather and with good summer weather comes fun outdoor activities. Sitting outside in the park with friends, a day trip to a water park or just relaxing in the garden with a barbecue. They are fun things to do during summer. In this blog, we'll inspire you with all kinds of fun outdoor activities.
Organise a barbecue
Do you have your own grill barbecue or do you want to buy one? Then don't wait too long! This summer is the perfect time to enjoy an evening of barbecue with your friends and family. By using The Bastard Kamado BBQ you can not only show off your cooking skills but you can also prepare the entire dinner outside and at the same time enjoy the nice weather with a drink. Enjoy the great summer weather and effortlessly grill the meats.
Make it cosy with a garden fire
Sit outside for long evenings around a cosy fire, play games and chat with friends. This summer is the perfect time to organise such evenings. Now it's just a matter of buying a garden fire and you can enjoy every evening outside again.
Garden fireplaces come in all styles and sizes. You can place a small classic garden fire such as the BonFeu BonGiro in your garden or choose a rusty variant such as the BonFeu BonSolo Rust. For larger gardens, there are also plenty of garden fireplaces in our range. BonFeu's BonTon series is available in 3 sizes and with the BonTon 60 you get a robust garden fire of 198 cm high in your garden! Besides, there are many garden fireplaces available with a wood storage, so you can keep the fire burning all evening.

A drink after dinner
After dinner, why not stay for a while on your outdoor terrace with a nice drink? Just discuss the day and enjoy the outdoors in the meantime. This can easily be done with a patio heater. There are hanging heaters that are easy to hang but do not obstruct the view. The Sunred Artix Compact is a good example. The heater is easy to hang on your patio and provides both heat and a fine mood light. It has a sleek white design and the heater is beautiful on any terrace.
A fire pit table is also a fine addition to the terrace. A cosy games and a delicious drink. With a fire table you get a very fine atmosphere in your garden where you can enjoy hours. Not only the "fire" is very nice to give ambiance, in combination with nice accessories such as a pizza stone or side table you can even prepare a delicious snack with a fire table and dine at the fire table. With a fire table you have the best of both worlds!
Rent a boat with friends
You can rent a boat in almost every city. It is the perfect activity for a hot summer day and a pleasant way to cool down on the water. Besides renting a boat, you can combine this with lighting up the barbecue. Bring your own barbecue and enjoy a lovely boat trip with snacks and drinks all day long. A very suitable barbecue to take along on a boat is the DrumGrill. This converted oil drum is super stable and easy to transport. With this barbecue you can grill some food during the day and later in the evening, when temperatures drop on the water, the DrumGrill can be dismantled and used as a fire basket. The ideal friend on the water.

Please note: research if you are allowed to light a fire in the area you will be boating.

Make it a great summer
As you can read in the blog, there are plenty of fun activities you can try this summer. And of course, our atmospheric accessories are indispensable. Surf through our webshop and discover the nicest garden fires, fire pits and barbecues and make it a great summer! Do you have any questions about a product? Please contact our customer service, they are happy to help you.