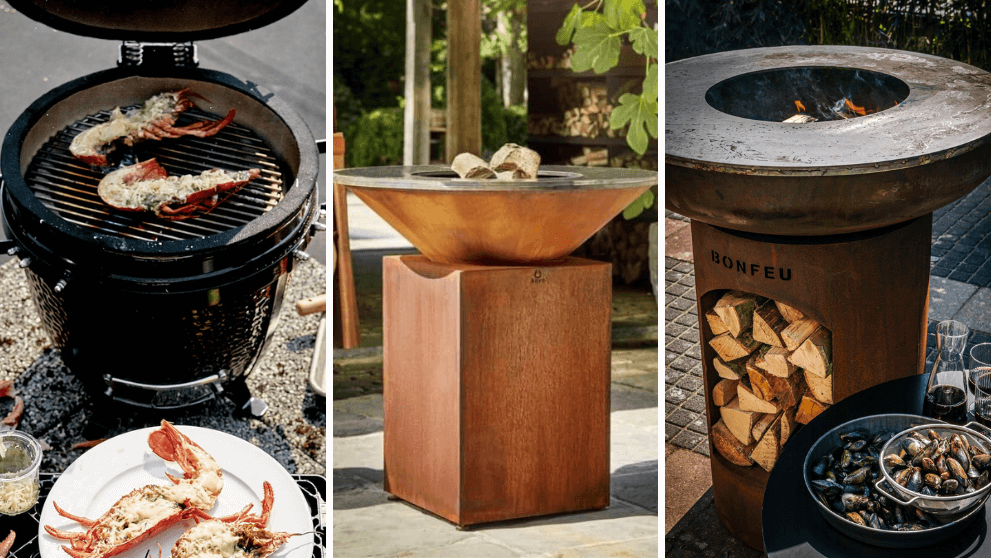 Are you a fan of barbecuing but still missing the perfect barbecue to expand your cooking skills and be able to put crazy dishes on the table? Then read all you want to know about OFYR outdoor kitchens, The Bastard kamado barbecues and the BonFeu BonBiza in this blog. These complete outdoor kitchens are ideal for cooking, baking, grilling, stewing and much more. But which one suits your style of cooking best? Get informed and above all inspired to cook outside yourself!
OFYR outdoor kitchens for a complete experience
OFYR is a brand that specialises in complete outdoor kitchens and high quality products to complete the outdoor experience. OFYR's outdoor kitchens are made from high-quality Corten steel or steel and come in many sizes and colours. In addition to the fire pit barbecues and complete cooking islands, OFYR also offers furniture and accessories to extend your outdoor kitchen. Think of a pizza oven that you can place on the OFYR or a grill skewer set for threading a pineapple, for example.
The basic model within OFYR's outdoor kitchens is the OFYR Classic. These plinths with fire bowl and plancha baking plate are of very good quality and extremely suitable for preparing a variety of dishes. By means of plancha baking, you sear the meat directly and retain the juices in the meat. This is a very fine technique to try out with the OFYR and in this way put a good dish on the table.
Fine workbenches for your outdoor kitchen
In addition to the Classic from OFYR, the furniture workbenches are a fine addition to your outdoor kitchen. With this workbench you have, just like in the kitchen, all the space you need for cutting and marinating and then being completely ready for baking and grilling.
OFYR Island Cooking Units
Are you looking for a luxurious outdoor kitchen where you can chop and bake in one? Then the OFYR Island is the cooking island you are looking for! This big brother of the OFYR Classic not only has a fire bowl with plancha for baking, but also a spacious workbench for slicing and preparing your dishes. In this way you buy directly a complete cooking unit where you can easily and quickly make a delicious dish.

The Bastard Kamados
The Bastard is all about the kamado grills in their assortment. These barbecues are made of high quality ceramic and can withstand extremely high temperatures. The unique thing about these kamados is that they can be used for many cooking techniques. First of all, you can easily grill on these barbecues with the included stainless steel grill grid. In addition, you can put a pan on the fire with the Plate Setter System that comes with it and use it to prepare a stew or a piece of slow-cooked meat. Because of the sturdy lid with thermometer, smoking or baking are also techniques you can try with this kamado barbecue. In short, with this Bastard you can prepare various dishes with just one barbecue.
The Bastard kamado's fine extras
The kamados, except for the Regular Compact Complete kamado, are standard delivered with side shelves. These are extremely useful when preparing your dish. The side shelves are also foldable so that they are not in the way when grilling and baking. In addition, the new models of The bastard kamados come standard with a Multi level cooking system. This is a multi-level grid that can be placed in the kamado to work with different heights and thus temperatures. In this way, you can prepare various ingredients in the same cooking session.
Proud to be a Bastard
The Bastard kamados look completely different from the OFYR outdoor kitchens. These kamados are made of robust ceramic and look tough and rugged. With these barbecues, you can certainly grill and bake large pieces of meat but the kamado is also good to use as an oven. Keep the lid closed and keep an eye on the temperature and discover the Bastard in you.

BonFeu BonBiza Outdoor Kitchen
From the BonFeu collection, the BonBiza stands out as far as the cooking options with this barbecue are concerned. This fire bowl with plancha can be used as a fine barbecue and baking plate for preparing ingredients. The BonBiza is only 100 cm high, which results in an excellent barbecue that is easy to use.
Practical and aesthetic
The beauty of the BonBiza is the rounded finish of both the fire bowl and the base. This design gives the BonBiza a slender appearance and it looks beautiful in all gardens. In addition you can easily take it out to bake or light a fire. The round design also allows you to walk around the barbecue and use the entire surface of the plancha. Ideal for preparing various dishes in one go. The BonBiza is available in black and corten steel.
BonFeu has also thought of a place to store the firewood. Choose the BonBiza with an open base to store the wood and easily light a fire.

Which outdoor kitchen is right for you?
Do you want to buy an outdoor kitchen but don't know yet which one is perfect for you and your garden? In this blog, you have read about the specifications and advantages of the OFYR, The Bastard and the BonBiza barbecues. If you choose the OFYR, then you can use the Island cooking unit to immediately create a complete workstation and try out all kinds of dishes. With The Bastard kamado you can try out various cooking techniques. Baking, stewing, smoking, it is all possible with this ceramic barbecue! The BonBiza barbecue is a beautiful model for every garden and gives you the opportunity to fully master the plancha baking.
Which outdoor kitchen are you going for? Or are you still not sure after reading this blog and want to know more about outdoor cooking? Do not hesitate and contact our customer service via the contact page. They will be happy to help you get started so you can try out your outdoor kitchen this summer!