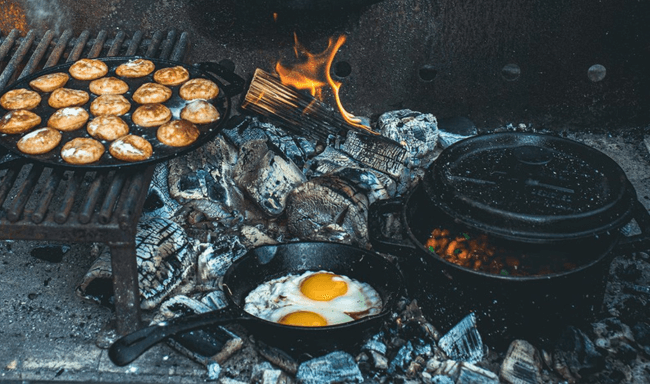 The winter months come to us, with the summer cookbooks unfortunately also allowed to go back into the closet. The delicious stews, lasagna, pasta and soups can be put back on the table. With the right pans such as a robust cast iron casserole you can go a long way and make delicious dishes this winter. How to cook with a cast iron pan and recipe ideas can be found in this blog.
Use cast iron frying pans for winter recipes
A cast iron casserole is ideal for making various winter dishes. Due to the thick material, the heat remains in the pan for a long time and you can put the pan on top of the fire for hours for a slowly cooked stew, a tasty lasagna or a homemade soup. In addition, you can provide the cast iron pans with a seasoning / conditioner, which protects the cast iron against rusting.
Because cast iron is a thick material and is very resistant to high temperatures, you can also place a cast iron casserole directly in or above the fire. For example, if you are at the campsite or if you also like cooking outside in winter, you can also make delicious dishes in winter by means of a tripod and a fire bowl.
Winter dishes from the cast-iron skillet
Nachos with melted and minced meat
Goulash with potato and paprika
Cinnamon rolls with glaze
Lasagne with tomato sauce and Italian herbs
Use nature in your winter dishes
When you go into the forest you will find many nice things to use. Always consult the internet or a ranger whether a particular nut is safe to eat. You can take chestnuts with you and make a chestnut puree. Or draw a delicious tea from nettles.
You can also find many nuts in the forest. Beech nuts can be roasted and used in a cake, make it into a muesli bar or use the nuts in a wok dish.
Make warm stews and soups
You can easily make a stew, with or without meat, in a robust cast iron casserole. Simmer the meat and / or vegetables until they are soft. Use winter vegetables such as pumpkin, potato, mushrooms or parsnip. These flavors immediately give a warm feeling and are very tasty with stewed meat. In a cast iron casserole, the heat will be constant and you can hang the pan over the heat for hours to make a deliciously tasteful stew.
Baking on the plancha
Many of the above vegetables such as pumpkin, potato or eggplant are also easy to prepare on a barbecue. Thinly slice the vegetables for an even and fast garing. With a plancha baking tray you can grill the vegetables without a heavy smoke flavor. And simply make a hot lunch with sandwiches using the Bacon Press for a perfect panini.
Cooking outside in winter
With a warming fire from the fire bowl and the right cast iron pans, you can also prepare the tastiest dishes outside in winter. How nice is it to light the fire bowl on a beautiful winter day and make a tasty soup with a tripod and Dutch Oven? And with a fire bowl you can sit outside all winter around the fire. More inspiring winter pictures and recipes can be found on our Pinterest page.