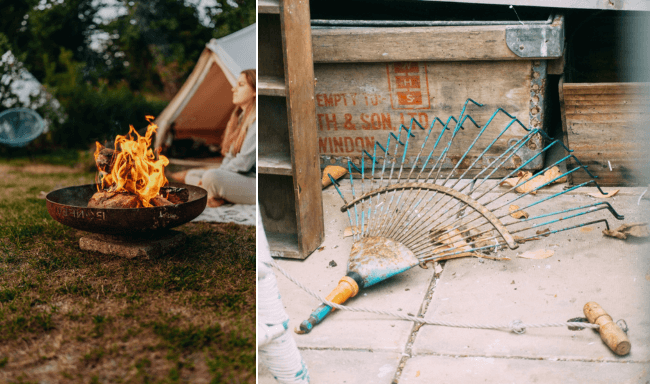 Summer comes to an end and from September 23 it is officially autumn. The rainy and dark days are coming. Now is a good time to exchange your summer garden for a tidy autumn garden. You can read our best tips for cleaning up your garden in preparation for the autumn and winter periods in this blog.
Read on and discover more about our high discounts in our autumn discounts for a cozy and warm autumn!
Sufficient storage space for garden furniture and accessories
Because autumn is often full of wet periods of rain and you want to protect the garden furniture against moisture damage, it is good to have sufficient storage space inside or outside for garden cushions or the barbecue. Make or buy a sturdy storage box for garden cushions and provide a sturdy protective cover for garden furniture or the barbecue. In addition, it is good to be able to store fragile lights, pots or glasses for windy periods. And if the sun still appears, you can easily get everything out again and you can still enjoy these late summer evenings.

Clean up and prepare the garden for the autumn days
To prepare the garden for lesser days, it is good to clean up and clean the following places in the garden:
Provide a well-running downspout to properly drain the rainwater and prevent leakage inside.
Secure or store garden furniture to prevent damage to the furniture or garden.
Store garden accessories such as a parasol indoors to prevent damage
Garden lighting for the autumn
In case there are still nice evenings or you have a pleasant roof where you still like to sit in the evenings, provide atmospheric and sufficient light. Because the days are getting shorter and it is therefore dark before, it is nice to illuminate the garden well. Not only does this look cozy, it is also safe if you come home in the evening and have to come to the door through the garden, for example. With good garden lighting you can prevent tripping over planters and you can see what is happening in the garden.


Do you have a nice veranda or a roof and do you want to sit here in the fall? This is possible with fine electric patio heating, a sturdy garden fireplace or a fire bowl. With a warming and atmospheric fire you can turn the cold evenings into atmospheric moments and enjoy your garden all autumn.

Let the garden run its course in the fall
You often want the garden tidy and tidy. Still, it is also good to leave the garden a bit wild. In the fall and winter, small animals such as birds and hedgehogs will hide in gardens. To make a livable place for the animals, you can leave the leaves a little or place them in a pile in a corner of the garden. Also leave berries to give the animals some food during too cold winter months. Make or buy a fat ball for the birds. You can easily do this by filling half a coconut with a mix of seeds and oil.
Autumn promotion for a cozy autumn: up to 60% discount!
To dress the garden even more snugly and still stick to the heat summer days, Firepit-online.com offers large autumn discounts. Keep the garden alive in winter with a nice sitting area through a fire bowl or fire pit. Or opt for electric patio heating under the canopy to be in the fresh air even in winter, with fine heating. The BonFeu, CookKing and Eurom brands have been largely discounted and are now buying in our autumn promotion!