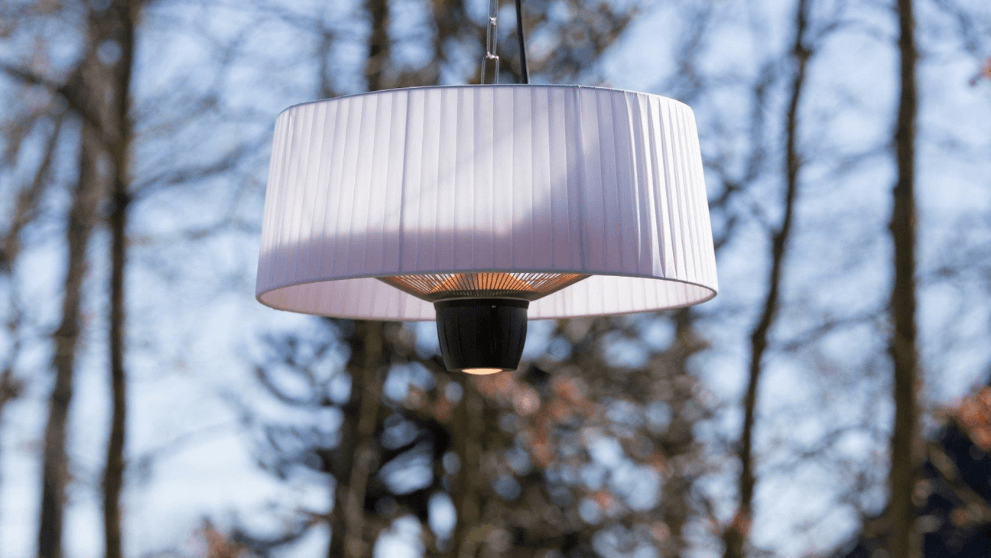 These days, the garden is increasingly an extension of the home and this is reflected in the huge range of fire tables, garden fireplaces and patio heaters. To make it just that little bit more atmospheric and pleasant in terms of temperature at chilly moments, there are pleasant heaters or patio heaters. They come in all shapes and sizes. But which heater fits your terrace best and what types are there?
The gas heater
First of all, it's good to know more about patio heaters. At Firepit-online.com, you can choose between gas or electric patio heaters. Gas patio heaters have the advantage that they can stand completely independently on the patio, such as the Faber the Buzz. The heaters work with a gas cylinder so do not need a connection to the electricity grid. With a patio heater, you also have the choice of a hanging or standing version. The hanging models are often found in catering establishments and are often connected to a gas pipe.
Floorstanding gas heaters are often characterised by a somewhat flat cap at the top, which is why they are also called a "mushroom". The mushroom heaters are ideal for use in your own garden or during events. This is because they are equipped with wheels and are therefore easily movable. You are therefore very flexible in placing such a gas heater and you do not have to worry at all about heat emission. A gas patio heater generally has a high capacity and therefore a long range. Therefore, these heaters are very suitable for heating large open spaces. Spread a few around the terrace and everyone is nice and warm.
Flame heaters and lounge heaters
To go even deeper into mushroom heaters, we now highlight a few more distinct features of these heaters. The Flame heaters feature a glass tube in the heater. This glass tube makes the flame of the heater even more beautiful and gives the heater a nice atmospheric light. So you kill two birds with one stone with these heaters, you use the heat and you have a nice atmospheric light on your terrace.
The lounge heaters resemble flame heaters but are often lower on their legs because they have to give off their heat next to a lounge set. These heaters also run on propane or butane gas and also hide the gas bottle in the base. As an example, take the Sunred Propus Lounge heater. This heater is only 135 cm but gives a great heat of 10,000 watts. This means the lounge heater has a range of up to 25m². An ideal heater for a private roof terrace or garden!
Electric patio heater
Besides gas heaters, electric patio heaters are very popular. These heaters have a cord and must be connected to the mains. The nice thing about electric patio heaters is that they are often more compact than gas heaters. Because only the heating elements need to glow to give off heat, these patio heaters are often very manageable and easy to place. You also often see electric heaters in catering establishments or under canopies. Again, these come in a hanging or standing version. You can combine different heaters and spread them out over the terrace. By combining electric heaters, you feel a nice warmth everywhere and the radiant light gives you instant atmospheric lighting on the terrace.
A very popular brand within electric heaters is Sunred. These patio heaters have a sleek look and give a considerable heat.
A separate version of the electric heaters are the party tent heaters. These hanging heaters can be hung under a canopy or party tent and provide up to 2100 watts of heat. Ideal for a party or event to provide heat from above.

What purpose does your electric patio heater serve?
The range of patio heaters on Firepit-online.com is very extensive. From patio heaters of high quality and therefore a higher price to patio heaters of under 200,- that will also give off a pleasant heat. Do you often sit at the garden table and are you looking for a heater that provides targeted and close-range heat? Then choose a table heater such as the La Hacienda Nerva Table Heater. This handy heater can provide heat up to 1200 watts.
Ordering patio heaters online at Firepit-online.com
To end with: pay attention to consumption with your heater. With higher gas prices, gas heaters will now become a bit more expensive to use. Therefore, look at the specifications of all heaters and specifically the costs per hour. This way, you can make a well-considered choice and know what you will spend on heating your patio.
If you still do not know which patio heater is the most suitable model for you, do not hesitate to contact us. You can reach our customer service via the contact form or just drop by our showroom. If you order your patio heater on a working day before 17:00, we will ship it the same day and you can enjoy your patio heater as soon as possible.