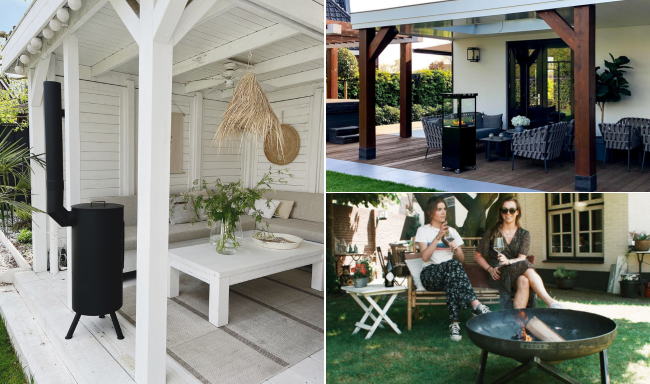 Summer has officially started and the long summer evenings are more than welcome. It is time to go outside and sit here for hours more. Sitting outside after dinner or having a cosy barbecue with the neighbours is now a must. A living room feel is what you're looking for when you want to be cosy outside. But how can you create this? In this blog, you can read which settlements you can create in your garden and our tips for real mood creators that can't be missing.
The canopy: a second living room outside
If you have a canopy in the garden, this is of course the perfect place to create a cosy living room in the garden. If you don't have a canopy, then a large parasol can give the same kind of feeling. To dress up the canopy, a nice seating area is of course the first step. Here you can choose a large table with chairs or a lounge set with comfortable cushions.
Terrace heating under the canopy
Now that the table is in place, a little warmth under the canopy is also welcome. Hopefully the summer evenings will also bring pleasant temperatures, but extra warmth is always nice for a long evening. The first option for extra warmth under the canopy is a patio heater. These come in different shapes and sizes and can, for example, stand next to the table or be hung on the wall.
Outdoor gas fireplace
The second option for some extra warmth is a gas outdoor fireplace. These have a luxurious look and provide pleasant warmth. An example of this is the Sunwood Marino.
Wood-fired garden fireplace
The last option for extra warmth under the canopy is a wood-fired garden fireplace. You can easily top up wood and easily keep the fire going all evening. To install a garden fireplace under a canopy, it may be useful to shy the stove pipe with a bend and an additional stove pipe to remove smoke from the fire. A selection of BonFeu garden fireplaces have this option. For example, with an extra stove pipe and two bends, the stove pipe can be extended to allow the fireplace to be placed more under the canopy. When buying the fireplace, look at the extra options to order the right stove pipes along immediately.

Garden lounge set with fire table or garden fire bowl
To create a cosy seating area, a canopy is of course not a must. A fine lounge set and garden chairs will get you a long way. Create a round or cosy setting with the lounge chairs outside and place a fire table or fire bowl in the middle. With one of these moodmakers, you instantly add a source of warmth and atmosphere and you can linger in the garden for hours.
Outdoor garden bench with a garden hearth or garden fire bowl
If you already have a corner with a garden bench and are looking for a nice ambiance-enhancer to go with it, a garden fireplace such as the BonFeu BonBono or a fire bowl with base is a nice option to place next to the bench. With a garden bench and a crackling fire, you can enjoy the summer evenings for hours and enjoy a drink and good conversation.
A fire bowl on a base is a nice setup to place next to the garden bench. With the fire bowl, you can keep yourself warm. But you can also cook a burger with a plancha griddle or romantically roast marshmallows with a fine fire in the fire bowl. Because the fire bowl stands on a base, the bowl is at a pleasant height for next to a normal garden bench.

Complete the garden room with a kitchen
A living room is nothing without a nice kitchen to cook in. Similarly, you can complement your garden room or outdoor lounge area with a good place to cook for the tastiest summer snacks. You can buy or build an outdoor kitchen to suit your taste. Want to know more about how to build your own outdoor kitchen? Then read the blog!