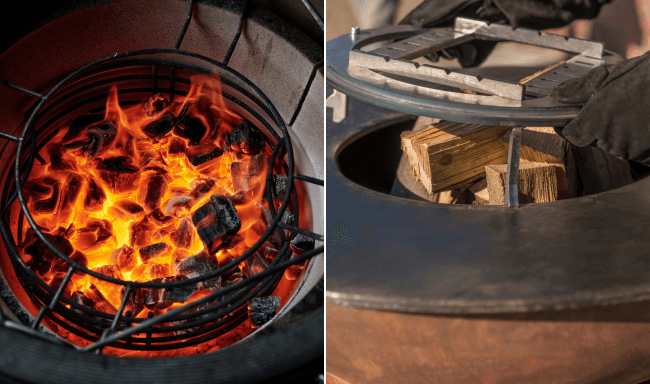 Which fuel is best for your barbecue depends on the flavour you want to impart and the way you want to prepare the dish. Wood is a common fuel for a larger barbecue like the OFYR or a garden fireplace with cooking options. Do you have a small barbecue with little room for a big fire but room for a layer of briquettes? Then use charcoal briquettes for grilling a good piece of meat or skewers. In this blog, you will read more about the differences between barbecuing with wood or charcoal and we will give you tips for the perfect barbecue this summer.
The difference between charcoal and briquettes
In order to determine which fuel you want to use for the barbecue, it is first good to know the difference between briquettes and charcoal. These terms are often used interchangeably and this is very understandable. Both are often coal-like pieces that glow and can be used well for a barbecue. The big difference is that briquettes:
Charcoal
Briquettes

Flames
Burns faster
Grill quickly

Slower to heat up
Retains heat longer
Good for slow cooking
Barbecuing with charcoal or briquettes
Barbecuing with briquettes or charcoal is easy. You can light and burn this fuel without any other kindling products. Make a nice layer of briquettes just under the grill of the barbecue and let it glow. With charcoal, you can therefore already start grilling faster. Many table barbecues are also lit with briquettes. This is a safe and durable fuel for the table and is also recommended for use with the OFYR tabl'O table grill.
Briquettes and coals are also good to use with a slightly larger barbecue such as the BRÅTEN charcoal barbecue from HEAT. This barbecue has a well-sealed lid and can hold the heat from both coals and briquettes well for grilling.
Adding flavour with briquettes
Briquettes come in different compositions. Sometimes an extra flavouring is added so that when grilling, the flavours soak into the meat and make this an extra tasty dish. You can also add flavour with smoke wood in 67 different flavourings such as apple, oak or nuts.

Barbecuing with wood
Barbecuing on a wood-fired fire is just as fun and easy as with briquettes or charcoal. The advantage of stoking with fire is that it is often quick and very tasty. The flavour of wood and barbecue really soak into the ingredients and give a unique smoky flavour to the dish. In addition, wood is easy to set up. Place a nice pile of about 4 medium-sized logs (to be determined per barbecue) in the garden fireplace or fire pit and light it with firelighters or wood shavings. Place the grill or plancha over the fire and the baking can begin. The fun thing about cooking on an open fire? When you finish cooking, remove the grill or baking plate from the barbecue, stoke up the fire a little more and you can enjoy an atmospheric open fire all evening long.
The great thing about cooking on a wood fire? When you have finished cooking, remove the grill or baking tray from the barbecue, put the fire back on and you can still enjoy an atmospheric open fire all evening long.
The best wood-fired barbecues
Examples of cooking on wood are the OFYR or BonBiza cooking units. These are made for cooking on wood and can therefore be used all evening, from appetiser to dessert. This firebowl bbq is fun for any garden, for the amateur chef or the experienced outdoor cook.
In our range, you will find wood-fired barbecues for the most part. Check out the garden fireplace with grill, for example. A garden fireplace can function as a barbecue, just like a fire pit or a garden fire pit and allow you to prepare delicious dishes. Is your curiosity piqued? Be sure to check out our garden fireplaces with grill.
A frequently used combination of a barbecue on wood is the BonFeu BonVes 45 with the plancha ø55. The fire pit gives a lot of atmosphere and warmth and can be used as a barbecue in two ways. Place the wood at the bottom of the fire pit for atmosphere and warmth, or make a good pile of wood in the middle for grilling and baking with the griddle.

Electric barbecue in the garden
For environmental reasons and often also because you are not allowed or do not want to fire with a lot of smell and smoke, you can use an electric or gas barbecue. These barbecues heat elements under a grill grate and thus provide a hot grill for cooking. You can find these electric barbecues on various webshops or in building and garden shops. Unfortunately, we do not yet have them in our range, but perhaps in the future!
Which fuel for the barbecue?
Whether you barbecue on wood or coal, it's all about good outdoor cooking and having fun with friends and family. In this blog, you read about the advantages of coal and wood. If you are still looking for a suitable barbecue for your garden, be sure to browse our webshop and find the perfect barbecue for you!